CK Hutchison Family
Many exciting ESG activities and initiatives are organised throughout the CK Hutchison Group. In addition to the CSR and ESG teams as well as internal reporting processes, the Group also has numerous avenues to share these exciting developments amongst the businesses. One such dissemination is the in-house magazine, Sphere, which periodically shares stories, trends and experiences amongst group companies and staff. The latest issue of the magazine can be viewed on the CK Hutchison website at http://www.ckh.com.hk/en/about/journal.php. The Group also reaches out to the businesses and employees through emails, the intranet and other communication channels.

Li Ka Shing Foundation – Establishing Oneself and Pursuing Selflessness

Mr. Li Ka-shing, the Chairman of the Group, recognises the importance of education and healthcare to societal development. He established the Li Ka Shing Foundation (LKSF) in 1980 with his personal funding to: 1) foster change, 2) empower people, 3) develop a better society, and 4) inspire societal improvement. To date, over HK$20 billion has been put to work to support all its initiatives across 27 countries and regions. 87% of LKSF's donations benefit projects in the Greater China region.

Major or special projects of the Foundation in 2015 are as follows:

Love Ideas, Love HK
Love HK Your Way!
funded eight programmes with contributions of over HK$320 million. The 763 innovative projects supported by "Love Ideas, Love HK" as well as the 90 community care projects supported by "The March of Social Engineers" were completed in 2015.
Below are a few ongoing programmes under Love HK Your Way! Below are a few ongoing programmes:
"Heart of Gold"
Hong Kong Hospice Service Programme and Hospice Home Website
The Heart of Gold Hong Kong Hospice Service Programme was launched in 2007 in collaboration with the Hospital Authority (HA). Hospice centres in ten public hospitals have been established to offer one-stop services for terminally ill cancer patients and their family members. Owing to the success of the programme, the HA received Government support in October 2015 to integrate the hospice centres into their standard development under recurrent expenses. The Foundation now funds innovative new services: developing cross-hospital and cross- discipline collaborations, extending hospice services to elderly homes and working with community organisations to provide patients with required services. The Programme has provided 320,000 service sessions, benefiting 38,000 terminally ill cancer patients. The Hospice Home website has been visited 560,000 times. Aggregate funding provided by the Foundation amounts to HK$126 million.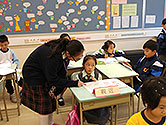 333 Learning Companion Leadership Programme
This Programme provides free learning resources, learning space and professional support for grassroots students to build confidence and cultivate leadership ability and a spirit of service. Since its inception in 2010, the Programme has provided free tutoring and value-added courses for approximately 3,700 students in 95 primary schools in North District, Kwun Tong, Sham Shui Po and Tin Shui Wai. As a major sponsor of the Programme, the Foundation has made contributions of over HK$41 million.
TrueBeam System
The Foundation has donated TrueBeam Systems to The Chinese University of Hong Kong, Shantou University and Stanford University. TrueBeam is an advanced linear accelerator and innovative radiotherapy technology that makes it possible to deliver treatments 4-8 times more quickly while monitoring and compensating for tumor motion. This allows for new possibilities in the treatment of lung, liver, breast, prostate, head and neck, spine as well as other cancers. Up to 2015, the Systems have benefited over 4,000 patients, providing over 80,000 treatments.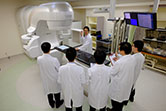 Listening Angels
The Caritas Family Crisis Hotline and Education Centre handles over 42,000 cases annually. In addition to offering free 24-hour counseling to persons experiencing emotional distress and families in crisis, the Centre runs crisis prevention and other educational programs. As of 2015, contributions of approximately HK$34 million have been made to support the Centre's works
Paradigm Shift in Human Capital Development and Leadership
Shantou University
Founded in 1981, Shantou University (STU) is a key comprehensive university in Guangdong Province and the only privately funded public university on the Mainland. Under the guiding philosophy of "governance for academic freedom", STU has been engineering reforms in the country's higher education sector for over 30 years. The Foundation considers STU to be a long-term keystone project, and has earmarked HK$8 billion to support the university's development.
In 2015, Shantou University continued to build on its record of outstanding performance: graduates' initial employment rate at 96.36%; the only Mainland university built after 1980 to rank in the top 800 in Times Higher Education World University Rankings; Shantou University emphasizes on learning and cultivating services, social responsibility and international perspective, with students and faculty members receiving numerous awards in domestic and international competitions. To support the University's education development, a new medical college building, a new Sports Park, a conference centre, and residential colleges were completed in 2015, which will expand the campus built area to 500,000 sq. m.
Cheung Kong Graduate School of Business
Be an inspiration to others. Since 2002, Cheung Kong Graduate School of Business has established itself as China's first globalized business school, cultivating 8,000 industry leaders.
Guangdong Technion-Israel Institute of Technology – GTIIT
In order to support the higher education development of Guangdong province and to improve Shantou University's medical research, the Foundation had in April 2015 donated US$130 million to support the establishment of Guangdong Technion-Israel Institute of Technology – GTIIT, a joint venture between Technion Israel Institute of Technology and Shantou University, which aims to build new models and knowledge. A cornerstone laying ceremony was held in December 2015 following approval from the Ministry of Education to prepare for its establishment.
Shantou University Medical College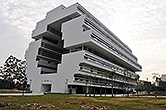 Shantou University Medical College (SUMC) emphasizes service learning in its modern medical curriculum supported by the latest science and simulation technology for immersive and collaborative learning. Enrolment rate with SUMC as the first choice has remained at 100% for 18 consecutive years. The overall passing rate of SUMC graduates in the National Medical Licensing Examination has ranked in the top 8 amongst all Chinese medical faculties for 10 consecutive years. SUMC students who took the United States Licensing Examination (USMLE Step-1) have a passing rate of 95.7%, similar to the national average of that of American and Canadian students. The first-time employment rate of SUMC graduates reached 97.06%, tops in Guangdong Province for 15 years.
Empowering Women Programme
"Love Ideas – Women's Project Guangdong" established jointly with the Guangdong Provincial Government with a donation of RMB 12 million, has funded 206 innovative projects benefiting over a million people as of 2015. Project Define, launched in partnership with the Ministry of Civil Affairs with funding of RMB 20 million, enabled 4,500 Chinese women cadets and civil affairs officers to realize their power to serve the community through the use of technology in boosting their knowledge base with the intending effect of creating a rippling effect to gain more support from the government and other social resources. In the Chaozhou/Shantou region, donations were made to support innovative models for serving women and vocational education for girls living in rural areas.
Medical/Healthcare Services: Hope and Dignity
Projects in the Mainland
As of end of 2015, the Foundation had made contributions of over RMB 1 billion to support free healthcare services in the Mainland on a long- term basis. Projects include "Heart of Gold" Nationwide Hospice Service Programme, Cheung Kong New Milestone Programme Phases 1-3 in collaboration with the China Disabled Persons' Federation to install prosthetics and rehabilitation support services, Nationwide Medical Aid for the Poor, Paediatric Hernia Rehabilitation Programme, which together have benefited over 17 million patients. Another RMB 13 million was donated to support the Kumbum Tibetan Medical Hospital Aid programme to provide free medical services for ethnic minorities. More than 150,000 cases have been served.
In July 2015, a contribution of RMB 8 million was made to the China Organ Transplantation Development Foundation to instigate reforms and support voluntary civilian organ donation as the only legitimate source for organ transplants.
International Medical Education and Research

The Foundation's contributions to overseas projects in 2015 exceeded HK$130 million. Among the key projects is the Li Ka Shing Centre for Health Information and Discovery at Oxford University which was granted a total of GBP20 million. Phase one, the Target Discovery Institute (5,613 sq. m.) was completed in 2013. Phase two which will be a Big Data Institute will be completed by the end of 2016. Other major projects include Oxford University Rhodes Scholarships for Chinese scholars; St. Michael's Hospital and Shantou University Big Data research; and the Third Big Data Conference hosted by Stanford University to explore how information technology can advance biomedical research and improve human health.
Global Unity Through Introspection and Awakening
Planet, Peace, Harmony
In 2015, the Foundation organized and sponsored a series of "Projecting Change" at the Empire State Building in New York, the UNESCO headquarters in Paris and the Vatican. The shows used various lighting and illuminated images to tell a story about the interdependence between people and nature.
Guan Yin: Bodhisattava of Compassion and Wisdom
Tsz Shan Monastery has been opened to the public since April 2015 and has received over 210,000 visitors seeking inner peace from spiritual contemplation. In addition to offering workshops for educators and healthcare professionals, Tsz Shan Monastery has also teamed up with the University of Hong Kong to establish a Buddhist Counseling Centre, which integrates
Buddhist wisdom with contemporary counseling practices to assist clients in transforming their problematic experiences into a new perspective with spiritual wisdom.
The Foundation will continue to cultivate a culture of giving as its unchanging promise.