CK Hutchison Family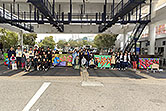 CK Hutchison takes pride in serving the community through its businesses and other initiatives. Providing the local communities with products and services they trust and can rely on is part of building sustainable businesses. In addition to ESG teams within individual companies and business units, the Group has different avenues to share these developments amongst the businesses. The Group's in-house magazine, Sphere, periodically shares stories, trends and ESG activities by businesses with other group companies and staff. The latest issue of the magazine can be viewed on the CK Hutchison website at http://www.ckh.com.hk/en/about/journal.php.


Li Ka Shing Foundation – Changing Times, Unchanging Promise
Mr. Li Ka-shing, the Chairman of the Group, recognises the importance of education and healthcare to societal development. He established the Li Ka Shing Foundation (LKSF) in 1980 with his personal funding to: 1) foster change, 2) empower people, 3) develop a better society, and 4) inspire societal improvement. To date, over HK$20 billion has been put to work to support all its initiatives across 27 countries and regions. Over 80% of LKSF's donations benefit projects in the Greater China Region.

Major or special projects of the Foundation in 2016 are as follows:

Love Ideas, Love HK
Funded with contributions of over HK$300 million, Love HK Your Way! continues to support new and ongoing programmes, including:

Philosophy of Care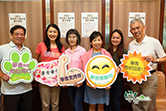 The Heart of Gold Hong Kong Hospice Service Programme was established in collaboration with matching funds from the Hospital Authority. Since its launch in 2007, the Programme has provided 430,000 sessions and benefited over 38,000 patients. The website www.Hospicehome.hk has received 720,000 views. Total contributions amount to HK$126 million. Hospice centres in ten public hospitals offer one-stop services for terminally ill cancer patients and their family members. The HA has received Government support to integrate the hospice centres into their standard development under recurrent expenses, enabling more underprivileged patients to benefit.

Sounds Great
In July 2016, LKSF contributed HK$2.5 million to distribute 10,000 high quality audio books to nearly 100 organizations allowing the elderly, visually impaired, and people with disabilities to enjoy celebrity autobiographies, Chinese literary classics, and stories of old Hong Kong.
Community Care
Decide Well, Spend Wisely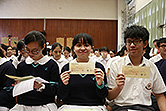 Following the successful launch of Love Ideas Love HK! in 2010, LKSF teamed up with social welfare organizations to establish the "Decide Well, Spend Wisely" project in July 2016. In phase 1, over 5,700 HKDSE students in 51 secondary schools in Yuen Long, Tin Shui Wai and Outlying Islands received HK$5,000 bank gift cheques to help alleviate stress and encourage them to spend wisely.

Listening Angels
Through 2016, the Caritas Family Crisis Hotline and Education Centre has received contributions of HK$39 million from LKSF to handle over 49,700 cases. In July 2016, with additional support from LKSF, Caritas moved to new premises with enhanced facilities, and continued to provide a 24-hour hotline for individuals and families in crisis.
Paradigm Shift in Human Capital Development and Leadership
Shantou University
Founded in 1981, Shantou University (STU) is a key comprehensive university in Guangdong Province and the only privately funded public university on the Mainland. Based on the guiding philosophy of "governance for academic freedom", STU has been engineering reforms in the country's higher education sector. LKSF considers STU to be a long-term keystone project, and has earmarked over HK$8 billion through 2018 to support the University, which has cultivated over 100,000 graduates to date.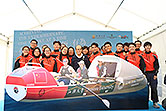 In 2016, STU continued to build on its record of outstanding performance in teaching and research. STU played a leading role in China's CDIO engineering educational reform, and founded the CDIO Engineering Education Alliance; 100% of undergraduates selected STU as their first preference; first-time employment rate reached 98.34%, first in Guangdong Province; salary of graduates after five years in the workforce exceeds 88% of graduates from other universities, according to data compiled by iPIN.com; listed as a Guangdong Province high-level university; the only Mainland university founded after 1980 to be ranked in the top 800 in the Times Higher Education World Universities Ranking. A new medical college building, a multipurpose Sports Park, and three new residential colleges have been completed. The total floor space completed on campus is 568,000 sq. m.

In February 2017, the Foundation sponsored STU in the world's first university ocean rowing expedition to foster team spirit and perseverance. 10 male and 10 female students embarked on their eight-day, 640 km maritime journey from Shantou to Hong Kong to raise funds for conservation causes.

Shantou University Medical College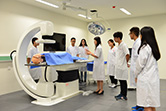 With the new Medical College Building and its cutting-edge facilities now in use, Shantou University Medical College (SUMC) is dedicated to promoting a culture of "active learning" and to becoming a model of medical education reform in Mainland China. For the 19th consecutive year, undergraduates chose SUMC as their first preference. The passing rate of SUMC graduates in the National Medical Licensing Examination ranks among the best in the nation. The passing rate of SUMC students from the English-based medical programme in United States Medical Licensing Examination Step-1 exceeded 93% for five years in a row.

First-time employment rate for SUMC graduates reached 97.46%, the highest in the Province for the 16th year. The International Institute of Infection and Immunity and the Second Affiliated Hospital made a breakthrough discovery on the possible human-to-human transmission of the H7N9 influenza virus, and their paper titled "Probable Hospital Cluster of H7N9 Influenza Infection" was published in the New England Journal of Medicine. The International Joint Laboratory on Virology and Emerging Infectious Diseases became the first joint international laboratory to be commissioned by the Ministry of Education.

Cheung Kong Graduate School of Business
Since its founding in 2002, Cheung Kong Graduate School of Business has established itself as Mainland China's globalized business school, cultivating over 10,000 business leaders in a wide range of industries.

Guangdong Technion-Israel Institute of Technology
LKSF made a US$130 million contribution to establish the Guangdong Technion-Israel Institute of Technology, a joint venture between STU and Technion, to promote development of tertiary education in Guangdong, and build capacity in STU's healthcare research. GTIIT received formal approval for establishment from the Ministry of Education in December 2016. The first phase will be inaugurated in 2017 with an initial batch of 300 students.

Project Define
Project Define, launched jointly with the Ministry of Civil Affairs through a RMB20 million LKSF contribution, has enabled 4,600 Chinese women cadets and civil affairs officers to realize their power to serve the community through the use of technology in boosting their knowledge base. The Project has garnered further support from the Government and other community resources. The Project continues to support programmes in the Chaoshan region, exploring new models in women's employment and service, and promoting vocational education for girls in rural areas.
Healthcare Services - Hope and Dignity
Mainland Projects
LKSF has supported a number of major healthcare initiatives in Mainland China, including the Heart of Gold Nationwide Hospice Service Programme, phases 1-3 of the Cheung Kong New Milestone Programme in collaboration with the China Disabled Persons' Federation to install prosthetics and provide rehabilitation support and training, and Nationwide Medical Aid for the Poor. Aggregate donations of over RMB1 billion have benefited over 17 million patients. Another RMB16 million have been donated to support the Kumbum Tibetan Medical Hospital Aid Programme to provide free medical services for ethnic minorities, serving over 160,000 to date.

LKSF has also contributed RMB8 million to the China Organ Transplantation Development Foundation (COTDF) to instigate reforms and support voluntary civilian organ donation as the only legitimate source for organ transplants. As of 2016, there have been over four thousand cases of civilian organ donations, with over 11,000 major organs (heart, lung, liver, kidney), and more than 13,200 transplantation operations performed.

International Medical Education and Research
LKSF's contributions to overseas projects in 2016 exceeded HKD110 million. Among the key projects is the Li Ka Shing Centre for Health Information and Discovery at Oxford University, which was granted a total of GBP20 million. Phase two of the project, the 5,000-sq. m. Big Data Institute which can accommodate 350 researchers will be inaugurated in May 2017. A donation of NZD5 million was made to the University of Auckland to promote innovation and philanthropy. The University of British Columbia received a contribution of CAD1 million for its MBA Global Immersion Programme, and a donation was made to Hospitality and Hope to provide temporary shelter and food for the homeless in Northumbrian, UK.
Innovation and Technology
China Charity Museum
In September 2016, LKSF was invited to install an exhibition at the new China Charity Museum in Nantong. The exhibition was created using advanced multi-media technology to articulate the Foundation's mission and its philanthropic work worldwide. The China Charity Museum is the first themed museum developed jointly by the Ministry of Civil Affairs and the Jiangsu Provincial Government, and is the first national museum on charity.

Exponential Technologies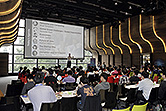 Singularity University, founded by innovation experts from Google, NASA, and tech entrepreneurs, held a two-day Exponential Learning Program in April 2016. 300 students from Hong Kong institutions got a first-hand look at the latest technologies and trends including AI, Robotics, 3D Printing.

Technology-assisted Agricultural Development
LKSF made a contribution of RMB12 million to support the Xinjiang Castor Seed Project to promote industrialization of castor oil production and technology-assisted agricultural development. Oil extracted from the seed of the castor oil plant is a promising source of renewable energy. LKSF hopes the introduction of castor seeds by Kaiima Israel and world-leading planting management technology will help develop a highly efficient agricultural optimization structure. Results from the first trial planting were positive and the target is to build up to 90,000 mu plantation of castor plants within five years.

Guan Yin: Bodhisattava of Compassion and Wisdom
From its opening in 2015 to the end of 2016, Tsz Shan Monastery received nearly 350,000 visitors, and continues to organize religious, educational, cultural and spiritual experiential activities to provide a serene place for spiritual contemplation. Tsz Shan is also collaborating with tertiary institutions to develop programmes and utilize multi-media technology to explore new ways to connect people in the age of globalization.
Since its inception, the Tsz Shan Monastery Buddhist Spiritual Counselling Centre has offered support to over 1,100 Hong Kong residents in need of spiritual guidance. The Centre has also organized 69 spiritual health activities with over 2,400 total participants.

LKSF will continue to cultivate a culture of giving as its unchanging promise.