Community Involvement
CK Hutchison takes pride in contributing to the community. As a part of the community that we cherish, it is our responsibility to see to its well-being and prosperity. Throughout 2015, the Group's companies and employees worked hand-in-hand with their local communities in a variety of initiatives that range from job creation to educating the next generation.

Community
Our employees across the Group serve their communities in a number of ways. Some of these initiatives are highlighted below:
CK Hutchison Volunteer Team, organised by CK Hutchison Head Office, arranged a range of activities for the community in conjunction with various social and charitable organisations such as Hong Kong Family Welfare Society, Hong Kong Physically Handicapped and Able-Bodied Association, Hong Kong Special Olympics, Po Leung Kuk, Tung Wah Group of Hospitals, Pok Oi Hospital and Yan Oi Tong.
ASW launched the "Project LOL Philanthropy Programme" to celebrate its 175th anniversary in 2016 by helping people in need. The programme aims to bring "Lots of Laugh, Lots of Love" to the local communities. There are close to 100 activities under the umbrella of Project LOL.
HTHKH ran a donation-matching programme that raised funds for seven charitable organisations. These charities are involved in education, alleviation of poverty, medical and rehabilitation services, and environmental protection.
The PARKnSHOP Hong Kong volunteer team co-organised "Free Food Coupon - Elderly Shopping Day" with Hong Kong Young Women's Christian Association, making a fun-filled day for the elderly and helping them redeem food and other daily necessities with free coupons.
HK Electric's programme to promote lifelong learning amongst retirees, U3A, celebrated its 10th anniversary. U3A leaders provided over 300 courses and more than 6,000 learning opportunities for senior residents of Hong Kong. Also, in support of the elderly, HK Electric launched the "CAREnJOY" elderly care programme where single elderlies are visited by HK Electric volunteers, ambassadors and district councillors twice a month.
3 Sweden provides free music packages to elderly homes across the country for the elderly to enjoy fun and music.
Education
• Since 2002, the Hutchison Chevening Scholarships has provided opportunities for young postgraduates from Hong Kong and the Mainland to pursue their studies in the UK universities. Since the launch of the programme, the Group has donated over £7.1 million, benefiting over 700 students.
HPH Dock School Programme takes schools from around the world under their wings, meeting their individual needs such as musical instruments, school visits and classroom facilities improvements. For more information on the Dock School Programme, please visit www.hph.com. In Hong Kong, Hongkong International Terminals partners with Hong Kong University's SPACE Community College on a programme designed for students pursuing a higher diploma in Logistics and Transport Operations and Engineering.
In Ireland, 3 Ireland holds interview skills workshops for students as part of the Schools Business Partnership programme.
3 UK launched an innovative training programme "Reimagined Learning" where staff and university students delivered interactive workshops for teenagers.
In China, Shanghai Hutchison Pharmaceuticals delivered books, sports equipment and school supplies to rural schools in outlying provinces.
HK Electric launched a "Green Energy Dreams Come True" where local secondary school students submit proposals on promoting renewable energy and energy efficiency on campus or in the community.
Medical and Healthcare
Healthcare initiatives can be in many forms. From medical technologies to preventive exercises, all these are important to the
well-being of our community. The following highlights activities that the Group engaged in.
In the UAE, Hutchison Ajman International Terminals provided employees and Ajman Port and Customs staff free medical and dental checks.
3 Sweden is collaborating with Tilia, a non-profit group working with youths with mental health issues. Tilia provides a support channel that is available every day for young people to share their experiences and support one another.
Arts and Culture
In 2015, the Group participated in a number of charitable activities in the arts and cultural arena, as highlighted by the following initiatives:
In Hong Kong, CK Hutchison is a partner of Le French May, a cultural event that showcased a range of art forms from heritage and contemporary arts, paintings and designs, to classical music and hip-hop dance and cinema. In addition, CK Hutchison, with the Li Ka Shing Foundation, committed HK$10 million to sponsor the establishment of the HK News Expo, which will showcase Hong Kong's Media History and its relationship with the development of Hong Kong. It will be the first news museum in Asia when it opens.
3 Ireland is a sponsor of 3Arena, Ireland's largest indoor arena for live concerts, festivals and other entertainment events.
Sports
A healthy lifestyle is important to our employees and the well-being of those in our communities. Around the Group, some of our group companies have participated in sporting events or encouraged local communities to improve their overall health and quality of life. Some examples of our involvements are listed below:
ASW celebrated its 10th anniversary of the A S Watson Group Hong Kong Student Sports Awards in 2015 with 85% of the primary, secondary and special schools in Hong Kong participating. This year, 941 student athletes were recognised.
HTHKH formed teams to participate in the Standard Chartered Hong Kong Marathon and Oxfam Trailwalker, raising funds for the Hong Kong Paralympic Committee and Sports Association for the Physically Disabled and Oxfam Hong Kong.
3 Ireland is the proud sponsor of the Irish national football and rugby teams.
Disaster Relief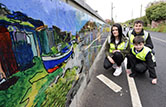 The impact of natural disasters and accidents are not only confined to its victims but also to their communities. As active participants in the well- being of their local communities, CK Hutchison group companies are quick to respond to such disasters and the needs of the victims. For example, in April, a magnitude 7.8 earthquake rocked Nepal, killing thousands and rendering hundreds of thousands homeless. Whilst the Group does not have operations in Nepal, many Group businesses took it upon themselves to help the victims there. Kruidvat Netherlands organised a local campaign where shoppers donate their loyalty points which were exchanged for money for the victims whilst many 3 Italy's employees donated the pay of an hour of their working day.