Community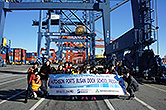 CK Hutchison is committed to making the community a better place for everyone and it strives to provide long-lasting benefits to its stakeholders. In 2016, its approach in community activities focuses on youth empowerment, relief for the needy and environmental conservation. The Group is proud to report that the community activities arranged by the CK Hutchison Group volunteers in Hong Kong have contributed 12,994 service hours and positively impacted 109,061 service recipients.

Empowering the Youth
The Port's division supports education through its Hutchison Ports Dock School Programme and other related activities. These efforts aim to provide opportunities for younger generations by supporting the improvement of education facilities. In 2016, Hutchison Ports contributed HK$1.5 million in donations and over 20,000 volunteer hours to schools worldwide.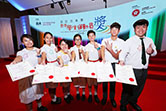 The Retail division contributes to the growth and development of young athletes in Hong Kong. ASW organises an annual challenge for junior athletes, between the ages of eight and 19, at the Watsons Athletic Club. The Club initiated the Watsons Junior Elite Training Programme in 2001 and has nurtured over 400 outstanding junior athletes.
Supporting those in Need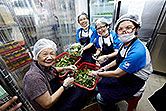 About one in three senior citizens in Hong Kong is living in poverty and one in four deprived children does not have three meals a day. To help alleviate hunger among the needy, and as part of the Group's efforts in achieving UN Sustainable Development Goal No 12, PARKnSHOP of the Retail division, has been donating edible surplus food to the local social enterprise Food Angel. In addition, in order to raise funds and encourage customers to participate in the programme, PARKnSHOP also launched citywide food drive campaigns to collect basic groceries for Food Angel to prepare hot meals to aid the underprivileged meet their basic nutritional needs. Since its partnership with Food Angel in 2012, it has contributed over 900 tonnes of edible surplus food to the preparation of over seven million meal boxes and 290,000 food packs to those in need; over HK$3.35 million of cash and in-kind donations have been made in total.

In response to the earthquake in central Italy in August 2016, 3 Italy of the Telecommunications division contributed a total of €1.1 million (over HK$9 million) in employee hours and other means of contributions. Various charity campaigns and donations were organised to support disaster victims.
Bridging the Digital Divide
The Telecommunications division helps bridge the digital divide by providing everyone with equal opportunity to access information. For example, the "#datadonate" programme ran by 3 Sweden since February 2016 allows the conversion of unused mobile data into monetary donations towards a United Nations High Commissioner for Refugees initiative that provides aid to Syrian refugees. 3 Sweden also made programme-related information public to encourage others to adopt similar schemes to spread the positive message.

Furthermore, 3 Austria set up a new tariff offer in 2016 to provide an additional 10 GB free mobile data per month to hearing-impaired customers who rely on text messages and mobile data for communication.
Conserving the Environment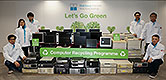 Hutchison Ports joined forces with four other major international ports operators through the "Go Green" initiative. Under this initiative, the participating ports carry out a series of environmental conservation activities advocating greener environment and better waste handling. In 2016, a total of 5,000 trees was planted and 250,000 kilogrammes of trash were collected, credited to 14,000 volunteer hours from 7,000 employees.