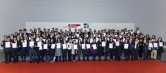 This Environmental, Social and Governance ("ESG") Report provides an annual update on sustainability performance of CK Hutchison Holdings Limited ("CK Hutchison"), and together with its subsidiaries, the "Group") for the year ended 31 December 2016.

This report aims to provide a balanced presentation on the Group's ESG key issues and initiatives covering its five core businesses, namely Ports and Related Services, Retail, Infrastructure, Energy and Telecommunications.

It has been substantially updated from previous years to reflect the interest of various stakeholders. Additional material quantitative data, detailed ESG requirement as well as policies and programmes across the Group have been included to illustrate some of the many initiatives that are being implemented by Group companies making positive impact to the community and environment.

This report is prepared in accordance with Appendix 27 of the Main Board Listing Rules, ESG Reporting Guide, issued by the Stock Exchange of Hong Kong Limited in 2015.

Approach to ESG Strategy and Reporting
The ESG philosophy of CK Hutchison aligns to strategic development which creates long-term value for the Group's stakeholders. As a conglomerate with businesses in over 50 countries and a workforce of over 290,000 employees, the Group is committed to integrating ESG considerations in its daily operations, both at the Group and business unit levels. The ESG Committee, chaired by the executive director and company secretary, sets an overtone from a corporate perspective and upholds the Group's ESG philosophy when key business decisions are made. The businesses take ownership to drive ESG initiatives, create value for stakeholders and regularly review their practices to identify opportunities for performance improvement.

Stakeholder Engagement and Materiality Assessment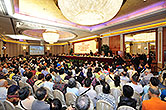 CK Hutchison maintains ongoing dialogues with its key stakeholders, including employees, shareholders, customers, suppliers, local communities, professional institutions, non-government organisations and the Government. It regularly collects views from stakeholders through a variety of channels, such as meetings, liaison groups, panel discussions, workshops, surveys and feedback programmes. ESG compliance and how CK Hutchison leverages what it does in business to benefit the community are among the key interests of the stakeholders of the Group. Given the diversity of business operations, the ESG aspects that are considered important and relevant by the stakeholders of the Group vary. Key ESG issues range from environmental emissions and resources deployment to employment and operating practices, as well as community involvement. The material aspects identified are reviewed annually by the Group's ESG Committee and Board and updated as where appropriate. The six sections set out in this report summarise the Group's commitments to People, Customers, Supply Chain, Anti-corruption, the Environment and Community. In each section, key initiatives and activities performed by representative businesses have been included to demonstrate and highlight the Group's efforts in creating long-term value for its stakeholders.

For the ESG section in the 2016 Annual Report, please
click here
.