People
With over 290,000 employees in over 50 countries, the Group has continued to grow during 2016. The Group's people are key to the successful delivery of quality and reliable products and services to customers. Good talent management is integral to the CK Hutchison's philosophy to sustain the long-term viability of the Group. The Group aspires to be an employer of choice through effective talent acquisition, systematic training and provision of an inclusive working environment.
Recruiting, Engaging and Retaining Talent
The Group's success depends heavily on its ability to attract, retain and motivate suitable talent in the competitive labour markets. It works closely with educational institutions to recruit young talent that can support its growth.

Where possible, different businesses across the Group conduct workshops, site visits, and internships to introduce their industries or professions to the younger generation.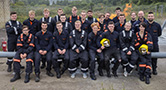 CK Infrastructure's Victoria Power Networks, CitiPower and Powercor in Australia have trained more than 450 apprentices and trainees since 2001 and they are assigned to work from 11 locations around Victoria to develop into specialists in their respective areas.

Gas emergency and pipeline service Wales & West Utilities recruited 25 new apprentices to work across Wales and the southwest of England. The 2016 intake for the three-year apprenticeship programme is based across the company's operating areas and focuses on the companies' Build & Repair teams that maintain existing gas equipment and lay new gas supply pipes, as well as mechanical engineers and electrical and instrumentation engineers for network services teams who maintain the control systems of the gas network. The programme will help apprentices develop the skills to deliver a fast and efficient service that will keep customers safe and warm with a gas supply they can rely on for years to come.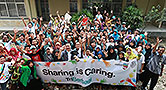 3 Indonesia of the Telecommunications division has collaborated with selected universities in Indonesia to set up an internship programme "TriInterns", which aims at providing internship opportunities to tertiary students and engaging them in projects that can contribute to 3 Indonesia's strategic development. The programme is underpinned by collaboration with the Business School of Binus University in Jakarta through a 2.5-month research project that focuses on international roaming, digital services, and customer experience. The programme has identified 24 highly qualified students since its launch in March 2016.

CK Hutchison embraces an equal and inclusive culture and incentivises talent through a performance-based remuneration system. The Group reviews the remuneration package annually to ensure that it stays competitive with the market and that its employees are rewarded fairly and equitably. CK Hutchison values diversity and strictly adheres to its anti-discrimination employment policy. Talent is hired solely based on their merits regardless of race, colour, gender or religious belief. The Group has adopted policies that provide equal employment opportunities to recruit, promote and assign employees based on their skills, abilities and how these fit with the job requirements.

The Group respects the rights of employees in expressing their views and has established various effective channels to facilitate communications with them. The businesses conduct regular seminars and forums to share views and collect ideas from employees. Periodically, the Group solicits feedback from employees through surveys and follow up on improvement actions to enhance its talent management practices.

Recognising the benefits of healthy industrial relations, the Ports division has taken steps to promote the sharing of good practices across the division. Staff and management from a wide range of business functions channel key learning to business unit management to proactively address issues, concerns and process improvement recommendation.

Many of the Group's businesses are lauded for their employee programmes. For example, the Retail division's A S Watson Group ("ASW") was recognised as a "Distinguished Family-friendly Employer" for the sixth consecutive year since 2011, Hutchison Telecommunications Hong Kong won the "7th Asia Best Employer Brand Awards-Asia's Best Employer Brand", and Infrastructure division's UK Rails was awarded "Britain's Healthiest Employer" for its employee-friendly culture and programme of well-being-related initiatives. These initiatives have demonstrated CK Hutchison's commitment to talent retention and motivated its employees to build their careers with the Group.

The Group upholds labour standards throughout its businesses. Its policies strictly prohibit the use of child labour and forced labour and rigorous measures are taken to prevent such practices in its operations.
Investing in Training and Development
It is the priority of CK Hutchison to ensure that its employees at all levels are developed and motivated to deliver the Group's commitments to its stakeholders. Each division develops its training programmes to meet specific business needs. Trainings include orientation, sharing sessions, workshops and internal-external courses. Employees are also entitled to various subsidies and sponsorships for job-related training courses to encourage lifelong learning.

In order to equip employees in meeting increasing business demand, Group companies work with external parties to deliver pertinent and timely training. For example, Hongkong International Terminals ("HIT") of the Ports division operates a Craft Apprenticeship Programme in collaboration with the Vocational Training Council of Hong Kong. Participants learn a wide range of practical skills by rotating in different sections of the Engineering Department before choosing an area of specialisation. Since 2012, the programme has provided well-rounded technical skill training to HIT's next generation of qualified professional port technicians.

ASW attaches great importance to nurturing talents and takes a pioneering role in staff development. Opportunities are offered to its employees to learn and develop throughout their careers and they in turn bring better service to customers.

In January 2013, ASW became the first retail corporate in Hong Kong to offer its staff professional and comprehensive courses recognised by the Qualifications Framework ("QF"). Since then, ASW has launched 14 QF accredited programmes (Level 2 to Level 4) and trained 2,246 staff across Watsons, PARKnSHOP, Fortress and Watson's Wine. ASW also helped its 306 store specialists and management staff apply for "Recognition of Prior Learning" of QF to recognise the valuable experience that they have already acquired and to facilitate their pursuit of a lifelong career in the retail industry. In June 2016, ASW launched the "Professional Diploma in Retail Management", a Level 5 programme under QF and the first of its kind designed based on "QF Specification of Competency Standards of Retail". Under QF, qualifications recognised in a Level 5 programme are equivalent to that of a bachelor's degree. The 18-month "Professional Diploma in Retail Management" is jointly developed by the Learning and Development Team (Retail HK) of ASW and Institute for Entrepreneurship of The Hong Kong Polytechnic University. ASW fully subsidises potential employees to take the "Professional Diploma in Retail Management" course and offers them paid leave to study during work hours. The course covers sales and marketing, customer management, information technology, human resources, merchandising and supply chain, store operations, strategic management and business English and its application.
Promoting Well-being, Health and Safety
The Group cares about the well-being of its employees. It promotes work-life balance and provides a generous range of paid leave entitlements to its employees. For instance, the Rotterdam port implements the flexible duty roster which gives operation staff greater flexibility in managing their work and free time. A dedicated taskforce has been formed to explore other manning and roster options to further improve the workforce flexibility.

The Group strives to create a safe workplace for all employees. Many of the businesses have implemented safety management systems in accordance with national or international standards, such as OHSAS 18001, to protect employees from occupational hazards. Safety training programmes are provided to employees based on type of work as safety standards are also applied consistently in the workplace.

A safe workplace relies on the establishment of safety culture, policies and procedures and employee behaviour. The Infrastructure division's Northern Gas Networks in the UK has been working proactively with a behavioural psychologist to study how cognition affects behavior and how workplace safety could be more scientifically improved. Staff safety committees meet regularly at local level and twice a year at national level to discuss safety issues within the company. These committees are attended by trained employee safety representatives as well as senior management. Safety awareness is also generated through management safety tours of buildings, sites and workplaces, as well as meetings and open forums on safety condition between line management and employees.

Since 2011, HK Electric has been operating its Work Safe Behaviour programme to eliminate risky behaviour, reduce the scope for human error and encourage safe working practices. In 2017, HK Electric won the Gold Awards in the "Work Safe Behaviour Award", Bronze Award in the "Safety Promotion Award", and the "Safety Performance Award" in the 16th Hong Kong Occupational Safety and Health Award Programme organised by Occupational Safety & Health Council, Labour Department, Development Bureau and 13 other organisations. Power Assets' Ratchaburi plant in Thailand has adopted a "Stop Work" programme in which frontline staff are given full autonomy to halt a work process if an unsafe situation is observed.

All CK Hutchison's businesses strive to minimise accidents and continually work to improve workplace safety and educate employees on proper procedures. In 2016, Hutchison Ports instituted a policy in which workplace safety incidents were to be reviewed and investigated by trained personnel from outside the affected business unit. The aim is to go as far as practicable in order to take effective steps to strengthen workplace safety and share the lessons learned across the business units of the Ports division.
Regulatory Compliance
During the reporting period, the Group is not aware of any non-compliance with laws and regulations that have a significant impact on the Group relating to employment, occupational health and safety, or labour standards.