Stakeholder Engagement
Shareholders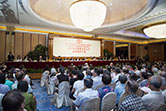 CK Hutchison has on-going dialogues with the financial community including analysts, fund managers and investors. To increase transparency and accountability, over the past several years, the Group has expanded its financial reporting presentation with detailed sector analysis in the Company's annual and interim results. The Group also encourages shareholders to participate in shareholders' meetings in-person or appoint proxies to attend and vote at the meetings.

The Shareholder Communication Policy is available on the corporate website: www.ckh.com.hk.
Customers
Customer feedback is an important element to building a sustainable business. In the highly competitive retail market sector, our businesses have developed a range of channels to engage customers such as customer service centres, focus groups, and where appropriate, social networking pages and smartphone apps. For example, 3 Hong Kong customers can chat online with a customer service representative through a webcam. In Indonesia, H3I launched the "Voice of Customer" initiative where management at all levels will meet with customers on the field and in our stores. With millions of customers around the world shopping in its stores, ASW is committed to "bring more to its customers" by providing services that exceed their expectations. This includes listening to their needs and feedback, as well as striving to tailor-make offers to every individual customer through loyalty programmes. This dedication to customers is recognised by numerous accolades from independent parties such as "Best In-Store Customer Experience" for 3UK, "Service Retailer of the Year" for HK Electric, and No. 1 Choice in Ukraine's Health and Beauty for Watsons Ukraine.

The Group implemented a series of policies to safeguard customer rights including data privacy. Mass consumer facing businesses also have more detailed policies and guidelines tailor-made for their specific industries and customer needs.
Suppliers and Creditors
Upholding international and local laws and regulations is a top priority for CK Hutchison. CK Hutchison Head Office has implemented a policy requiring its vendors and suppliers to abide by requirements stated in the United Nations Global Compact, including non-discriminatory hiring and employment practices, a safe and healthy workplace, compliance with environmental laws and prohibition of child labour.

ASW subsidiaries have integrated the latest (2014) Business Social Compliance Initiative (BSCI) Code of Conduct into their local trading contracts.
Government / Laws and Regulations
The Group's portfolio includes ports, retail, infrastructure, energy, and telecommunications. Many of these industries are regulated by local and international bodies.

The Group is committed to ensuring its businesses are operated in compliance with local and international laws, rules and regulations. Whilst the operating company will take into account relevant local laws and customs in their daily operations, the CK Hutchison Head Office takes the lead in reviewing and monitoring the compliance programme of laws and regulations which may have global implications on the Group. Over the past several years, the Group have conducted tailor-made workshops, reviewed practices and guidelines, created and implemented policies in areas including data privacy law, anti-bribery and anti-corruption law, as well as anti-trust and competition law, to strengthen the internal controls and compliance regime of the Group. These measures are subject to regular review and update to ensure their effectiveness.

On the listed companies level, the Group is subject to the Rules Governing the Listing of Securities on The Stock Exchange of Hong Kong Limited, the Codes on Takeovers and Mergers and Share Buy-backs, the Companies Ordinance (Chapter 622 of the Laws of Hong Kong) and the Securities and Futures Ordinance (Chapter 571 of the Laws of Hong Kong). The Group adheres to and ensure that they are vigilant with the legal requirements under the statutes.