CK Hutchison Family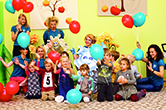 CK Hutchison takes pride in serving the community through its businesses and other initiatives. Providing the local communities with products and services they trust and can rely on is part of building sustainable businesses. In addition to ESG teams within individual Group companies and business units, the Group has different avenues to share these developments amongst the businesses. The Group's magazine, Sphere, periodically shares stories, trends and ESG activities by businesses with other group companies and staff. The latest issue of the magazine can be viewed on the CK Hutchison website at http://www.ckh.com.hk/en/about/journal.php.


Li Ka Shing Foundation – Changing Times, Unchanging Promise
Mr Li Ka-shing, the Chairman of the Group, recognises the importance of education and healthcare to societal development. Established in 1980, the Li Ka Shing Foundation ("LKSF") has invested over HK$20 billion to develop education, medical services and research initiatives in 27 countries and regions, with over 80% of the projects located within the Greater China region. Mr Li describes his philanthropic effort as akin to having another son in the family. He called for a paradigm shift in our Asian culture of giving, assigning equal importance to societal development and the continuation of future generations, and apportioning more of our wealth and means towards social capital so that we could bring forth great hope and promises for generations to come.

Below are some of LKSF's major and special projects in 2017:

Love Ideas, Love HK
Funded with contributions of over HK$300 million, Love HK Your Way! continues to create a positive social impact:

Compassionate Guardians
For ten years, the "Heart of Gold" Hong Kong Hospice Care Service Programme, a collaboration with the Hong Kong Hospital Authority, has been supporting hospice centres in ten public hospitals. This innovative programme has served 38,000 terminally ill cancer patients and their family members with a host of integrated palliative care services. LKSF's contributions to this programme now total HK$126 million.
Community Care
"Decide Well, Spend Wisely"
In its second year, "Decide Well, Spend Wisely" issued HK$5,000 gift cheques with no conditions attached to each of the 9,320 students in Yuen Long (including Tin Shui Wai), Islands, and
Tuen Mun Districts sitting for the 2018 Hong Kong Diploma of Secondary Education Examination. Through two phases, the programme has distributed over HK$75 million to more than 15,000 students to encourage wise financial decisions and to help alleviate exam pressures.

Listening Angels
As at the end of December 2017, the Caritas Family Crisis Hotline and Education Centre has received over HK$45.2 million from LKSF and handled more than 440,000 cases. The Centre supports individuals and families in distress with a 24-hour hotline, and also hosts crisis prevention workshops to promote greater social harmony.

Innovative Education
In June 2017, LKSF invited 300 young people to participate in HKXP, an e-sports event aimed at piquing their interest in advanced technology. In July, LKSF made a donation of HK$10 million to set up scholarships and develop "Cornerstone Maths" at the Education University of Hong Kong.
Paradigm Shift in Human Capital Development and Leadership
Shantou University
Founded in 1981 with the approval of the State Council, Shantou University ("STU") is co-developed by the Ministry of Education, the Guangdong Provincial Government and LKSF. As the only privately funded public university in Mainland China, STU strives to become a top-tier university with a firm commitment to internationalisation. LKSF has earmarked over HK$10 billion to support the University, which has cultivated over 120,000 graduates to date.

STU continued to enhance its competitiveness across the board in 2017. Newly approved PhD programmes in biological sciences and mathematics have been added to its curriculum. Not only has the University made the "Times Higher Education World University Rankings" for the third consecutive year, for the first time STU was also included in THE's "Young University Rankings 2017", and placed on three other globally recognised world university rankings — the Center for World University Rankings 2017, the QS University Rankings Asia 2018, and the US News Best Global Universities Ranking 2018. STU has developed an Advanced Undergraduate Education model, adopting the integrated, Outcome-Based Education model that combines ability, knowledge and skills learning. LKSF also contributed US$3 million to the University of Michigan to foster a joint venture by STU and SUMC that would create the first-ever programme in biomedical engineering in the eastern Guangdong region.

Student quality has continued to improve for a fifth consecutive year. The 2017 admission scores for incoming freshmen from 13 provinces/regions and the number of undergraduates who selected STU as their first choice set new highs. The first-time employment rate also hit a record high of 98.04%, topping all tertiary institutions in Guangdong Province. The employment rate stood firmly above 99% for the sixth year running. The average salary for graduates after five years in the workforce exceeds that of 88% of graduates from all universities nationwide. STU continued to build on its record of outstanding performance in research and innovation. According to the "Best University Ranking" website, STU ranks No. 49 in the nation for research quality.

In December 2017, four female rowers in their early 20's formed Kung Fu Cha Cha to participate in the annual Talisker Whisky Atlantic Challenge, the "world's toughest ocean rowing race". Embodying the school spirit, the team departed from Canary Islands on 14 December, and arrived at their destination in Antigua on 17 January 2018. In conquering the Atlantic, they set four world records: First team from Asia to row across the Atlantic Ocean; first team from China to row across the Atlantic Ocean; youngest team ever to row across the Atlantic; and fastest time in the Challenge for a four-woman crew.

Shantou University Medical College
Shantou University Medical College ("SUMC") is pioneering reforms in medical education in Mainland China based on student-centred education and internationalisation initiatives. For 20 consecutive years, all incoming students selected SUMC as their first choice. The passing rate of SUMC graduates in the National Medical Licensing Examinations has been ranked in the top eight out of 170+ medical schools in China for the 11th consecutive year. SUMC also adopted the United States Medical Licensing Examination ("USMLE") to evaluate students in the English-stream medical programme. Over the past six years, the average passing rate of 93.04% for SUMC students in the USMLE Step 1 is similar to those of accredited medical schools in the U.S. In 2017, the employment rate of new graduates reached 97.20%, first among universities in Guangdong Province for 17 consecutive years. An STU team comprising three nursing and medical students beat 207 teams from universities across China to win a Nursing-related Innovation Challenge organised by Enactus China.

The research team from the Joint Influenza Research centre of SUMC and Hong Kong University led by Prof Guan Yi, was nominated as a key participant in "Critical Innovation and Technological Breakthroughs in the Systematic Prevention and Treatment of Emerging Infectious Diseases - H7N9 Avian Influenza". This research won the Grand Prize of the 2017 National Science and Technology Progress Award, and has significantly enhanced China's international impact in the field of infectious disease prevention. Cancer researchers at SUMC published their findings in two prestigious journals Gastroenterology and Gut, detailing the mutational events and corresponding alterations of tissues and cells in esophageal cancers and contrasting systematically the genomic and epigenomic differences between squamous cell carcinomas and adenocarcinomas of the esophagus. These studies allow further understanding of esophageal cancer progression and better diagnostic designs for early detection. The 16 members of the East-West Alliance, including STU, Oxford, Cambridge and UC Berkeley, continue to build research synergies across borders.

SUMC has five affiliated hospitals with a total of 4,500 beds serving 70% of the population in Shantou city. After the newly completed medical education centre, an international research centre under construction will provide an additional 55,000 sq m of research space, setting a firm foundation for advancements in knowledge discovery and transfer.

Cheung Kong Graduate School of Business
Since its founding on 23 November 2002, the Cheung Kong Graduate School of Business ("CKGSB") has strived to cultivate business leaders with a global vision, a humanistic spirit, a strong sense of social responsibility and an innovative mind-set. Over the past 15 years, CKGSB has continuously innovated to pioneer new efforts in business management education and become a leading business school from China with global influence. Today, more than half of CKGSB's 10,000+ alumni are at the CEO or Chairman level and collectively, they lead one-fifth of China's most valuable brands.

Guangdong Technion-Israel Institute of Technology
LKSF donated US$130 million to establish GTIIT, a joint venture between Technion and Shantou University. GTIIT aims to become a cutting-edge international education and research institute, dedicated to innovative research, environmental protection, and societal advancement. The Institute will promote an environment for entrepreneurial innovation and knowledge-based competitiveness in Guangdong, contributing to the betterment of China, Israel and all humankind. Officially approved by the Chinese Ministry of Education in December 2016, GTIIT enrolled the first cohort of 216 students last year, and held its inauguration ceremony on 18 December 2017.
Healthcare Projects in Mainland China
Free Healthcare Services
Over the years, LKSF has contributed over RMB1 billion to support free medical services in Mainland China, including programmes such as "Heart of Gold" Nationwide Hospice Care Services, China Disabled Persons Federation's "Cheung Kong New Milestone" (three phases) to install prosthetics and provide rehabilitation support and training, Nationwide Medical Welfare for the Poor, and the Kumbum Tibetan Medical Hospital Aid Programme, with the total number of beneficiaries exceeding 17 million.

Sports Education
A donation of RMB10 million was made to support Yao Foundation's sports education programmes in Guangdong and Guangxi provinces.

Sustainable Development
LKSF supports technology-assisted agricultural development and has made a contribution of RMB12 million to initiate the Xinjiang Castor Seed Project. Results of plantation trials since 2015 have been very positive, and the programme will be expanded in 2018 to cover 40,000 mu. LKSF has also contributed RMB3.5 million to support 100 social development programmes in Guangdong. The training provided for 1,500 women cadets and social workers indirectly benefits 500,000 elderly, women, children, and disabled persons.

Overseas Medical Education and Research
Developed with the support of a £20 million gift from LKSF, the Centre for Health Information and Discovery at Oxford University incorporates two related research institutes, the Target Discovery Institute ("TDI") and the Big Data Institute ("BDI"), the latter of which opened in May 2017. Together the institutes will host 600 interdisciplinary scientists and researchers.

LKSF's new commitments to overseas projects reached nearly HK$100 million in 2017. Initiatives supported include a biomedical engineering venture between Shantou University and the University of Michigan; a scholarship established in honour of the late Lord Michael Sandberg to support local students pursuing undergraduate education in the UK; a research programme at the Melbourne University Victorian Comprehensive Cancer Centre; and programmes that support Stanford University's research into the body's healing mechanism and the development of young surgeons.
Boundless Compassion
To date, LKSF has made grants of over HK$2.6 billion to cover the development cost and daily operating expenses of Tsz Shan Monastery, which received 259,242 visitors in 2017, and over 700,000 visitors since its opening in 2015. The monastery strives to nurture positive energy and cultivate "Boundless Compassion" through development in three key areas including education, care and art for the harmony of society. "Sala Loving-Care Project" is initiated to enhance public awareness on life and death education and hospice care while nurturing positive energy. Tsz Shan Institute collaborates with internationally recognised institutes of higher learning and universities to offer comprehensive experience in education and research on Buddhist teaching. The integration of art and the Dharma facilitates the expression of self or awareness of life and enhances the well-being of others.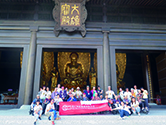 Since its establishment in 2015, the Buddhist Spiritual Counselling Centre of Tsz Shan Monastery has provided counselling services for over 4,000 residents, and over 32,000 people have participated in spiritual wellness activities. In collaboration with social welfare agencies, the Centre has newly established a "Buddhist Counselling Professional Training Centre" for social workers to award continuing professional development approved by the Social Workers Registration Board.

LKSF will continue to cultivate a culture of giving as its unchanging promise.