Community
With dedication and commitment, CK Hutchison has the responsibility to make the community a better place for everyone which will also provide long-lasting benefits to our stakeholders. In 2017 the Group's approach in community activities focus in youth empowerment, relief for the needy and environmental conservation. The Group is proud to report that the community activities arranged by the CK Hutchison Volunteer Team has contributed 11,800 service hours and positively impacted over 99,200 service recipients.

Empowering the Youth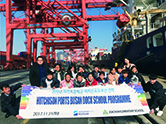 Hutchison Ports of the Ports business supports education through its "Hutchison Ports Dock School Programme". This programme aims to provide more opportunities for younger generations by supporting the improvement of education facilities.

In May, 3 Ireland employees fully funded a six-week online community development programme for young adults who are interested in gaining skills in digital literary, social action and youth leadership. Being aware of how many young people feel marginalised, 3 Demark lent its support to Turning Tables, an NGO that works to empower marginalised youth by providing them with the means to express their grievances, hopes and dreams in music and film. Turning Tables built a creative environment for the youth to learn new skills and share experience, and hoping to give them an opportunity to pursue a better future.

ASW contributes to the growth and development of young athletes in Hong Kong. It organises annual challenges for junior athletes at the Watsons Athletic Club ("WAC"). The WAC Annual Challenge had over 2,300 outstanding junior athletes participating
Supporting those in Need
Disaster Relief
The U.S. and the Caribbean have been hit by large scale storms and hurricane in 2017, CK Hutchison strives to provide timely relief for those who were embroiled in disasters. For superstorm Hurricane Irma in particular, in just a few hours, 3 Group had updated all our channels, opened more networks to provide better coverage and sent SMS to customers roaming in the Caribbean assuring that all the costs associated with contacting loved ones would be reimbursed. 3 UK has also been exploring the support it could offer to communities in the UK during similar large scale disasters, including providing donated handsets, chargers and loaning charging stations to key community groups and emergency services.

Serving the Community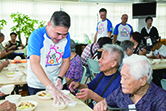 About one in three senior citizens in Hong Kong is living in poverty and one in four deprived children does not have three meals a day. To help alleviate hunger among the needy, and as part of the Retail division's efforts to achieve UN Sustainable Development Goal No. 12, PARKnSHOP donates edible surplus food to the local social enterprise Food Angel. In addition, PARKnSHOP Hong Kong has been organising the City Food Drive prorgamme which helps Food Angel collect grocery food items and funds from the public. Its partnership with Food Angel was awarded the Certificate of Merit in the "Outstanding Partnership Project Award 2016/17" organised by the Hong Kong Council of Social Service.

As of 2017, the programme helped raise more than 182,000 food items for Food Angel. When food items and cash donations combined, it has, to date, raised more than HK$4.7 million to help Food Angel prepare hundreds of thousands of hot meal boxes for needy Hong Kong residents.

And such empathy was echoed by CK Hutchison's employees in Korea. For two days in May, 20 employees from Hutchison Ports Busan volunteered as canteen staff at Dong-gu Elderly Welfare Center and Jaseong-dae Elderly Welfare Center to offer meals for the 830 residents there, as part of "2017 Hutchison Ports Busan Volunteering Days Programme" organised by the company's Community Caring Group.

The volunteer group has been supporting the needy citizens with rice donations and house maintenance service for more than 13 years on a monthly basis. The Volunteering Days Programme was initiated in 2014 to carry out more community activities.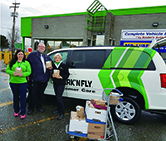 Park'N Fly of CK Infrastructure visited and gave away snack bags to 650 families with children suffering from serious illness.

Globally, the Retail division ASW has multiplied its CSR activities up to 400 in 2017, counting 27,000 volunteers serving over 180,000 people in more than 97,000 hours. In 2017 alone, the Retail group donated 278 tonnes of edible surplus food which helped produce 832,000 meals to the needy.

Bridging the Digital Divide
Continuing the mission to narrow the digital divide not just for the crisis-affected refugees or displaced people, last year, CK Hutchison extended efforts to the underprivileged and those who feel they have been left out by the society.

The Telecommunications division thought of many creative ways to bridge this gap and serve the community. Following an internal pilot at 3 UK in 2016, at the beginning of 2017, the campaign, Reconnected, was launched externally as part of its #makeitright campaign. The initiative works with a number of charities to donate the old handsets from customers to the less advantaged people all over the UK, and offering them three months of free network use.