Community
With dedication and commitment, CK Hutchison has the responsibility to make the community a better place which will also provide long-lasting benefits to stakeholders. In 2018, the Group's approach in community activities focuses on youth empowerment, relief for the needy and environmental conservation. The CKHH Volunteer Team in Hong Kong has arranged community activities and contributed over 8,700 service hours and positively impacted over 96,400 service recipients..

Empowering the Youth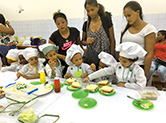 Hutchison Ports supports education and creates opportunities for youth through its "Hutchison Ports Dock School Programme". This programme aims to match a school to each port in the Group's global network, and provides assistance by sponsoring scholarships, improvement of education facilities and other educational initiatives.

ASW contributes to the growth and development of young athletes in Hong Kong. It organises annual challenges for junior athletes at the Watsons Athletic Club ("WAC"). The WAC Annual Challenge had over 3,000 outstanding junior athletes participating.

HTHKH senior executives shared their insight and experience with students during visits to the company and career sessions.
Supporting those in Need

Serving the Community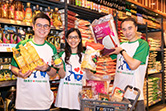 About one in three senior citizens in Hong Kong is living in poverty and one in four deprived children does not have three meals a day. To help alleviate hunger among the needy, and as part of the Retail division's efforts to achieve UN Sustainable Development Goal No. 12, PARKnSHOP donates edible surplus food to the local social enterprise Food Angel. In addition, PARKnSHOP Hong Kong has been organising the "City Food Drive" programme which helps Food Angel collect grocery food items and funds from the public since 2012. As of 2018, the programme helped raise more than 510,000 food items for Food Angel. When food items and cash donations combined, it has to date raised more than HK$6.1 million and donated more than 1,600 tonnes of edible surplus food to help Food Angel prepare over 4.8 million of hot meal boxes to feed the needy in Hong Kong.

In May 2018, PARKnSHOP and Food Angel announced to strengthen their collaboration with the launch of the "Food Rescue@PARKnSHOP" programme. This programme aims to further promote the message of treasuring food to a wider public. For example, PARKnSHOP joins hands with Food Angel and food container supplier ClipFresh to create Smart Food Recipe and video of delicious dishes made with leftover food, and creatively display the ingredients appear in the Smart Food Recipe in selected stores.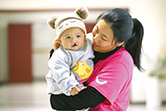 ASW has launched the global CSR signature campaign "Give a Smile" in 2018, encouraging business units worldwide to support the work of Operation Smile to provide free surgery to those who suffer from cleft lips and palates. The first ASW's mission was carried out in Guizhou, China in November 2018 which benefited 92 patients in three surgery days. HK$3.9 million was raised from all markets to carry out medical missions, and is targeted to help 1,000 patients around the world by 2019.

On community service, ASW has multiplied its CSR activities up to 400 in 2018, counting 34,000 volunteers serving over 166,000 people in more than 87,000 hours. In 2018 alone, the Retail division donated 278 tonnes of edible surplus food which helped produce 832,000 meals to beneficiaries.

In supporting the vision of being a responsible corporate citizen, UK Power Networks has made a commitment to grant up to HK$3 million per annum to benefit communities through the "Communities Matters" Programme. Through the initiatives such as "Charity Matched Funding", "Team Sport Awards", "Give As You Earn", "Donate A Day" volunteering and other charity donations, UK Power Networks have provided an estimated total value of HK$3.5 million funding for local charities and communities this year.

Bridging the Digital Divide

Since 2017, CK Hutchison has extended efforts to narrow the digital divide not just for the crisis-affected refugees or displaced people, but also to the underprivileged and those who feel they have been left out by the society.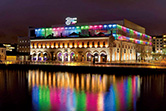 Drei Hilft, a non-profit organisation managed by the Corporate Communications team of 3 Austria, launched various initiatives against poverty, for people with disabilities, against violence against women and children and for education since 2015. As a UNICEF emergency partner, apart from financial assistance, Drei Hilft also provided assistance through the provision of free communication equipment and connectivity, including but not limited to WLAN-routers, SIM-cards or mobile phones. Employees from 3 Austria also volunteered with personal engagement and worked for a range of corporate volunteering projects. In 2018, an estimated total value of HK$1 million has been contributed in supporting those in need.

3 Ireland secured 100Mhz spectrum nationally so that there will not be any urban-rural digital divide when 5G is rolled out.

HTHKH sponsored a "Make our life easier with AI" App Enhancement Competition where students look to make use of artificial intelligence to enhance application functionality and improve everyday lives.