Protecting children online at the Telecommunications division

More, and younger, children than ever before are online. This, on the one hand, allows them to learn, play and socialise, but on the other, also exposes them to heightened risks of abuse, exploitation and harm. Keeping children safe online is now an important part of being a parent and a responsibility the division aims to make easier for them to shoulder in protecting their loved ones.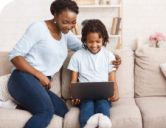 The Telecommunication division has therefore developed a range of resources available to parents and guardians, tailored to the local context, in helping parents protect children while online. In 2020, 3 UK teamed up with online safety experts in the UK, Internet Matters, on a new guide called "My first connected device" which details how to prepare, set up and manage a child's first device safely. To support the launch, 3 UK also held a number of free online sessions to educate parents on online safety.

3 Denmark contributed to the ongoing development, dissemination and regular update of the popular local parenting guide in Denmark, "There is so much parents don't understand — What do I need to know when my child goes online?". The guide targets parents of children between the years of 7-12 years old and offers knowledge, advice and recommendations on childhood engagement with the internet, social media and online games.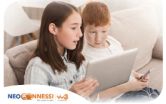 In 2018, WINDTRE launched the award-winning "NeoConnessi", an education platform in Italy to help parents and children navigate the online world safely together. The platform provides articles, insights, technical tips, and advice on how to create a healthy tension of control and trust with one's child as they begin their online introduction. Chosen experts and experienced parent bloggers also contribute to ensure content is best suited to the needs of parents. NeoConnessi has also been adopted by schools to further help on their digital education curriculum; in 2019-2020, 5,140 classrooms across Italy received access to the NeoConessi toolkit. During 2020, NeoConnessi expanded its online capability by launching a support Facebook page for parents and also organised a series of webinars to continue their outreach during the pandemic.

In 2020, 3 Ireland signed a Memorandum of Understanding with An Garda Siochána (the national police service) and other mobile operators to launch an initiative that will block access to websites containing child sexual abuse material. When a subscriber enters a web address containing child abuse material into the browser, the user will now be re-directed to An Garda Síochána's "Stop Page".