The Group understands that not everyone has the luxury of being able to afford energy and water. According to the latest UK Government statistics, 10.3% of households in England are living in fuel poverty. Supporting customers in need is therefore a priority for the division. As a leading provider of infrastructure services, the Infrastructure division aims to co-create services and plans to fit the needs of customers and they build programmes that address the most vulnerable in society.

Tackling fuel poverty at WWU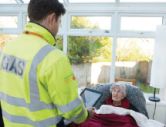 WWU's fuel poverty support programme, Healthy Homes, Healthy People, takes a holistic approach and partnerships with Warm Wales and the Centre for Sustainable Energy are central to helping it engage and meet the needs of hard to reach groups. To identify and focus fuel poor support activities, WWU developed a vulnerability mapping tool in 2017 which identified fuel poor homes using property datasets, mass energy performance analysis and Experian data. This helps WWU to prioritise, alongside the Local Authority, areas of focus which are then further cross- checked with local knowledge and referrals from local doctors, health professionals and community organisations.

Once target areas are identified, local partners engage with people in their homes on energy efficiency and benefits checks. The results are monitored and analysed by source and geography through its dedicated social obligations dashboard.

In March, to maintain safe practices during the COVID-19 outbreak, the service was altered from face-to-face to telephone and referral pathways have been set up.

As a result of this work, more than 2,300 homes have benefited, delivering over £1.5 million in benefits. In 2020, WWU was re-accredited to the BS 18477 Inclusive Service Provision Standard.
Tackling water poverty: Northumbrian Water

Northumbrian Water was the first water company to make a pledge to eradicate water poverty by 2030. When it first set out on this journey, Northumbrian Water calculated that 18% of households (around 370,000 households) it served were defined as being in water poverty in 2018-19. This number has now been reduced to 10.4% in 2020, putting the business on its planned trajectory to 0% by 2030.

Early methods for addressing water poverty included making the best use of tools already available such as bill reduction schemes, metering, water efficiency education and ensuring all customers get the Government welfare benefits they are entitled to. In 2020, Northumbrian Water has been helping customers get on to the financial support schemes offered, strengthening partnership arrangements and using this network to promote support.