Digitalisation within the Ports division

Digitalisation brings many benefits environmentally, socially and economically. Advances in automation and new innovative technologies, such as big data and Artificial Intelligence (AI), enable a new "smart port" era, offering great opportunities to Hutchison Ports.

Ports are also increasingly utilising AI and big data to analyse terminal traffic to optimise and maximise terminal productivity. Being in the volume business, Hutchison Ports looks to big data for a wide spectrum of its business decisions including investments and operations. For example, its proprietary operating system, Next Generation Terminal Management System ("nGen"), collects container and ship data and puts together plans using algorithms and AI for the most optimal and efficient use of terminals. These plans will then be used in the execution of shipside and landside operations.

Using 3D animation, Hutchison Ports is able to simulate different operational scenarios. By comparing performance indicators and resource utilisation, Hutchison Ports can find the ideal smart port design and equipment levels before committing to investments.

Paperless operations are now migrating to digital cloud platforms to enable processes such as online goods registration, invoicing, payment, and assigning pickup points through QR code notification. All processes are centralised to a unified platform allowing quick and easy access with greater efficiency and flexibility. This interconnected digitalised terminal operation is quickly becoming the new norm in port operations.


Introducing ubi

ubi is Hutchison Ports' proprietary customer-facing app.

It is powered by nGen and integrates waterside, yard and landside operations allowing customers to receive the latest updates and information on their smart phones and devices at any time.

Since the launch of ubi in 2017, it has offered powerful features in port digitalisation allowing carriers, service providers and yard operations to have greater visibility, efficient landside processes and safer working environments. Example benefits include:

Enables immediate updates such as shipping, haulier and terminal information to help customers with enhanced decision making;
Provides an electronic Gate-In Slip and Equipment Interchange Receipt, eliminating unnecessary paper use while enabling more timely distribution and visibility of container status;
The "Truck Appointment" function allows for more streamlined collaboration between the terminal and the customer leading to reduced terminal traffic congestion and idling time, as well as associated fuel consumption and air emissions; and
The "Safety Alert" for Remote-Controlled RTGC function alerts drivers from gate-in to gate-out by detecting the truck's location and provide warning notifications.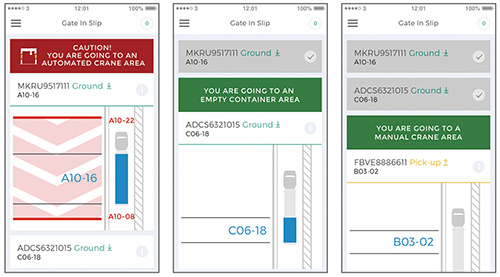 Collaboration to accelerate the digital transformation

In 2020, Hutchison Ports joined eight leading ocean carriers and terminal operators to form a consortium to develop the Global Shipping Business Network ("GSBN"), an industry body seeking to drive and accelerate the adoption of digital operations within the shipping industry. The Group also seconded one of its leading data scientists to lead the GSBN. The network's unique combination of carriers and terminal operators provides a balanced perspective, generating new ideas to transform the industry by going beyond the conventional carrier-centric business model to create value for all stakeholders in the supply chain.

Cutting-edge equipment

Advancing technology in equipment automation and remote- control connectivity offers many benefits.

In a remote-controlled environment, equipment can be deployed dynamically to meet peaks in demand and locating operators, vessel controllers and supervisors in close proximity also contributes to operational and fuel efficiencies.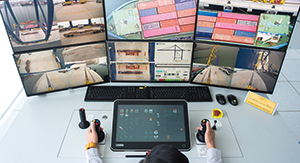 Further, in a traditional crane operation, drivers may experience physical stress to their back, neck and shoulders. From the comfort of the remote-control crane centres, drivers can have a better quality of workplace wellbeing. This less physically demanding work environment also opens up opportunity to a more diverse talent pool.

To date, Hutchison Ports has deployed 42 remote-control quay crane units worldwide, with an additional six units in progress. Fifty-seven remote-control RTGCs have also been deployed globally and an additional 30 units will be commissioned in 2021.

Hutchison Ports Thailand has introduced six electric autonomous terminal tractors as part its technology transformation. The further use of automated transfer carriers is under development for Hutchison Ports Stockholm.

It is important to note that while digitalisation and automation may change the nature of some jobs, they also create new job opportunities for equipment operators to be re-tooled and trained on the latest technologies as well as offering better workplace safety and wellbeing.

With the right focus, a future-fit port will offer even more employment and be even more inclusive than it is today.


Autonomous truck technology at Hutchison Ports Thailand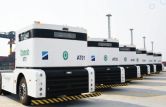 In 2020, Hutchison Ports Thailand began piloting cutting-edge technology in truck automation with the commissioning of six fully electric and autonomous trucks at the Terminal D facility at Laem Chabang Port, Thailand.

Equipped with advanced AI machine-learning technology and a data transmission system, the autonomous trucks can operate non-stop for more than 24 hours. The trucks utilise an advanced light detection and range technology, through which they can instantaneously detect and survey their surroundings in all directions, generating a precise, internal 3D map enabling them to accurately analyse and avoid obstacles and collisions.
5G

The advent of 5G and IoT technology will bring the technological and smart capabilities of a port to a whole new level. A partnership between the Telecommunications division and Hutchison Ports Port of Felixstowe will test the potential of 5G in a port environment, a project which was chosen as part of the UK Government's 5G Trials and Testbeds Programme. The project will begin in 2021 and test two use cases: enabling remote-controlled cranes via the transmission of CCTV; and deploying IoT sensors and AI to optimise the predicative maintenance cycle of the Ports' 31 quay- side and 82 yard cranes. Harnessing the speed, low-latency and high-capacity of 5G, the project will demonstrate the productivity and efficiency gains of such technology both operationally and in terms of reduced greenhouse gas emissions as a result of fuel efficiencies.

Further, with the use of automated transfer carriers in development for Hutchison Ports Stockholm, low latency in wireless transmission is a critical requirement for safe and effective operations. Hutchison Ports is therefore also collaborating with the Group's Telecommunications division to review the pathway to updating the terminal to 5G.