Digitalisation with the Telecommunications Division - Ports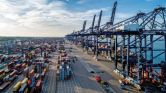 Large-scale IoT connectivity can be used to optimise ports operations at all levels. Sensors and monitoring equipment on board ships can gather vessel performance data to find the optimal route and engine configuration that reduces fuel consumption and carbon emissions. IoT can enable real-time monitoring of port equipment and machinery, as well as issue detection and failure prevention.

Using a 5G Private Network installed by 3 UK, Hutchison Ports Port of Felixstowe, the UK's largest port, will deploy 5G and IoT to support remote-controlled crane operations and predictive maintenance. Predictive maintenance decreases unplanned downtimes and vessel delays that significantly reduce fuel wastage and carbon emissions.

Working with 3 UK, Cambridge University, Blue Mesh Solutions, Ericsson and Siemens, the port will install a 5G-enabled sensor and CCTV network across its crane fleet under the UK Government's 5G Testbeds and Trials Programme to drive investment and innovation in 5G.

3 UK is also working with Hutchison Ports Stockholm to review the use of 5G in developing automated transfer carriers.