Driving a culture that is inclusive and diverse creates a win-win for society and the Group because it:

Improves the ability of the Group to hire from a wider talent pool and ultimately find the best talent;
Creates an environment for improved decision making;
Strengthens people engagement by creating a culture of belongingness which ultimately feeds into productivity and retention; and
Enhances the capacity of the Group to innovate and deliver products and services to a wider customer base.

The Group's programmes are tailored to suit the needs of the division however commonality exists in providing training on inclusion and diversity, employee network groups, mentorship programmes, senior level sponsorship, and partnerships to help deliver on initiatives and test our approaches. Our Group-wide inclusion and diversity programmes are overseen by the Heads of our Human Resources teams that are responsible for setting and driving our Group inclusion and diversity goals.

Everyone Matters

To accelerate efforts to be as inclusive as possible Superdrug and Savers created Everyone Matters, its Inclusion & Diversity strategy and made it a key part of its People plan.

Everyone Matters focuses on six pillars. These pillars and programme highlights include:

1. Access All Areas (relating to Social Mobility)
Developed an award-winning apprenticeship programme focusing on UK "coldspots" as identified by the UK government's Social Mobility Index;
Facilitated over 1,750 people receiving a recognised apprenticeship qualification. Over 80% of those who completed an apprenticeship with Superdrug have received a permanent role; and
Joined the UK government's Kickstart Scheme, an initiative to create new job placements for 16-24 year olds on Universal Credit who are at risk of long term unemployment. 400 Kickstarters joined the business in the early months of the programme with the aim to increase this number to approximately 2,000.

2. BAEM (Black, Asian and Ethnic Minority)
Developed an Ethnicity Strategy in 2019 focusing on how to improve the representation of those from minority backgrounds, particularly at a senior level. To date this has included:

De-biasing recruitment work and introducing balanced shortlists for senior roles;
Conducting Listening Groups and 1-1s with BAEM employees;
Producing a set of BAEM Commitments senior leadership have signed up to;
Rolling out a programme of events focusing on religious festivals and key dates of celebration such as Black History Month;
Communicating positive career stories of BAEM employees; and
Collating ethnicity data to monitor progression.

3. Gender Equality
Offers workshops, speaker events, traditional mentoring opportunities for young women and celebrates International Women's Day and International Men's Day;
Signed up to the Tech Talent Charter in 2019 committing to improving inclusion through recruitment and retention practices; and
Launched a partnership with Hestia in 2020, a charity supporting those experiencing domestic abuse.
Superdrug has provided training, updated policies, shared resources and opened up a conversation about an often difficult, taboo subject.

4. LGBTQ+
The LGBTQ+ network provides a visible, supportive, engaging network that celebrates gender expression and sexual identity so that colleagues can confidently be 100% themselves while at work.
The network enables space for LGBTQ+ colleagues to share experiences and challenges as well as find role models that show them that they don't need to hide any aspect of who they are.

5. Make Work Work (Flexibility at Work)
Partnered with Working Families to enhance the job design process to further efforts to make flexible working accessible in all roles, in particular management roles;
Colleagues also working as carers and focused on maternal mental health were celebrated as role models; and
In 2021, next steps include launching a dedicated maternity returners programmes as well as reviewing all family friendly policies to make further progress.

6. Disability
Aims for the Disability programme include:

Build awareness of both visible disability and non- visible disability across the business;
Support colleagues that live with these disabilities or long-term health conditions;
Break down stigmas and remove the labels attached to disability overall; and
Work to ensure that Superdrug and Savers are inclusive and accessible workplaces to all.
Superdrug and Savers are signatories on The Valuable 500, a global community revolutionising disability inclusion through business leadership and opportunity.

Each pillar has an employee network and a steering group, an actively involved executive sponsor, a lead from the People team, and is represented at the overarching Everyone Matters Steering Group, including Superdrug's CEO, Peter Macnab and Savers' MD, Doug Winchester.

Senior leaders and recruitment teams have attended Inclusive Leadership training, and Inclusion is now part of every new employees' induction.

The Infrastructure and Ports divisions have been actively trying to level the playing field of their traditionally male-dominated industries, as well as tackle other topics such as social mobility.

EDL has set a target of 25% female representation in its workforce by 2023. It is on track to meet this goal by achieving 20% in 2020. One of the initiatives in support of this includes a maternity leave policy of at least three months' full pay for the primary caregiver across all countries where EDL operates. EDL also rolled out online inclusion and diversity training globally, which will be refreshed every two years.

In 2020, UKPN retained its National Equality Standard accreditation, the UK's highest standard of recognition for best practice on equality, diversity and inclusion, and is ranked third on the list of the Inclusive Top 50 UK employers. In the three years since the introduction of the Gender Pay Regulations in 2017, the difference between Median men and women's pay has decreased by 18.5%, also demonstrating its commitment to gender pay equality at all levels in the business.

To support social mobility, NGN committed to The Social Mobility Pledge which champions organisations dedicated to levelling the playing field in the UK. With some of the country's widest opportunity gaps ("cold spots") located within NGN's service area, the network has built on its many areas of best practice to develop an Opportunity Action Plan that will take its efforts to an even higher level of ambition. The Plan includes:

A targeted approach to supporting local communities;
Lowering barriers to apprenticeships for the most disadvantaged youth;
Creating a new work experience standard; and
Monitoring the impact of COVID-19 on communities and adapting the Plan as needed.

In Australia, EDL provided summer internships to participants from CareerSeekers and CareerTrackers, not-for-profit organisations that provide mentorship and support to migrant and Aboriginal and Torres Strait Islander university students as they embark on their future careers. In 2018, EDL extended its commitment to CareerTrackers by signing up as a 10-Year Partner. EDL's Australian business also launched its first Reconciliation Action Plan, to improve opportunities for engagement and participation with First Nations people.

With a large and diverse team globally, Hutchison Ports aims for all employees to feel accepted, included and that they belong to a large family of diverse cultures and backgrounds.

In 2020, inclusion and diversity has been given added focus through new KPI setting to better monitor progress and identify opportunity areas for the global Ports Sustainability Committee to spearhead action. While Hutchison Ports knows there are lots more to do in this area across all of its ports, it is delighted to celebrate progress in some that can act as centres of excellence for others going forward.

Leading on diversity in the UK maritime industry

In March 2020, Hutchison Ports Port of Felixstowe became the first major UK port to gain the Women in Maritime Charter Status. As a Charter company, the Port has committed to improving gender diversity and creating a diverse and inclusive environment within a historically male dominated business.


Hutchison Ports UK is leading the Group's approach in improving gender diversity. In 2019, a five-year plan was created outlining key commitments to improving the gender balance of its staff, which was subsequently expanded to other areas of inclusion and diversity.

Some of the ongoing steps being taken include:

Updating the maternity and paternity policies to support new parents;
Launching a Women's Network and Celebrating International Women's Day;
Introducing a coaching programme for female leaders to support them in further advancing their career;
Improving workplace accessibility to persons with physical disabilities and working towards attaining the "Disability Confident Employer" accessibility status;
Developing a new diversity and inclusion training e-module;
Working to assess the recruitment process to reduce possibilities for interviewer bias, including anonymising applications; and
Establishing inclusive leadership training.

To progress the aim of making inclusion and diversity to be in every aspect of its culture, the Telecommunications businesses have been undertaking internal gap assessments as to what more can be done to address inequality at all levels. 3 Ireland and 3 UK both include the topics of inclusion, diversity and belonging in employee engagement surveys and have been actively tracking performance, implementing initiatives where gaps are highlighted and communicating progress made to employees.

3 UK has been working with the National Centre for Diversity to improve its approaches and 3 Ireland took part in the Investors In Diversity Award assessment process, putting its programmes to the test and receiving recommendations through the process on where their strategy can be made more impactful.

3 Ireland was delighted to have received a Silver rating in its first assessment under the Investors In Diversity Award and will take the recommendations on board in striving for gold.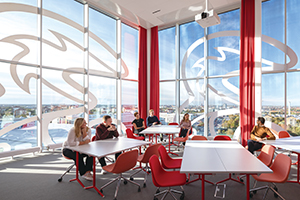 The division is currently creating inclusion and diversity training programmes for employees at various stages of the training life cycle from induction, to general employee training, to manager training. It has also undertaking reviews of the recruitment process with a view to avoiding unconscious bias and looking at how it can attract more diversity in STEM areas. In 2020, 3 Denmark focused on how job postings are designed to attract a more diverse pool of candidates, and to also ensure those eventually called for an interview are similarly diverse.

In Italy, WINDTRE has given additional attention to making its working environment and programmes inclusive to persons with disabilities by nominating a dedicated Disabilities Manager and establishing a disabilities steering committee including members from HR, IT, Privacy and Health and Safety. A Disabilities Hub has also been developed to promote awareness and ensure the services the business offers are inclusive to those with disabilities.

Seeking feedback internally and externally

3 UK has developed internal and external partnerships to help keep a finger on the pulse as to what makes an inclusive and diverse culture and what leading practice looks like.

Internal networks

3 UK has developed several employee networks across the business providing support to employees as well as feedback to the leadership team on where improvements still need to be made. These network groups include:

Women in Tech: supporting work on gender diversity, equality and inclusion;
Pride@ Three: providing support and information to employees on issues affecting the LGBTQ+ community;
BAME & Allies: working on increasing and supporting BAME (Black, Asian, and minority ethnic) representation particularly in senior roles across the organisation; and
Accessibility at Three: serving as a place for people with accessibility needs, physical or neurodiverse, to share their stories and recommendations to help build a more inclusive business.

Partnering with the National Centre for Diversity

In 2020, 3 UK partnered with the National Centre for Diversity in the UK to hold workshops for people leaders to reflect on the topics of inclusive leadership and positive role modelling, and explore how unconscious bias might be impacting culture. 3 UK is also working with the National Centre for Diversity to review its end-to-end recruitment process to help ensure fairness at every stage and identify further opportunities to improve inclusion and diversity through this process.

"We are a diverse business with employees drawn from all sections of society. I firmly believe that building on this diversity and our employees' sense of inclusion and belonging will help us create a stronger and better business, and in a small way, contribute to a more equal society."

Robert Finnegan, CEO, 3 UK & 3 Ireland

Testament to the efforts the businesses have made in this area, a number of recognitions were received and pledges made in 2020:

Hutchison Ports Port of Felixstowe became the first major UK port to gain the Women in Maritime Charter Status;
Superdrug was recognised as one of the most inclusive companies in Europe in the Financial Times Diversity Leaders ranking and Superdrug & Savers were placed in the Social Mobility Employer Index identifying UK employers dedicated to social mobility;
UK Power Networks was ranked third on the list of the Inclusive Top 50 UK employers and also retained its National Equality Standard accreditation;
NGN committed to the UK's Social Mobility Pledge; and
3 Ireland achieved a Silver rating in Investors In Diversity Award.