Management approaches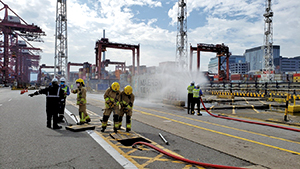 Of top concern is to ensure that employee health, safety and wellbeing is maintained for all.

The Group's management approaches are driven by a fundamental belief that all our people, employees and contractors, have the right to go home safe and well to their families every day.

Managerial responsibility for health and safety is assigned at each of the divisions. For the Telecommunications and Retail teams this generally lies within the Human Resources department and for the Ports and Infrastructure divisions, this is within dedicated HSE departments.

In order to foster a positive culture of health and safety, robust safety management systems exist across the businesses with many certified to ISO45001 or OHSAS 18001 and including procedures for hazard identification and risk assessment, industry- specific standard operating procedures, emergency preparedness procedures as well as ongoing monitoring and measurement. For example, HK Electric, UKPN, WWU, Seabank Power, SA Power Networks, and AVR have safety management systems in place that conform to ISO45001 or OHSAS 18001. Governance structures for the management of health and safety at the division-level are established.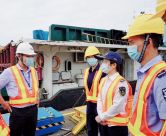 To illustrate, at the ports division, the Hutchison Ports Group Safety Committee ("SAFCOM") was established in 2011, with the headline remit to promote safe working and reduce accidents across the global network through the development of policies and procedures and the sharing of best practice.

SAFCOM is composed of the chairman, the secretariat (the Hutchison Ports Group Safety, Security & Environment team), six regional coordinators, as well as Hutchison Ports' head of Human Resources and the head of Engineering. The regional coordinators are the focal points for communicating decisions and recommendations made by SAFCOM within their respective regions. Every port is required to have its own Safety Committee which oversees performance management, monitoring and measurement of employees and contractors, and is responsible for liaison with the regional coordinators. The Head of each BU is accountable for the terminal's safety performance. Local Health and Safety teams are the teams on the ground and responsible for:

Identifying occupational hazards employees may potentially be exposed to;
Undertaking risk assessments; and
Creating safe operating procedures to remove or reduce potential harm in all areas, using legislation as a minimum standard.

SAFCOM has also established a safety audit programme in which safety specialists conduct on-site audits to monitor port safety performance and compliance. The safety audit team uses assessment templates based on leading international safety standards and Group internal audit requirements. Safety audit reports, including the findings and the safety improvement actions, are submitted to SAFCOM and port management for review.

During the pandemic, SAFCOM's normal programme of port visits and auditing was temporarily adjusted. The Safety, Security & Environment team instead maintained close contact with the ports on safety matters and developed an online programme consisting of safety workshops, safety sharing sessions and safety training courses.

SAFCOM has regularly issued Standard Operating Procedures for port activities that are considered high-risk to ensuring a safe working environment. Examples include: 1. Avoidance of QC-vessel collision, 2. Operation of RC RTGC, 3. Workplace Transport Planning, and so on.

Business units conduct safety risk assessments to identify and assess potential hazards, associated risks and potential consequences to mitigate the risk to an acceptable level.

Since 2018, Hutchison Ports has been collecting monthly safety statistics from business units to report on their safety management activities, safety incident statistics and its details. Primary Safety Incidents require a further detailed report for follow-up by the Safety, Security & Environment (SSE) team of Ports Division.

Hutchison Ports has a Business Continuity Management Policy established to address the emergency preparedness including the related management, planning and procedures of all its business units. The Policy states that all business units should be prepared for known incidents, which include severe safety incidents.

As Hutchison Ports is moving to more automated and remote-control operation that will reduce human and machine interface, SAFCOM has been playing a supporting role in this automation development. For example, in the autonomous truck project at Hutchison Ports Thailand Terminal D, SAFCOM assigned a team to conduct safety risk assessment before the launch. The risk assessment was facilitated by safety specialists from various functions and expertise to ensure all hazards and risks have been thoroughly assessed, with mitigation measures reviewed and agreed before implementation.

Safety targets are also developed at the business unit level. For example, Hutchison Ports TICTS (Tanzania), has the following local targets:

To maintain the number of fatal accidents at zero rate;
To maintain the number of Lost time Injuries (LTI) at zero rate;
To reduce the number of First Aid Injuries by 20% in 2020;
To reduce the number of property damage accidents by 30% of the 2019 records; and
HSE induction for all contractors prior to commencement of work activities.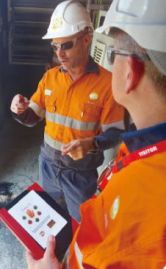 The Infrastructure division has made considerable progress in creating a culture of zero harm across its businesses and has set the tone by: i) including safety KPIs in the compensation schemes of all its businesses CEOs and executive management; ii) making health and safety the first item on the agenda of any of its global board meetings; and iii) holding an annual health and safety conference including representatives from each of the Infrastructure businesses. Top management's commitment to health & safety is further formalised in the Health & Safety Policy.

As an example of management approach with the Infrastructure division, EDL's dedication to safety is embedded in its culture though a range of initiatives including:

Oversight from the Global Safety Committee which meets monthly, with participation from corporate and operational support services staff;
A comprehensive safety culture survey conducted every two years through an independent third party that monitors and ensures the business is enabling a consistent maturity of safety culture globally;
The Safety Leadership Awards where the business is rewarding excellence in safety based on employee-led monthly nominations;
The Take 5 initiative, which serves as a hazard and risk review prior to a task being conducted;
EDL's Shared Analysis Management system which provides an effective hazard and incident management recording and reporting process; and
Emergency Management and Crisis Management Awareness training to ensure senior managers are well-positioned to respond swiftly to emergencies and crises as well as annual update of the Crisis Management and Business Continuity Planning Programme.

Training programmes that have influenced NGN's culture include:


Safety Learning Clinics to review events with a view to identifying and taking forward improvement opportunities and create an increased sense of accountability and ownership within the business;
A series of Behavioural Safety workshops delivered to employees and contract partners looking at what causes incidents; and
The Leadership Development programme that has been completed by the Senior Operational Leadership team.

Health and safety monitoring systems and formal audit programmes are in place across all Infrastructure businesses. Audits on the safety management system at the corporate level, Transmission and Distribution Division-level and Generation Division-level are conducted at least annually by registered safety auditors to ensure all necessary safety regulations and requirements are strictly followed.

VPN developed a High-Risk Controls Programme in 2020 including controls for the highest risk activities undertaken with the aim to reduce serious injuries. The standards are based on past incidents records, legislative requirements and industry best practice and have been communicated throughout the business.

With particular focus on proactively identifying and controlling key hazards and risks associated with site and fleet operations, EnviroNZ received a Highly Commended award in the Safe Vehicles category of the Australasian Fleet Champions Awards in 2020.

In further recognition of outstanding health and safety practices, WWU was awarded as Royal Society for the Prevention of Accidents' ("RoSPA") Oil & Gas Sector winner for the second year running in 2020, and along with NGN also collected a Gold Award.

Training

In 2020, Hutchison Ports rolled out a three-year safety training programme including nine courses identified by SAFCOM based on feedback from each of the ports on high risk safety aspects facing the terminals. In 2020, 1,157 participants received new training on incident investigation, safety inspection and contractor safety management. In 2021, the areas prioritised for training include working at heights, electrical safety and risk assessment.

Hutchison Ports employees also take part in employee health screening programmes. Focus areas include the prevention of work-related illness and occupational diseases, ergonomics in the workplace, environmental health and noise protection.

In addition to Hutchison Ports Group-wide coordinated programmes, every port also has their own tailored programme of initiatives and ways to communicate safety messages.

In the Infrastructure division, delivering tailored, high quality health and safety training at each business is a priority area. By means of examples for how training is prioritised at the business level:

UKPN conducts regular health and safety training programmes using external and internal experts as facilitators. In 2020, 610 leaders participated in a three-day residential training programme designed to provide awareness, skills, tools and motivation to positively shift their approach to Safety Leadership and 470 employees attended a two-day residential safety training programme. All employees who conduct or influence high risk work were further provided with tailored training during 2020.
The SA Power Networks Safety Leadership Academy was launched in early 2018 to continue to mature the organisation's safety culture by encouraging and educating leaders and workers to challenge their existing approach to safety and leadership. The programme involves a challenging and interactive series of workshops, underpinned by SA Power Networks' Work Safe Values and Standards. It introduces the principles of "human factors" and their involvement in safety related events and the Just and Fair Framework to guide consequences for both positive and negative safety behaviours.

Contractor safety

At CKHH, the health and safety of contractors is held in the same high regard as the health and safety of employees.

For the Infrastructure division, safety is integrated into tender processes and the division requires all contractors onsite to follow all applicable workplace safety and health requirements, as well as take part in training programmes led by the businesses. For example, at UK Power Networks all new contractors (and employees) joining the company take part in Stay Safe training. This programme addresses the natural human behaviour that, if not recognised, can threaten safety at work. It addresses the automatic tendencies we all have to ignore, consciously or otherwise, the risks around us. It helps us recognise how habits, tiredness, personal risk perception and many other factors can lead to unsafe behaviour..

The Ports division has issued a Standard Operating Procedure on Contractor Safety Management that applies to all its business units globally. Contractors must also have a Health and Safety Policy which shows their commitment to health and safety. A review of contractors' track record, which includes such evidence as past safety performance, competence of individuals and related certification, is included as part of an evaluation of prospective contractors before they are invited to submit tender for work. Hutchison Ports also held an online group safety training programme, in which one of the courses in 2020 is on "Contractor Safety Management". A total of 445 colleagues and contractors participated in the course during the year.

For the Telecommunications division, any contractors wishing to work on 3 UK assets or sites are required to complete a client pre-qualification questionnaire which is reviewed by the Health and Safety team prior to any appointments. Contractors engaged in estate and facilities management are subject to pre-assessment by an external partner prior to arrival on our sites and new network contractors receive specific network safety induction training. At 3 UK, in conjunction with joint venture partners, EE, a contractor safety forum is held monthly where over 100 suppliers attend virtually to receive an update on a specific health and safety topics such as asbestos or avoiding underground services when digging.

As part of the Retail refurbishment programmes, each Principal Contractor is audited during the construction work with results shared internally to the Senior Projects Manager. Facilities contractors are monitored by the facilities contractor. Network activities are monitored by a partner who specialises in QHSE auditing.

At ASW UK and Asia, processes are in place for all contractors working on site including:

Prequalification Process for maintenance teams;
Prequalification Process for new stores / refit teams; and
Part of Tender process prior to contractual agreement.

At ASW UK, there is also regular monitoring of contractor performance with Eurosafe audits completed twice over a new store opening and also these audits are completed over major refits and an Annual Contractor Conference is carried out. Safety training is also carried out for contractors on induction.