Providing a second life for products in the Infrastructure division

Tough, transparent packaging films are critical in protecting the integrity of many of the essential components used by the gas networks.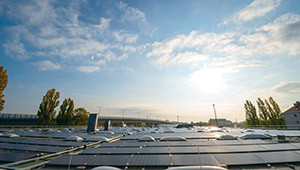 Traditionally, however, those films are manufactured from low density polyethylene (LDPE) which can take decades to decompose in the environment. That's why nine UK energy and utility networks including NGN and WWU have pledged their support for a study to develop biodegradable packaging materials that will meet the required standards, perform as well as (or better than) current packaging and significantly improve environmental impact. Developed by Hive and Marinatex, the plastic alternative uses fish waste from sustainable marine feedstocks. NGN will be working with product developers to develop, test and prototype new types of packaging in the future.

At ista, the company has programmes in place to take back customer devices such as water meters and heat cost allocators for reuse or recycling. ista is also developing a tool, the Product Recovery Decision Support Tool, determine whether reuse or recycling is the best option in terms of financial added value and CO2 emissions. Audits are also carried out to ensure as high as a recycling rate as possible with its partners.

Hazardous and non-hazardous waste management in the Infrastructure division

The Group is extremely careful about managing waste generated from its operations; within the Infrastructure division this is particularly important with respect to the by-products of energy generation. The division's collective efforts to reduce waste involve employees, contractors, suppliers, regulators and other third parties. The Group always advocates waste reduction at the source and encourages the reuse and recycling of waste for other projects. Waste management plans have been formulated and implemented to enable recycling and reuse, and proper storage, collection, treatment and disposal of waste. Further, the division's power plants have been collecting generation by-products including ash and gypsum for industrial use, such as the manufacturing of cement.

As for WWU, hazardous solid waste is stored securely at depots within locked units or managed open storage areas. The waste is segregated into clearly-defined hazardous waste streams at each depot. At NGN, approximately 99.5% of the waste by weight is excavation spoil. Spoil is excavated, segregated by type on-site and visually assessed for contamination. Clean spoil is sent off-site to recycling centres for processing into recycled aggregate. Contaminated spoil is segregated, tested, classified and then sent to the appropriate facility for treatment and/or disposal.

SA Power Networks conducts substation audits each year to assess its oil-filled assets (such as high voltage transformers and insulators) against safety, condition and other environmental criteria. It also checks for PCB (polychlorinated biphenyl) contamination from old transformers and circuit breakers. Substations located close to homes, offices, waterways or conservation areas or that are considered high risk, may require the installation of bunding (a type of wall) around transformers to protect the surrounding area from a leak.

The Infrastructure division has developed several waste targets to drive further progress including:

UKPN: Divert more than 90% of the waste from landfills and recycle more than 80% of the waste from the top six sites by December 2021. To achieve this target, UKPN is progressing with plans to pilot best-practice recycling which involves establishing improved monitoring and measuring recycling practices, and initiatives such as the enhanced behavioural campaign and the roll-out of new fit for purpose bins.
WWU:

Reuse and recycle at least 80% of waste by 2026 and send zero waste to landfill by 2035, to achieve our ambition to be a zero waste company by 2050.
Divert at least 80% of excavated spoil materials, which accounts for over 95% of total waste generated by WWU, from landfills by 2026.
Seabank Power: Investigate new technologies and the ability to reduce the amount of back up biocide dosing being used and in chemicals for the secondary treated sewage water used as process cooling water.
Alliance Construction Materials: Reduce waste generated from concrete production to 0.02T/m3 of concrete produced. This target was achieved in 2020.