Packaging

When it comes to waste reduction and building a circular economy, it is fundamental to look at the whole system, beyond the operational waste created on-site to the products and packaging customers are sent home with, or delivered to them, and therefore what eventually ends up in their bins.

Packaging plays a fundamental role in protecting products and where relevant to ASW's food retail operations, preventing food waste. There is however a cost to the environment if it is not properly collected and recycled, and will end up polluting land and waterways.

Over 80% of ASW's packaging relates to plastics and paper. It has therefore focused packaging efforts and goals on these two materials.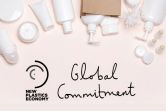 In 2020, ASW took an important step by signing up to the NPE Global Commitment, led by the Ellen MacArthur Foundation, an organisation widely considered as the foremost thought leader in building a circular economy. At the heart of the NPE Global Commitment is a vision of a circular economy for plastic in which it never becomes waste.

As part of this, ASW is committed to the following targets as set out by the NPE Global Commitment:

Take action to eliminate problematic or unnecessary plastic packaging by 2025 through actions such as reducing plastic packaging weight, replacing plastic packaging with more sustainable materials where possible, and banning polyvinyl chloride ("PVC");
Take action to move from single-use towards reuse models by 2025 by providing customers with options of refill at home and refill in-store, where relevant and possible;
100% of plastic packaging to be reusable, recyclable, or compostable by 2025 (including Own Brand product packaging, eCommerce parcels and in-store carrier bags); and
Set an ambitious 2025 recycled content target across all plastic packaging used. ASW has set a division-wide average target of 20% recycled plastic content in Own Brand packaging.

Regarding paper packaging, the division aims for its Own Brand paper packaging to be made exclusively from sustainable sources by 2030. A "sustainable source" for paper material is defined as being either certified by the Forest Stewardship Council ("FSC") or the Programme for the Endorsement of Forest Certification ("PEFC"), or being made with 100% recycled paper content.
ASW monitors waste generated by Own Brand products through continuous monitoring of waste quantity and types. The division has developed an Own Brand Sustainable Packaging Guideline and Policy to support internal Own Brand development teams and suppliers in reducing the amount of packaging used in Own Brand products, wherever possible, without compromising technical performance, product safety, quality and overall regulatory compliance.

Key achievements and plans in applying the 4Rs to packaging include:

42% of Own Brand paper packaging is made exclusively from sustainable sources (either FSC, PEFC or recycled content);
7% recycled plastic content is used as an average across all Own Brand packaging.
Watsons is relaunching its retail Own Brand range of beauty/ bath accessories initially packaged in plastic, now only in FSC certified paper packaging, which will help save over 60 tonnes of plastic per year;
In the Health & Beauty business, since 2019 ASW has been gradually replacing the plastic shaft of Own Brand cotton buds with paper;
Since 2018, Superdrug has moved to 100% recycled cardboard boxes and 100% recycled and recyclable paper for online deliveries, saving approximately 300 tonnes virgin cardboard annually;
In 2018, Superdrug moved from a single use carrier bag to a reusable carrier bag. In 2020, Superdrug launched its first reusable tote bag made from recycled plastic bottles;
Watsons partnered with World Wide Fund for Nature ("WWF") in Singapore to implement the Plastic ACTion ("PACT") Retail Bag Charge initiative which aims to incentivise reduced consumption of plastic bags by opting for reusable alternatives;
ASW food retail outlets in Hong Kong became the first retailer in 2019 in the city to stop the sales of single-use plastic straws, and to offer alternatives made with metal or bamboo. The division is also already selling a growing range of sustainable alternatives to single use plastic cutlery, plates and cups;
To reduce the use of plastic containers, PARKnSHOP has been offering a discount of HK$2 for customers that brings their own box in 20 food counters in Hong Kong;
In 2020, Wastons Asia markets launched a filter on the eCommerce platform to highlight refill packs to customers;
To encourage the public uptake of reusable water bottles, Watson's Water has installed 17 public water refill stations, with the plan to install 100 by 2025; and
Watsons water was the first brand to incorporate 100% recycled polyethylene terephthalate ("rPET") in its water bottle packaging sold in Hong Kong (since 2016). It is now working on introducing rPET bottles for other Own Brand drinks.
Helping the public recycle more

Reverse vending machines
In 2019, ASW was the first beverage bottler in Hong Kong to launch a scaled plastic bottle container collection programme with the use of reverse vending machines ("RVMs"). To help encourage Hong Kong to recycle more, ASW has installed 84 RVMs around the city offering customers incentives such as cash rebates, shopping coupons and loyalty points for bringing their plastic bottles to the RMVs. As part of this programme, ASW is collaborating with the Hong Kong government's Environmental Protection Department's RVM Pilot Scheme.

ASW aims to install 400 RVMS in Hong Kong by 2025 to facilitate its goal of collecting an equivalent of 100% of water bottles sold in Hong Kong by Watsons Water by 2030.

To ensure ASW has placed the RVMs in the right locations, a public survey was carried out to understand the user- friendliest locations, with shopping malls and retail outlets being identified as the top locations. Understanding user motivation was also part of the survey to ensure incentive structures and promotional activities were best positioned.

Since starting the initiative, ASW has collected over 750,000 bottles in Hong Kong.

Plastic Reborn Partnership
Watsons Hong Kong is refreshing its plastic container recycling campaign "Plastic Reborn". In partnership with P&G, Watsons will provide convenient collection points across the city and work with Hong Kong-based circular economy service, The Loops, to send plastic personal care containers to a local recycling facility in Tuen Mun. ASW targets collecting and recycling 110,000 plastic personal care containers in 2021, and 210,000 by 2023.

Recycling tough-to-recycle packaging
In the UK, 146 million makeup products are produced every year, with little opportunity to recycle them due to the mixed material components of makeup containers. To tackle this issue, Superdrug teamed up with Maybelline and specialist recycler, Terracycle, to place recycling stations in Superdrug stores to help customers dispose of old or unused products from any brand of makeup which will then be recycled through a bespoke recycling process.

With Terracycle's help, Superdrug also became the first UK retailer to provide customers with a solution to recycle empty medicine blister packs in store. With a trial taking place in 10 Superdrug pharmacies during 2020, the initiative will be rolled out across all 200 pharmacies in the UK by January 2021.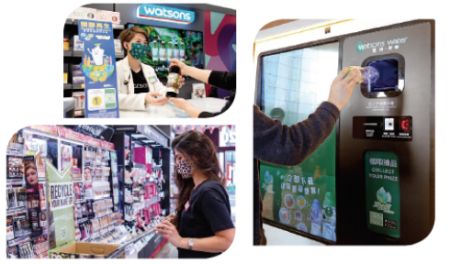 Food

According to the Food and Agriculture Organization of the United Nations, one third of food produced for human consumption is lost or wasted globally, which equates to 1.3 billion tonnes per year. Total food waste amounted to 206 tonnes in 2020, including edible waste donated and non-edible waste sent for compost, animal feed or to landfill as a last resort. ASW aims to take every available step to ensure that no food fit for human consumption should go to waste.

ASW's priority is to reduce food waste at source. Ways in which ASW does this include: better food forecasting by analysing customer preferences, minimising unnecessary stock movement between stores, implementing detailed food handling guidelines for stores to avoid waste and marking down prices of food approaching "best before" or expiry dates.

Surplus edible food is donated to food banks with the help of appointed ASW Food Rescue Ambassadors at each of the 150 participating stores around Hong Kong. Food waste classified as non-edible food waste is then transferred to local farms or composting facilities, and as a last priority is sent to landfill.
Donating food with Food Angel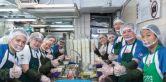 Since 2012, Food Angel has been an important food donation partner to PARKnSHOP Hong Kong, enabling PARKnSHOP to donate 3,100 tonnes of food and delivering 12 million hot meal boxes and food packs to those in need.

In 2013, PARKnSHOP also launched the City Food Drive Campaign to enable customers to purchase and donate grocery items to Food Angel. Through the generosity of customers, the campaign has collected more than 380,000 food items to help Food Angel.

ASW employees also volunteer at Food Angel's central kitchen and community centre, giving employees a chance to see first-hand how thoughtful handling of food surplus items can go a long way to creating meaningful impact in the community.