In 2020, climate change was given additional focus during the risk assessment process and highlighted as a greater priority going forward.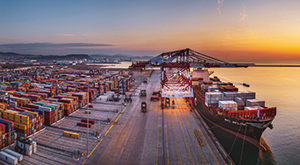 Cyclones, hurricanes and storm surges coupled with rising sea levels are increasingly realistic threats to port infrastructure, security and operational efficiency. The impacts of higher ambient operating temperatures for ports may impact operating parameters and working conditions. For example, higher temperatures may require more frequent equipment calibration as well as the possibility of heat related illness amongst the workforce. The potential impact and severity of these looming issues will of course vary from port to port through the 26 countries in which Hutchison Ports operates.

In recent years only one extreme weather event, namely Hurricane Dorian, the category 5 Atlantic hurricane which hit Hutchison Ports FCP in the Bahamas in September 2019, has caused damage to port infrastructure and the cessation of port operations. Aside from this event, extreme weather events have not caused major damage to Hutchison Ports' network. However, Hutchison Ports is aware that once in a hundred year events are becoming more frequent and that it needs to be prepared for a more extreme weather future; it is therefore committed to studying this long-term risk more closely.

Hutchison Ports Port of Felixstowe completed a climate change adaptation report in 2016 and a further follow up assessment will be released in 2021. The Port of Rotterdam has also been proactively studying the influence of sea level rise and Hutchison Ports ECT will work collaboratively with the port authority on counter measures as that study continues to take shape.

Hutchison Ports is also aware of climate transition risks that will also be impacting operations in the near future. For example, legislative shifts are increasingly changing the way the ports industry must do business. For example, the UK government has released the Clean Maritime Plan outlining the UK's pathway to zero emissions shipping. The Port of Rotterdam has committed to becoming net zero by 2050 and as a port operator, Hutchison Ports ECT will collaborate with the port authority to make this vision a reality.

There are two climate risks that are particularly prevalent for the Infrastructure businesses, flooding and bushfires, and steps are being taken to manage these risks.

In 2011, responding to the UK Government's concerns on climate change, WWU took a leading role in developing a pioneering tool to help utilities take action to protect their assets from increased flood risks, working in partnership with Landmark and Ambiental Risk Analytics. Following four years of mapping in the pilot, the mapping product was launched in 2018 as Britain's first national flood map incorporating current and future predictive flood scenarios for 2020 and far beyond. WWU was also the first utility in the UK to use the data as part of its UK Climate Change Adaptation Risk Assessment, Reporting and Investment requirements.

UKPN has carried out a flood mapping exercise across its footprint, and site surveys have been undertaken to predict flood depths in extreme events to help design flood protection measures. It has invested more than £11 million in permanent flood defences to increase the resilience of equipment that serves millions of families in the UK.

Northumbrian Water delivered a multi-award winning scheme in Killingworth, North Tyneside, which worked to reduce flood risk in times of heavy rain protecting thousands of homes in the surrounding areas, as well as improve water quality and the surrounding biodiversity. Instead of flowing back to the sewerage system, overflows from the lake spill into natural grassed areas alongside the bank and drain back to a local watercourse instead. Three floating island eco-systems, which were designed and built by Biomatrix Water, have been installed in Killingworth Lake to improve biodiversity and provide natural habitats for wildlife such as fish and nesting birds in the area. The scheme won awards from Chartered Institution of Water and Environmental Management, the Environment Agency, and CECA Civil Engineering Contractors Association North East Awards in 2020.

The electricity distribution businesses in Australia are particularly at risk from bushfires which are exacerbated by rising temperatures. They therefore invest millions every year to reduce the risk of bushfire and loss of power supply in communities.

In hazardous bushfire risk areas, Victoria Power Networks ("VPN") is undergrounding power lines and installing high technology covers over power lines to protect them from climatic conditions. To further reduce fire risk, VPN uses advanced Light Detection and Ranging technology to continually improve the accuracy of scanning and detection of vegetation growing near power lines and ensure overhead conductor clearances remain compliant to Australian Standards throughout their lifetime.

Further risk mitigation activities are being explored, trialled and implemented as part of network innovation strategies as well as technical research and development. These include improved vegetation management activities, the installation of new bushfire safety devices such as Rapid Earth Fault Current Limiters and Early Fault Detection technology, upgrading fuses, among others.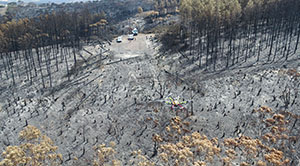 SA Power Networks has also widened the use of drones for outage response work, particularly in the regional areas of South Australia. Remote control drones played a key role in restringing electricity power lines that were damaged by the devastating 2020 bushfires at Kohinoor Hill in Kangaroo Island.

Regarding the Telecommunications division, 5G networks will be required to adapt during extreme weather events, and increasingly so in the face of climate change. Resiliency is enabled by efficient radio equipment that in the future can be powered by micro grids and renewable energy. The resiliency of cell site towers against damage caused by extreme weather events has been a priority focus area for the division's crisis management teams, in addition to rolling out innovative technology solutions such as "network in a box" that can deploy a complete network rapidly enabled by technology features such as self-backhauling, and potentially satellite backhauling. In this regard, the division continues to use a range of network technologies optimised for local weather systems, from metropolitan and rural Asia, to the northern European extremes of Sweden.