In 2020, the Ports division saw the most significant decline in emissions among the Group's core businesses, reducing absolute scope 1 and 2 emissions by 13%, helped to a large degree by its ongoing global programme to convert its fleet and infrastructure from diesel-powered to electric.

The Ports division has already converted 66% of its fleet of rubber-tyred gantry cranes to electric alternatives which is significant given that approximately 40% of fuel consumption at a typical port is attributed to these large structures.

From 2023, Hutchison Ports plans to roll out a widescale replacement of conventional diesel terminal tractors with state- of-the-art electric internal tractors. Cumulatively, by 2030, the expected result will be an 11% reduction in Hutchison Ports' global carbon footprint.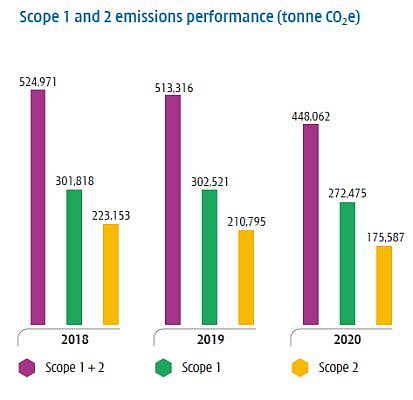 To prepare for this rollout and new technology adoption, a pilot project of 24 electric terminal tractor vehicles will be rolled out at Hutchison Ports Port of Felixstowe in the UK. An additional feasibility analysis has been carried out at Hutchison Ports Gwangyang in Korea which has been working on an electric terminal tractor development project with the local Government and development company, Seoho, between April 2018 to January 2020.

As an additional energy saving measure, Hutchison Ports Port of Felixstowe has introduced new internal tractors fitted with start/stop engine cut out technology. This has contributed to lower vehicle idling times, resulting in further fuel and emissions reductions.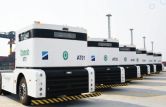 In 2020, Hutchison Ports Thailand began piloting cutting-edge technology in truck automation with the commissioning of six fully electric and autonomous trucks at the Terminal D facility at Laem Chabang Port, Thailand.

To further impact emissions and improve air quality, in 2020, the International Maritime Organization enforced a new limit on the sulphur content in fuel oil used on board ships. As a result, more vessels may look to switch to use shore electric power while at berth. Hutchison Ports Yantian has installed six mobile shore power units that cover the port's 16 berths. The learnings and realised benefits resulting from this project have been shared across Hutchison Ports to enable the planning of future additional shore power connections in other locations. Over the next two years (2021-2023), Shanghai Mingdong Container Terminals and Shanghai Pudong International Container Terminals will be installing shore power facilities.

Further on the topic of non-GHG emissions, business units in our Ports division have established plans to reduce non-GHG air emissions. For example, in all three terminals in Hutchison Ports UK, a Port Air Quality Strategy has been established. These air quality strategies have created a baseline emissions inventory of all emission causing activity on site. Each terminal of Hutchison Ports UK has created an action plan of projects, with short, medium- and long-term actions to improve air quality based on the following non-GHG pollutants: Sulphur Dioxide (SO2), Nitrogen Dioxide (NO2) and Particulate Matter 10 (PM10).

As similar in all core businesses, LED lighting upgrades, HVAC optimisation and behavioural change campaigns are other areas that contributed to emissions reduction.

See the Sustainable Business Model Innovation section for further information on how the Ports division is employing cutting edge technology to create smart, efficient and low impact ports through digitalisation and electrification. This technology rollout is serving to significantly reduce port emissions now and into the future.