The division's scope 1 emissions relate largely to the consumption of refrigerants for cooling as well as the use of transport fuels and natural gas.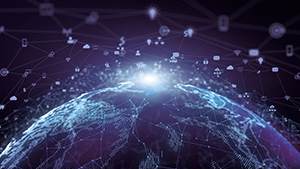 Scope 2 emissions relate to electricity consumption to operate network facilities and equipment and owned facilities. Approximately 95% of scope 2 emissions relate to the operation of network infrastructure and plants, such as antennas and data centres which require continuous power supply, as well as air-conditioning to keep the machinery within a constant temperature range. The remaining emissions are attributable to offices, call centres, owned stores and the corporate fleet.

Given that the majority of emissions relate to network equipment, high impact projects have focused on:

Procuring and installing efficient network equipment;
Decommissioning and replacing legacy equipment;
Installing energy saving controls and features; and
Reducing energy demand by installing lower-energy power and cooling technologies.

Due to an exponential increase in traffic and energy needs of the network during the pandemic with more people working and connecting from home, absolute scope 1 and 2 emissions increased by 3% in 2020 versus 2019.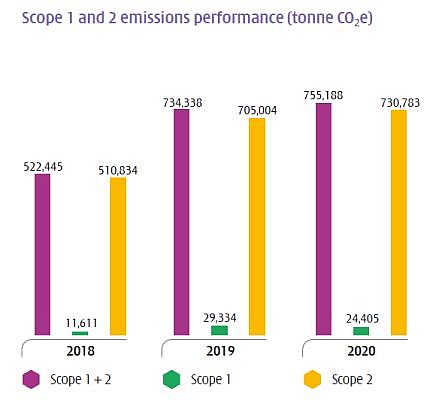 Despite this, there are some successes at the local level. Since the acquisition of the additional 50% share in WINDTRE in 2018, WINDTRE has invested significantly in the process of consolidating and modernising its network in Italy leading to a significant improvement in energy efficiency. WINDTRE has reduced its emissions per unit of traffic by more than 70% (compared to the base year 2016), beating its original target of 50% reduction. This was a target that was developed as part of an ongoing collaboration with WWF.

In 2020, 3 Ireland also saw a 5% reduction on data centre energy versus 2019, which was directly attributable to the upgrading of more efficient plant and equipment.

LED lighting replacement and controls in stores and offices and the gradual replacement of company vehicles with electric and hybrid vehicles have further contributed to emissions reductions.

Alongside setting a science-based target, the division is also developing a detailed roadmap and action plan identifying the steps needed to achieve its target.

In 2020, CK Hutchison Group Telecom ("CKHGT") embarked on a combined project to: i) develop a carbon footprint (scope 1, 2 and 3), ii) set a science-based target and iii) conduct a gap analysis against the TCFD recommendations. This science-based target will be submitted to the Science Based Target Initiative for validation during 2021.

In progressing its emissions reporting and disclosure journey, CKHGT also reported to the Carbon Disclosure Project ("CDP") for the first time in 2020 and received a grade of B-. The CDP also identified CKHGT as among the top ten new entrant scores of companies listed in Asia.