Per the Group's Sustainability Policy, it is committed to conserving water, preventing pollution to land, water and air, and protecting and restoring biodiversity. This aim is inherently interlinked with the divisions other aims to take action on climate change and promote a circular economy. For efforts to reduce energy consumption and waste generation, please visit these respective sections; water management and biodiversity protection will be covered below.
Water Use and Effluent Management

In 2020, 94% of the Group's fresh water usage was related to the Infrastructure division. Water consumption is relatively immaterial for Retail, Ports and Telecommunications, therefore the majority of information below relates to the Infrastructure division.

As the only Infrastructure company in the division's portfolio delivering water-related services, Northumbrian Water dedicates itself to leading practices in water management. Northumbrian Water delivered industry-leading performance during 2020 for minimising interruptions to supply to customers. Preventing leakage in the water-stressed areas of Essex and Suffolk are of highest priority and testament to its approaches, these areas experience lower levels of leakage than delivered by any other Water and Sewerage Company in the country. Further, Northumbrian Water's investment in the Abberton Scheme in Essex increased the storage of Abberton reservoir by 60% to 41 billion litres of water. It is now investing in a pipeline enabling it to transfer water from Abberton to a wider area of Essex to increase resilience across the region. Northumbrian Water has also launched a free online programme, The Ripple Effect, aimed at 7-11 year olds to teach young people about the value of water in addition to playing a leading part in launching the UK's Water's Worth Saving campaign aimed at encouraging the public to save water.

Northumbrian Water has developed a Water Resources Management plan looking ahead for the next 40 years and studying the risks and security of supply from sources including reservoirs, rivers and underground sources. The plan considers the amount of water that can be taken without harming the environment, the effect of climate change on the demand for water and available sources and the amount of water it can reliably supply. It considers how much water people will use in the future, the impacts of population and housing growth, water efficiency plans to help customers to save water, water meter installations and reductions in leakage, among other areas. As mentioned, an important area of consideration is leakage; through the Plan Northumbrian Water commits to reducing leakage by 15% between 2020 and 2025 and then by a further 10% over each subsequent five-year period through to 2045. In short, the Plan concludes Northumbrian Water will have sufficient water to meet the forecast demand for water for at least the next 40 years. This water assessment and consideration of water scarcity forms part of the Northumbrian Water's Business Plan covering the period April 2020 to March 2025, see here for more information: https://www.nwg.co.uk/responsibility/environment/wrmp/

Further contextualised water metrics for Northumbrian Water are available here: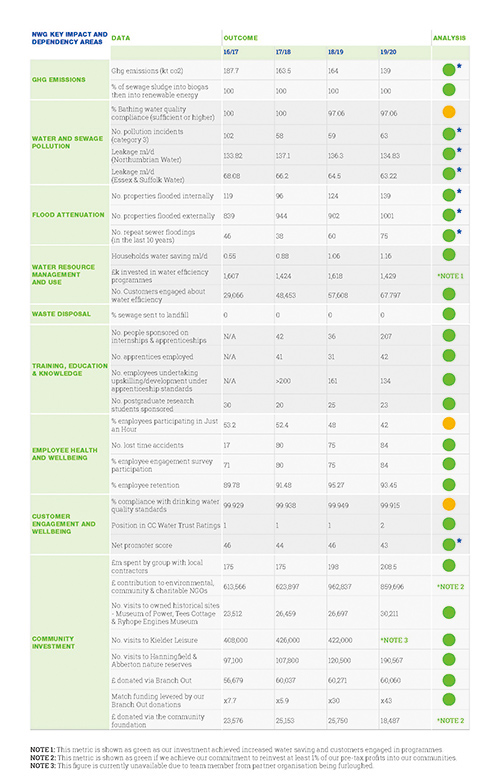 Regarding wastewater management, Northumbrian Water is committed to producing Drainage and Wastewater Management Plans (DWMP) which will provide a basis for long-term planning of drainage and wastewater services. Planning objectives include: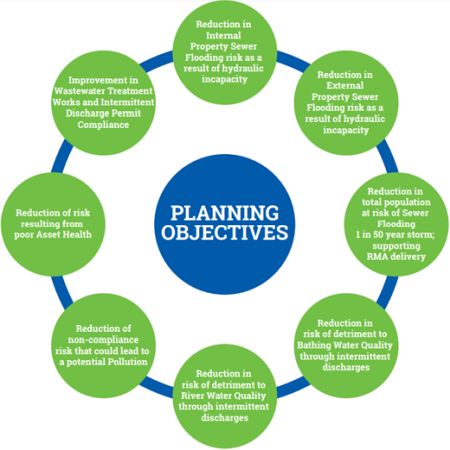 Information on Northumbrian Water's plan regarding wastewater, as well as its monthly newsletter updates, are available here: https://www.nwl.co.uk/services/sewerage/drainage-and-wastewater-management-plans/

The below further summarises Northumbrian Water's approach to drainage and wastewater management: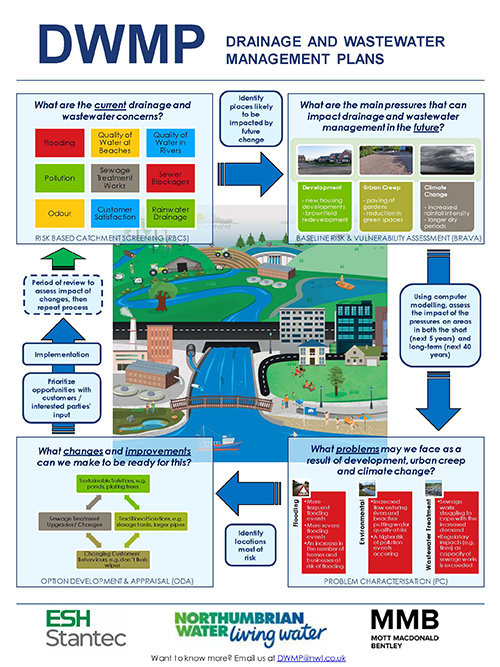 Stakeholder engagement for water conservation

One of Northumbrian Water's key programmes that has been particularly impactful in terms of end user behaviour change is it's Bin The Wipe campaign.

Many wipes are made from plastic, which means they don't break down in water like toilet roll. Flushed wipes contribute to more than 60% of sewer blockages in the North East which makes this a significant issue, causing problems inside customers' homes, in communities and for the environment.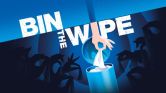 Northumbrian Water is working hard to raise awareness of these issues. Through consumer research Northumbrian Water also discovered that over half of households in the UK don't have a bin in their bathroom to dispose of things like wet wipes, and again over half of householders keep wipes in their bathroom. By giving customers a bin, Northumbrian Water has found that this small behavioural change to people's daily habits is creating big impact. Northumbrian Water also teamed up with local makeup influencers Hayley Hall, Katie Meehan and Terri Heckley to encourage the public to consider reusable alternatives to disposable wipes as part of their campaign.
Alongside this campaign, Northumbrian Water delivers on a number of multi-stakeholder initiatives to create widescale and meaningful behaviour change in favour of greater water conversation across the regions in which it operates. These include, among others:

The Branch Out Fund to support local efforts to protect water resources;
The Rainwise programme, to help educate and provide sustainable solutions as a natural approach to managing rainwater in urban areas and mimic the ways in which water drains away naturally;
Development of the Water Rangers programme to engage the community in water pollution prevention;
The Water without the Worry and Water Poverty programmes which aim to eradicate water poverty and encourage water efficiency behaviours which also serves to reduce bills; and
The Whole Town Approach which aims to engage whole towns in sustainable behaviour change with programmes such as Bring Your Own Bottle and Every Drop Counts.

During 2020, Northumbrian Water participated in the industry-wide conference, Water UK's Deliver a Zero Carbon Water Sector, which was opened by Northumbrian Water's CEO Heidi Mottram. Representatives from across the sector shared experiences as they collectively work to deliver on a commitment to be net zero carbon by 2030. Northumbrian Water has further committed to being net zero by 2027.

More information on these programmes and more can be found in Northumbrian Water's Contribution report available here: https://view.pagetiger.com/our-contribution/july2020

Beyond Northumbrian Water, the Group's other Infrastructure companies also dedicate themselves to water conversation and sustainable effluent management. For example, EnviroNZ reduces water consumption by collecting stormwater at ChemWaste Auckland and Christchurch, Hampton Downs Landfill, EnviroFill North and EnviroFill South. Stored stormwater is used for a range of operational uses.

As a general practice, temporary wastewater storage and treatment facilities have been installed at power plant construction sites to recycle wastewater generated from bore piling work to reduce wastewater discharge.

Established targets set by the Infrastructure businesses include:

UKPN aims to reduce existing water consumption at the top six depots by 10 – 15% by 2021. UKPN will accomplish this by installing Hippo water bricks and push taps (water-saving devices) at the office sites.
Northumbrian Water has established a 2025 goal to reduce water consumption by 15% in the North and 17.5% in the South.

For the Retail division, main areas of focus for water consumption relate to food retail (water usage in fish tanks, and to wash fresh vegetables) and manufacturing. To reduce water consumption ASW has installed water valves to control water usage in fresh food warehouses and stores for food retail.

For manufacturing,

Non-potable water from the distilled water production line is reclaimed for watering greenery and flushing toilets;
Water from bottles washing is reclaimed for refilling the cooling tower;
A water saving system for the beverage line has been implemented; and
Water used for cooling beverage products is recycled.

ASW has an Environmental Emergency plan for its manufacturing operation, which is approved by government, is in place should an effluent incident occur.

At Ports, water has been identified as a focus area and each BU implements initiatives tailored to local needs. At Hutchison Ports Yantian, rainwater is harvested and used for the cleaning of the workshop and for greening areas onsite.

For the Telecommunications division, water consumption is deemed immaterial as it relates only to office consumption. Nevertheless, the installation of low flow aerators and use of water saving equipment in the office are focus areas.

Biodiversity protection

Many of the Infrastructure businesses are introducing an environmental "net gain" philosophy into their operational ethos and leading their industries with these approaches. Highlight projects from the businesses include:

NGN has committed to measure and report the natural capital value of up to 50 of its largest asset sites by 2026. Using a bespoke tool being developed for NGN by specialist consultants, the assessment will provide a valuation in both technical biodiversity units and financial cost for relevant ecosystem services provided by the sites. The assessment will be undertaken across the sites three times during the period to identify changes in natural capital in response to NGN land management activities. The findings of these assessments will be publicly reported in NGN's Annual Environmental Report. The tool can also be used to review and assess the natural capital impacts of different design solutions to inform project optioneering and business case production.
Northumbrian Water has completed its first natural capital account for its southern landholding in Essex, Suffolk and Norfolk. The account combines data on the extent and condition of natural capital assets in the landholding, the benefits they produce, and the value of those benefits to society, in both non- monetary and monetary value. The account provides a baseline assessment of the landholding's natural capital and establishes a consistent way of measuring. Northumbrian Water is also working with specialists to develop an in-house tool to evaluate the biodiversity value of all sites larger that 0.2ha. Sites have been ranked from 1-10 so that they can start to monitor change of impact as well as identify sites that need more work.
UKPN has committed to a Networks Green Action Plan to enhance biodiversity around its sites, in particular substation sites. As part of the Plan, UKPN identified 100 sites using the using the Department for Environment, Food and Rural Affairs ("DEFRA") calculator and partnered with ecological experts, ADAS and Wildlife Trusts, to assess the sites and determine a baseline biodiversity measurement. Following each survey, a biodiversity management plan was prepared with site-specific measures to enhance the biodiversity potential. By 2021, UKPN aims to increase the biodiversity value by up to 30% at these 100 sites.
The Branch Out Fund

Northumbrian Water's Branch Out Fund supports environmental projects that help to restore some of the most threatened habitats as well as create new outdoor environments for the public to enjoy. Since its launch in 2013, Northumbrian Water has invested over £500,000 in the Fund, enabling over £10,000,000 to be invested in 138 projects restoring local biodiversity through top-up government grant funding.

Northumbrian Water's Water Rangers Community Programme works with volunteers across communities to help clear and protect 56 of the region's waterways more prone to pollution. A total of 74km have been protected through 8500 patrols since beginning the programme in 2014.
Hutchison Ports recognises its a responsibility to protect its surrounding environment. Activities underway to maintain local biodiversity include:

In Mexico, Hutchison Ports Lazaro Cardenas and Hutchison Ports Lazaro Cardenas Multipurpose Terminal have collaborated with the local community to create a turtle protection programme. Every year, three endangered species of turtle visit the ports' local areas to lay their eggs on Michoacán's beaches including: the pacific loggerhead, the pond slider and the leatherback sea turtles. Once the turtles have laid their eggs, the nests are then carefully re-sited to protect them from predators until the eggs hatch before being released back into the sea;
In Mainland China, Hutchison Ports Yantian worked together with the Yantian Port Group to release over nine million fish and shrimp fingerlings into the surrounding waters of Mirs Bay during 2020 in an effort to re-populate fish species in the local aquatic environment; and
In the UK, Hutchison Ports Port of Felixstowe is home to a pair of nesting Peregrine Falcons. The pair, which are afforded UK legal protection status, have called the port home for the last 8 years, returning each spring to lay eggs in the dedicated nesting trays provided by the port. The port carefully manages operations around the pair during the nesting season, limiting container storage and footfall in the immediate vicinity of the nest.

Hutchison Ports' volunteer teams also focus on local conservation efforts as part of the global GO GREEN campaign through planting trees and cleaning local green spaces for the community.

Employee volunteering in environmental protection efforts are common across all businesses divisions. Similarly, employees are also encouraged to adopt an eco-conscious mindset at work through landmark celebrations in the environmental calendar including Earth Hour and World Environment Day.