Environment
CK Hutchison believes it is crucial for businesses to thrive in a sustainable environment. Without it, no business will survive in the long term. Therefore, the Group understands that without determination, any environmental protection plans would be futile. The message is not only sent across the boardroom, but it is also spread to employees across 50 countries. By engaging business units in minimising carbon emissions and planning creative strategies most efficient to their industries, they make sustainable development a reality.

Managing Emissions
CK Below are some of the initiatives to reduce and control emissions of greenhouse gas and waste. The business units monitor the progress of existing environmental initiatives as well as explore new projects to further the initiatives.

Air and Greenhouse Gas ("GHG") Emissions
Managing air and GHG emissions remains one of the top priorities.

It is challenging for a power utility to continue reducing carbon emissions, but environmental protection is a crucial long-term process with no shortcut. The Group's Infrastructure division is taking steps to integrate this priority in as many units as possible. Two coal-fired units of HK Electric, L1 and L3 retired in 2017 and 2018 respectively. Incorporating advanced technologies to cut pollutants, the Company's three new gas-fired combined cycle generating units to be constructed at Lamma Power Station, including L10, L11 and L12 that is newly approved by the Government, will reduce carbon emissions by 50% compared with the existing coal-fired generating units. With the commissioning of the three units targeted from 2020 onwards, the electricity produced through gas-fired generation will increase to about 50% to 70%. For instance, both of our new gas-fired units, L10 and L11, will feature Selective Catalytic Reduction (SCR) and advance combustion systems. This will also be a key initiative to meet the Government's tightened emission allowance.

To ensure the commercial and operational viability of carbon reduction target, we are partnering with CLP Power, the other local power company, to develop an offshore liquefied natural gas (LNG) terminal using Floating Storage and Regasification Unit (FSRU) technology. This project would help to secure a sufficient and competitive supply of natural gas.

The infrastructure division continues to have a number of emission control measures to mitigate the impact of our operations on the environment. Outram's Jinwan Power plant outperformed the tightened regulatory requirements in its enforcement of emission control. It is among the first few coal-fired generation units in mainland China to achieve 'Close to Zero' emission levels for air pollutants including sulphur dioxide ("SO2"), nitrogen oxide ("NOx") and particulates. Its power plant's Unit 3 was listed as a national and provincial 'Environmental Demonstration Project'.

UK Power Networks also reduced its carbon emissions through a combination of measures including fleet refurbishment, site consolidation and the introduction of energy efficiency initiatives such as installation of LED lighting at some sites.

Husky has a Fugitive Emission Management Program to detect fugitive emissions and ensure the timely repair of leaking equipment. As part of its GHG emissions risk management approach, the company researches new ways to capture carbon dioxide. For instance, it has implemented a second pilot project at its Pikes Peak South thermal project testing carbon capture technology. The captured carbon dioxide ("CO2") is then used for enhanced oil recovery in nearby CHOPS wells.

Renewable Energy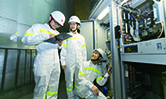 The Group's wind power systems are gaining traction locally and globally as well. HK Electric commissioned the first commercial-scale wind turbine, Lamma Winds in Tai Ling on Lamma Island to support the development and application of renewable energy in Hong Kong. It also harnesses renewable energy generated by its solar power system at Lamma Power Station. As in 2017, the Lamma Winds and solar power system generated 825 MWh and 1,059 MWh units of green electricity respectively, offsetting 1,570 tonnes of CO2 emissions, equivalent to 68,000 trees planted.

Globally, the Group is also able to harvest wind electricity from its wind farms generated with a know-how to best ulitilise technology maximising green electricity generation. One example is the Energy division in Portugal, wind farms operator Iberwind who optimises the control of wind farms by using the SCADA and CMS systems, an extensive and comprehensive wind database. As a result, Iberwind was able to achieve 98% availability in 2017, offsetting one million tonnes of CO2 emissions.

Waste and Pollutants
Cutting down waste and facilitating ways to encourage more reuse and recycling is in our agenda. For example, Superdrug, under ASW, has adopted a "zero waste to landfill" programme, where all waste generated in store is transported back to the distribution centres for recycling. The commitment to waste management was demonstrated by including waste and recycling compliance in their store audit programmes. Superdrug has successfully achieved zero waste to landfill since 2010.

ASW and its suppliers play active and critical roles in making the products consumers buy sustainable. Microplastics, commonly found in rinse-off products, pose a threat to the marine ecosystem and the food chain. In addition to implementing a ban on the use of microplastics in its own brand cosmetics/personal care rinse-off products in 2014, ASW is the first global retailer to extend this ban to all rinse-off cosmetics and personal care products. It has notified its suppliers in 2017 and is working with them so that the concerned products will be off-shelved by 2020.

Innovation on energy-from-waste management was taken further by our Infrastructure division, when last November, AVR of the Netherlands started building a separation plant that separates plastics and drinks cartons from residual waste. The plant is expected to be ready by mid-2018, which means its ambition to make residual waste 100% valuable can be further fulfilled, generating steam via the incineration of residual waste and this enormous quantity of heat, enough to warm 150,000 households and supplies electricity for 190,000 houses. Each year, our heating projects in the Netherlands alone prevent more than 324,000 tonnes of CO2 emissions. Another example to show CK Hutchison is at the forefront of recycling, generating energy from waste, Northumbrian Water in the UK, for instance, is an expert in generating energy from sewage sludge. During the wastewater treatment process, sludge is produced and was originally dealt with as a waste but now it is processed through an Advanced Anerobic Digestion process where bacteria feed on the solids and generate biogas. The biogas is collected and is used to either power up Combined Heat and Power engines to generate electricity or the gas is cleaned up and the carbon dioxide is removed prior to injection direct to the gas network.

But the pioneer to champion the landfill-gas-to-power initiative falls to EnviroNZ. By applying advanced technology, EnviroNZ is the first operator in New Zealand to generate electricity from methane produced by waste decomposition in landfills. The amount of electricity generated is sufficient to power 5,000 households.
Optimising Resource Use
As a responsible global citizen, CK Hutchison is calling businesses to use resources cautiously. From energy, water to packaging materials, it is acknowledged that only an integrated and technological approach could make responsible consumption possible.

Energy
With sprawling presence in 52 ports globally, CK Hutchison works on practical ways in the shipping industry to cut wastes. For instance, Port of Felixstowe in the UK, in the last 12 months, has converted 32 RTGs (Rubber Tyred Gantry) cranes from diesel to electricity as part of a three-year programme to convert 54 machines. In addition, the electricity that was generated from 2,000 solar panels on the port offset CO2 that is equivalent to planting around 5,000 trees. Consequently, the port's carbon footprint has fallen significantly as part of a long-term programme resulting in a 34% reduction since 2009. In 2017, 70% of all waste generated or received was recycled and no port-generated waste was sent to landfill.

Water
Husky recycles produced water at its Sunrise Energy Project and Tucker Thermal Project for use in steam generation. At Sunrise, Husky brings in process-affected water, which is industrial wastewater, from a neighbouring operator for use as a make-up water source, reducing the amount drawn from groundwater sources. At Tucker, Husky uses saline groundwater as a make-up water source.

Hutchison Water's Sorek desalination plant in Israel, is a 150 million cubic metres per year reverse osmosis sea water desalination plant, and is one of the world's largest plants of its kind. It continues minimising marine, shoreline and land impacts, thanks to pipe jacking of long and large diameter pipelines, smart structural design, and the removal of suspended solids from the brine before it is returned to the sea. Its sludge treatment also reduces energy and chemical consumption. At HK Electric, rainwater and plant water at Lamma Power Station is collected and reused, significantly reducing both the consumption of fresh water and the quantity of effluent. The water collected for reuse in 2017 was about 112,000 cubic metres.

EnviroNZ in New Zealand recovers water and removes impurities and contaminates using the reverse osmosis leachate treatment, a type of purification technology which makes treated water fit for reuse or direct discharge to the environment.

Green Island Cement Hong Kong collects, stores and recycles rainwater for evaporation cooling at the conditioning tower to improve the performance of electrostatic precipitators. To date, its water consumption has been reduced from 1,800 to 800 tonnes per day.

Packaging Materials
To meet UN Sustainable Development Goal No.12, which advocates sustainable consumption and production patterns, CK Hutchison has a set of sustainable guidelines established for employees and suppliers of the Retail division. The guidelines are set out to minimise material use, from greener packaging design in terms of size, thickness, and use of space to the application of recycled materials.

Electronic Products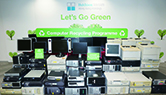 Exponential digital growth comes with leftover old digital products, the Group's telecommunications business, 3 UK, however, focused on a new way of recycling old mobiles that were long forgotten in drawers. Last year, 3 UK invited customers to 'Give their phone to a new home' through donating their old smartphones. HTHKH also collected over 2,000 reusable electronic equipment for the Computer Recycling Programme run by the Environmental Protection Department.
Safeguarding Environmental and Natural Resources
As a multinational corporation, CK Hutchison aspires to take the lead and be a positive role model for our stakeholders in protecting the environment and the ecosystems. Group policies ensure caution is applied and discipline in actions that may impact natural resources.

Northumbrian Water in the UK, for example, has been managing its land holdings for water storage responsibly. Its Abberton Reservoir is designated as a wetland site of international importance, both as a Site of Special Scientific Interest ("SSSI") (1) and a Ramsar site (2).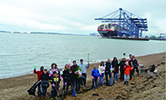 With timely and effective management, the Group's various divisions mitigate the environmental impacts from across operations to protect the values we create for our stakeholders. Northern Gas Networks in the UK takes ownership of the quality of land on which it operates. Under its land contamination management programme, the company assesses and controls quality of the land and evaluates risks from land conditions both caused by its own operations and from historical, pre-existing conditions. Land quality is measured and reported annually to the UK regulator.
Note 1 :

A Site of Special Scientific Interest in Great Britain is a conservation designation denoting a protected area in the United Kingdom.

Note 2 :

A Ramsar site is a wetland site designated of international importance under the Ramsar Convention. The Convention on Wetlands (i.e. the Ramsar Convention) is an intergovernmental environmental treaty established in 1971 by UNESCO, which came into force in 1975.
Taking Timely Actions to Manage Environmental Impacts
After a pipeline release in July 2016 in Saskatchewan, Canada, Husky conducted robust assessment, monitoring and cleanup programmes, including working with a number of First Nations communities to mitigate the impact to the environment. A full and thorough investigation determined that the pipeline buckled because of ground movement. The company is applying lessons learned from this incident to further improve its operations and ability to respond. For example, it is using fibre optic monitoring on the repaired pipeline, which will provide acoustic, thermal and strain monitoring and assist in detecting leaks, ground movement and other events in real time. Fibre optic sensing technology, with increased capacity and capability for long distance distributed monitoring for pipelines, will be used in all new large diameter and high consequence area projects owned by Husky Midstream and operated by Husky.
Regulatory Compliance
The Group was not aware of any non-compliance of laws and regulations that has a significant impact on the Group relating to air and GHG emissions, discharges into water and land, and generation of hazardous and non-hazardous waste during the reporting period.