The Board sets a tone of zero tolerance towards fraud and corruption. Through the Audit Committee, the Board has ultimate oversight of business ethics and compliance efforts and also regularly reviews the effectiveness of the risk management and internal control systems of the Group on an ongoing basis.

Further, as a signatory of the United Nations Global Compact, the Group is committed to working against corruption in all its forms. The Group has a strong internal control framework to guide its businesses in maintaining the highest standards of ethics and business conducts. The framework has five core elements: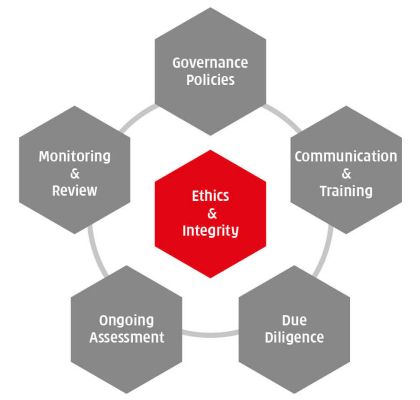 Governance policies

The Code of Conduct (the "Code") sets out the professional and ethical standards for the Group to observe in all business dealings, including provisions dealing with conflict of interest, fair dealings and integrity, corruption, political contribution, confidentiality, personal data protection and privacy, as well as whistleblowing procedures.

The Code applies to all subsidiaries and controlled affiliates of the Group, where every director and employee requires strict adherence to the Code as well as all applicable laws, rules and regulations within the jurisdictions in which the Group operates. For those non-controlled affiliates, employees serving as directors should, to the extent possible, encourage such affiliates to adopt and follow the Code.

The Anti-Fraud and Anti-Bribery ("AFAB") Policy outlines the Group's zero tolerance approach to bribery and corruption and guides employees in recognising the circumstances which may lead to, or give the appearance of, being involved in corruption or unethical business conduct. It includes provisions relating to kickbacks, political and charitable contributions, gifts and hospitality, and procurement of goods and services. For political donations, in accordance with the AFAB Policy as well as the Media, Public Engagement and Donation Policy, it is the Group's general policy not to make any form of donation to political associations or individual politicians.

Further, business partners and suppliers who are working for the Group are encouraged to maintain the highest standards of ethical conduct and professionalism in accordance with the Supplier Code of Conduct. They are required to implement appropriate AFAB policies and compliance programmes as well as verify if the policies are being complied with. Suitable AFAB clauses are incorporated in the contracts with business partners and suppliers to ensure that they are fully aware of the Group's requirements.

The Group is committed to fully complying with its statutory tax obligations in all the jurisdictions in which it operates, including the payment, reporting and recovery of taxes. To ensure that these obligations are fulfilled, the Group has developed a Tax Governance Framework to provide guidance on how its tax affairs should be managed, including regular assessment of the tax compliance process through periodic questionnaires and reviews. For more information, please see the Group's Tax Strategy.

Communication and training

All employees are well informed of the Code as well as the aforementioned governance policies. Employees are also required to self-declare their compliance with the Code and related policies on an annual basis.

Training on business ethics and the Group's ethics policies is provided to all new joiners as part of their induction programmes. For specific topics such as anti-fraud and anti-corruption, tailormade training is assigned to employees based on their role and area of responsibility at least once every two years. In addition, periodic fraud alerts are circulated within the Group to bring attention to new or common fraud schemes.

Due diligence

The Group's commitment to anti-fraud and anti-corruption is also reflected in its management of business partners, suppliers, and third party representatives such as advisers, agents, consultants, introducers and finders, and political lobbyists. The Group conducts due diligence on the selection and renewal of new and existing business partners or suppliers based on an assessment of risk factors including transaction size, product or service nature, financial and compliance status, qualification, potential conflict of interest, and country risk.

Further, the Group adopts a comprehensive set of procurement and tendering procedures to ensure that related activities are carried out in a fair and transparent manner. The appointment of third party representatives requires prior approval from an Executive Director, and material capital expenditure projects (in excess of predefined thresholds) requires Head Office review and approval prior to any binding commitment.

Ongoing assessment

Internal Audit conducts independent audits of the Group's ethical standards and policies in the areas of anti-corruption, fraud incident management, supplier code of conduct, fair dealing with suppliers, handling of confidential/inside information, personal data governance, anti-trust, workplace safety, and accuracy of book and record. The audits run in a typical three-year cycle and are Group-wide. Higher risk business units are subject to more frequent and intensive audits (generally once per year). All audit findings are reported to the Audit Committee and the Executive Directors and are also shared with external auditors.

Core businesses are also required to self-assess their control measures bi-annually to further drive improvement. The results of this self-assessment are reviewed by Internal Audit and reported to the Executive Directors and the Audit Committee.

Monitoring and review

The Group has implemented sound financial controls (including adequate segregation of duties, authorisation controls, records logging, supporting documentation, and audit trail) to prevent and detect irregularities or misconducts. This control system is subject to regular review and audit. In particular, Internal Audit, which is responsible for assessing the effectiveness of the Group's internal control system, performs audits in accordance with its risk-based audit plan, where the scope of review includes, amongst others, the Group's compliance with its governance policies and applicable laws and regulations.

The Group encourages employees and others who deal with the Group (such as customers, suppliers, creditors and debtors) to raise concerns about any suspected or real impropriety, misconduct or malpractice through confidential reporting channels. This is supported by the Whistleblowing Policy. All reported incidents are treated confidentially, and the individuals raising concerns are protected against unfair dismissal, victimisation or unwarranted disciplinary action. The Group also prohibits retaliation of any kind against those who raise a business conduct concern.

The whistleblowing channels that the Group has established are proactively communicated to employees in local languages, available on corporate websites, and also allow for anonymous reporting of improprieties. Each core business further derives its own set of internal escalation procedures to cater for its operational needs, and is required to report the incident to the Group Finance Director and Deputy Managing Director and the Head of Internal Audit function within one working day should the amount involved exceed the de minimis threshold.

Incidents or suspected incidents of fraud and corruption are immediately investigated. Internal Audit is responsible for reviewing every reported incident, seeking relevant stakeholders for direction or comment, determining which incident requires a more in-depth investigation, and escalating promptly to the Executive Directors and the Audit Committee if the incident is of a significant nature. A summary of the reported incidents and relevant statistics (including results of independent investigations and actions taken) is presented to the Audit Committee and the Executive Directors on a quarterly basis. For concerns that are substantiated, disciplinary actions including verbal or written warning and termination of employment are taken after due management consideration. Violation of the laws and regulations are reported to the police or other law enforcement organisations.