As the Group has a diverse range of businesses and operates in about 50 countries, maintaining a close dialogue with key stakeholders in each industry and geographical jurisdiction is critical when making business decisions and considering their potential sustainability impact.

The Group has a broad range of stakeholders that are engaged on an ongoing basis through a variety of channels such as meetings, liaison groups, panel discussions, workshops and surveys, in order to understand their views and better meet their expectations. These include:

Employees;
Customers;
Suppliers and business partners;
Shareholders and investors;
Banks and creditors;
Governments and regulators;
Local communities; and
Non-government organisations.
Materiality assessment

Each of the Group's core businesses face different sustainability challenges and therefore requires an individualised and tailored approach to sustainability impact assessment and prioritisation.

The Group's materiality assessment is an iterative process that is updated with new information and emerging trends by way of a three-step process: identification, prioritisation and validation.

In 2020 the following steps were undertaken:

1.
Identification:

Identified potential sustainability issues relevant to the Group referencing:

Material issues covered in industry-specific materiality frameworks such as the Global Reporting Initiative (GRI) Standards and the Sustainable Accounting Standards Board (SASB) Standards;
The United Nations Sustainable Development Goals (SDG), as well as the resources contained within the Blueprint for Business Leadership on the SDGs;
ESG Ratings Reports; and
Research on emerging issues and global socio- economic trends.

2.
Prioritisation:

Worked with core businesses to consider material issues with regard to their influence on business success;
Issued questionnaires and conducted one-to-one interviews with stakeholders to understand the importance of these issues to them; and
Prioritised issues that have a significant impact on the Group's ability to create long-term and sustainable value.

3.
Validation:

Reviewed and approved the material issues with the cross-departmental Sustainability Working Group and the Sustainability Committee.
Group Sustainability Framework

Following this three-step process and reviewing the division-level materiality analyses, the following Sustainability Framework has been developed at the Group-level, including four pillars and nine goals that will form the foundational approach of the Group going forward. The pillars - Environmental, Social, Governance and Sustainable Business Model Innovation - are an enhancement of the previous four pillars identified by the Group in the 2019 Sustainability Report - People, Environment, Business and Community.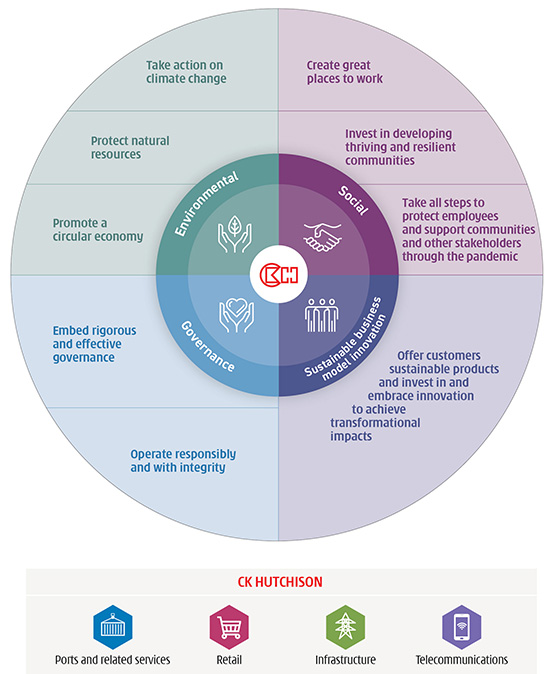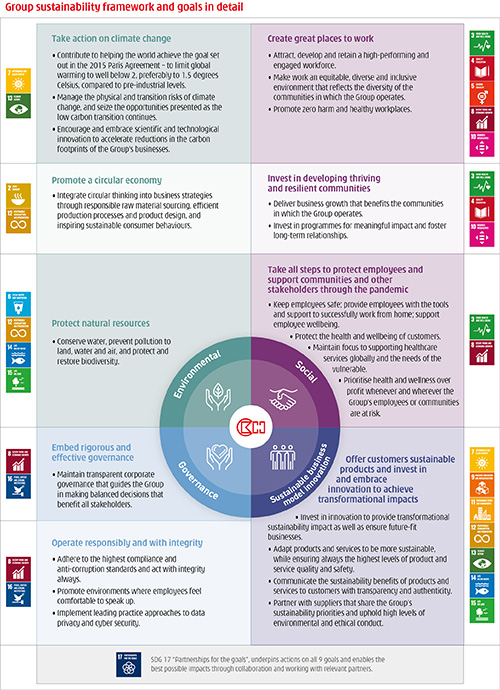 How these goals are achieved across the Group will differ depending on the nature of the business sectors and geographies in which each core business operates. While this report is focused on material information, further information on how each goal is being addressed can be found in the sustainability section of the Group's corporate website, which is updated regularly to take account of the most current developments.

Out of these nine goals, the following four goals have been prioritised as Group-wide focus areas for 2021-22:

Take action on climate change;
Offer customers sustainable products and invest in and embrace innovation to achieve transformational impacts;
Create great places to work; and
Take all steps to protect employees and support communities and other stakeholders through the pandemic.
While the goal — Take all steps to protect employees and support communities and other stakeholders through the pandemic — is not a perpetual goal as in the case of the others, it has been individually listed given the significance of the pandemic and to ensure maximum focus as the world continues its recovery.

Strategy development

Throughout 2021, the Group will be undertaking a new strategy development process working in partnership with the core businesses to accelerate progress.

To facilitate the strategy development process, the following actions have been identified for assessment in the near-term by the core businesses:

| | |
| --- | --- |
| 1. | Take action on climate change |

| | |
| --- | --- |
| 2. | Offer customers sustainable products and invest in and embrace innovation to achieve transformational impacts |

| | |
| --- | --- |
| 3. | Create great places to work |

| | |
| --- | --- |
| 4. | Take all steps to protect employees and support communities and other stakeholders through the pandemic. |

(Download)

Further actions to streamline Group-wide approaches have also been identified and are as follows: