Mr Li Ka-shing recognises the importance of education and healthcare to societal development. Established in 1980, the Li Ka Shing Foundation ("LKSF") has invested over HK$21.8 billion to develop education and healthcare initiatives, with over 80% of the projects benefiting the Greater China region. After stepping down as Chairman of the CK Group on 10 May 2018, Mr Li donned a new coat of armour to focus on the philanthropic efforts of his foundations to effect positive change.

Below are some of LKSF's major projects in 2018:

Love Can Help
Pioneering Medical Services
Compassionate Guardians
The Community Chest
Listening Angels
Hot Meals for the Elderly
Tsz Shan Monastery – Clarity, Compassion and Action
Shantou University
Shantou University Medical College
Guangdong Technion Israel Institute of Technology (Joint venture between STU and Technion)
Cheung Kong Graduate School of Business
Jiangxi Education and Women's Development
Free Healthcare Services in Mainland China
Overseas Medical Research


Love Can Help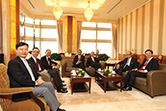 In August 2018, LKSF announced a contribution of HK$100 million to launch "Love Can Help", a healthcare subsidy scheme in collaboration with the Hospital Authority ("HA"), The University of Hong Kong ("HKU") and The Chinese University of Hong Kong ("CUHK"). The programme offers financial assistance to self-sufficient patients with certain illnesses who fall outside of Government subsidy schemes.

HK$30 million out of the contribution from LKSF to the HA will be used to subsidise Positron Emission Tomography – Computed Tomography (PET-CT) scan services and Percutaneous Coronary Intervention (PCI) Stents, and another HK$35 million to establish a PET-CT Centre in New Territories West Cluster. Further, HKU Li Ka Shing Faculty of Medicine and CUHK Faculty of Medicine will each receive HK$17.5 million to fund critical research and support patients suffering from certain illnesses in their respective teaching hospitals to alleviate their financial burden.

Pioneering Medical Services
LKSF donated HK$10 million to finance a pilot study of personalised cancer treatment for the digestive system at CUHK. Hong Kong Sanatorium & Hospital also received a contribution of HK$10 million to launch a Transcatheter Cardiovascular Intervention Subsidy Scheme to provide local residents with access to advanced medical technologies and services.

Compassionate Guardians
From 2007, LKSF has contributed HK$126 million towards the "Heart of Gold" Hong Kong Hospice Care Service Programme in collaboration with the HA. Providing a host of integrated palliative care services in hospice centres in 10 public hospitals, this innovative programme has served 38,000 terminally ill cancer patients and their family members.

The Community Chest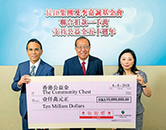 LKSF and the CK Group jointly contributed HK$10 million to The Community Chest of Hong Kong to mark its 50th anniversary and to support its charitable work going forward.

Listening Angels
As at the end of December 2018, the Caritas Family Crisis Hotline and Education Centre had received over HK$50 million from LKSF to offer a 24-hour hotline as well as crisis prevention workshops to meet public demand. Since 2008, the Centre has handled over 509,000 sessions.

Hot Meals for the Elderly
In February 2018, Mr Li Ka-shing visited a Food Angel community centre in Sham Shui Po, Hong Kong and enjoyed a warm meal with the elderly. LKSF pledged HK$10 million for Food Angel to expand its good work in the community.

Tsz Shan Monastery – Clarity, Compassion and Action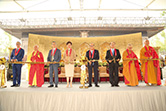 Since its opening in 2015, the Monastery has welcomed almost one million visitors, including 269,286 visitors in 2018. Using the notions of clarity, compassion and action, Tsz Shan Institute focuses on Buddhist education, research and close examination to allow a holistic approach to learning about Buddhism.

"Loving-Care Project" life education services are spreading to hospitals, retirement homes, and even correctional facilities, girls' homes, etc. The Buddhist Spiritual Counselling Centre strives to provide professional counselling services through Buddhist wisdom. Since its establishment in 2015, the Centre has provided counselling services for over 6,000 residents, and over 72,475 people have participated in workshops and other activities.

Moreover, the Tsz Shan Monastery Buddhist Art Museum will open to the public in May 2019. The Museum aims to nourish the spirituality of all generations through important Buddhist art objects gathered from different historical periods and regions expressing the beauty of Buddhist art. LKSF's total donation of HK$3 billion has supported the development of the Monastery and is also funding its daily operation.

Shantou University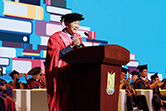 Shantou University ("STU") is a comprehensive tertiary institution co-developed by the Ministry of Education, the Guangdong Provincial Government and LKSF. As the only privately funded public university in Mainland China, STU is dedicated to promoting reform and innovation in Mainland China's higher education sector. LKSF has made grants and commitments of over HK$10 billion to support STU's development.

In 2018, STU became the first university in Guangdong that was awarded "Guangdong Demonstration University for Institutional Reform". STU initiated a collaboration with the University of Michigan to develop an undergraduate curriculum in Biomedical Engineering. The Clinical Medicine, Chemistry, Marine Science and Mathematics departments garnered grants under the Top-tier University Development Funding Programme of Guangdong Province. For the fourth consecutive year, STU has been recognised internationally with a spot on the Times Higher Education World University Rankings.

For the sixth consecutive year, the quality of STU's freshmen class continued to improve. In 2018, 100% of enrolled freshmen from Guangdong Province chose STU as their first preference. The first-time employment rate for STU graduates has been the highest in Guangdong Province for the past three years.

Shantou University Medical College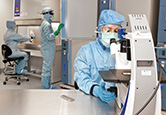 Shantou University Medical College ("SUMC") is pioneering reforms in medical education in Mainland China based on student-centred education and internationalisation initiatives. For 21 consecutive years, all incoming students have selected SUMC as their first choice. SUMC has taken the lead in adopting the United States Medical Licensing Examination (USMLE Step 1) to evaluate students in the English-stream medical programme. Over the past seven years, SUMC students taking part in the USMLE Step 1 have passed with an average passing rate of over 92%, which is close to those of accredited medical schools in the US. In 2018 the employment rate of new graduates was among the highest for universities in Guangdong Province, a record for 18 consecutive years. The Clinical Medicine major has been in the global top 1% of ESI (Essential Science Index) for six years in a row.

In 2018, SUMC earned a second prize in the National Higher Education Achievement Award with the HEART (Humanity, Empathy, Art, Respect, Team) teaching module for medical students, as well as a special recognition award for Clinical Medicine Programme Accreditation granted by the Ministry of Education. Eleven SUMC students out of 871 contestants made it through to the final round of the First Chinese University Student Academic English competition, winning two of the top prizes in the nation, along with other accolades.

Currently under construction is a new 55,000 sq m research centre with an estimated development cost of RMB 476 million. The new Affiliated Cancer Hospital is being developed with a total investment of RMB1 billion. The new facility will cover an area of 150,000 sq m and have a capacity of about 700 beds.

Through the East-West Alliance programme, STU has expanded its international exchange and cooperation with 14 world-class universities such as Oxford University, Cambridge University, Stanford University and the University of California, Berkeley.

Guangdong Technion Israel Institute of Technology (Joint venture between STU and Technion)
In 2018, Guangdong Technion Israel Institute of Technology ("GTIIT") recruited its second cohort of students, and began admitting students from Hong Kong and Macau through the Joint Entrance Examination. With the enrollment of 263 undergraduate students in 2018, there are now 479 students in GTIIT, which was the latest university to be listed in the "Guangdong High Level University Development Program" in 2018.

LKSF donated US$130 million to Technion to promote the co-establishment of GTIIT by Technion and STU, which is fully supported by the People's Government of Guangdong Province and the Shantou Municipal Government.

Cheung Kong Graduate School of Business
Since its founding in 2002, the Cheung Kong Graduate School of Business has aimed to cultivate business leaders with a global vision, a humanistic spirit, a strong sense of social responsibility and an innovative mind-set. After 16 years, the school boasts a growing network of 12,000 alumni who embody best practices in management education between the East and the West.

Jiangxi Education and Women's Development
LKSF pledged RMB3 million to set up a collaboration between Nanchang University, its First Affiliated Hospital, and the Nanchang's Women's Federation to launch multifaceted initiatives in Jiangxi Province.

Free Healthcare Services in Mainland China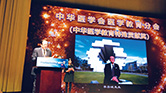 Over the years, LKSF has contributed over RMB1 billion to support free medical care services, including "Heart of Gold" Nationwide Hospice Care Services, China Disabled Persons Federation's "Cheung Kong New Milestone" (three phases) to install prosthetics and provide rehabilitation support and training, Nationwide Medical Relief for the Poor, and the Kumbum Tibetan Medical Hospital Aid Programme. Over 17 million patients have benefited.

Overseas Medical Research
In 2018, LKSF made new commitments of over HK$250 million to support overseas projects. These include the following donations: HK$7 million to Medecins Sans Frontieres to support the organisation's work in Bangladesh and an HIV/AIDs Project in the Republic of Congo; and HK$25 million (approximately A$4.5 million) to the University of Sydney to support Australia's first clinical trial testing Chimeric Antigen Receptor (CAR) T-cell immunotherapy.

LKSF will continue to cultivate a culture of giving as its unchanging promise.