ASW is committed to working closely with suppliers to ensure they respect human rights, promote decent working conditions and implement environmentally sustainable practices.

A cornerstone programme of ASW's supplier engagement assessment programme is its membership to amfori BSCI, an organisation dedicated to improving working conditions and environmental management in global supply chains. An important feature of this membership is that it allows members with common suppliers to share audit results thereby avoiding duplication in effort and cost.

ASW has adopted amfori BSCI's Code of Conduct which refers to international conventions such as the Universal Declaration of Human Rights, the Children's Rights and Business Principles, the UN Guiding Principles for Business and Human Rights, the Organisation for Economic Co-operation and Development Guidelines, theUN Global Compact and the International Labour Organization Conventions and Recommendations. All suppliers must endorse the amfori BSCI Code of Conduct as part of the supplier contracting process.

ASW requires all Own Brand suppliers located in identified high-risk countries identified by amfori BSCI to be audited against amfori BSCI's requirements. It also accepts audit results from a small number of other leading practice audit frameworks such as Sedex Members Ethical Trade Audits and the Initiative for Compliance and Sustainability.

Specifically relating to engaging suppliers in environmental protection, ASW takes part in amfori BSCI's Business Environmental Protection Initiative to drive environmental improvements in its supply chain. Suppliers identified as high-risk must complete a self-assessment covering 11 environmental performance areas.

Following the assessment, suppliers are informed of their assessed risks and notified of the appropriate training to attend, delivered either by amfori BSCI or by other appointed training companies. Their progress is further monitored for progress tracking.

ASW's responsible sourcing goal is: By 2030, ensure that 100% of Own Brand purchase value from high-risk countries (identified by amfori BSCI) will be assessed for:

Social compliance through amfori's Business Social Compliance Initiative audits (or others endorsed by ASW); and
Environmental compliance through amfori BSCI'S Business Environmental Protection ("BEPI") (or others endorsed by ASW)
During 2020, audit of 441 factories were conducted under ASW's sustainable supply chain programme with the following scores: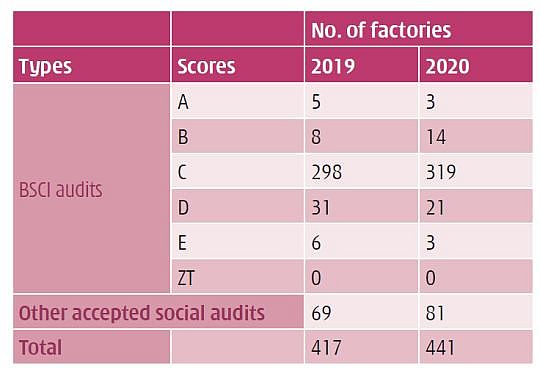 | | |
| --- | --- |
| Key: | |
| A, B | Very good practices exhibiting continuous improvement. Audit valid for two years' maximum. |
| C | Acceptable level of performance. A remediation plan must be provided within two months of the audit date and a follow-up audit within 12 months of the audit date. |
| D, E | Poor levels of performance. A remediation plan must be provided within two months of the audit date and a follow-up audit within six months of the audit date. |
| ZT | Human rights violations and business behaviour that may endanger the independence of the audit may qualify as possible zero tolerance (ZT) cases. Examples include child labour, bonded labour, and unethical behaviour. Upon discovery of ZT issues, the auditor would inform first amofri BSCI, which will coordinate an expedited remediation plan and require immediate improvements. |

ASW's approach with factories identified with non-compliances is not to terminate the business relationship as soon as the findings are available as this would not be a responsible reaction and would not help solve the problems identified. Instead, following the amfori BSCI System manual, ASW would request the factories to prepare and submit a remediation plan and be re-audited within 2–12 months of the last audit depending on their audit score.

Based on the factory competency, additional training is offered face-to-face or online through external independent third parties.

Termination of business would occur if a factory has not shown any improvements through independent re-audit or if its management refuses to cooperate.

ASW has been proactively taking steps to develop and deepen its understanding of the risk of modern slavery to prevent exploitation from taking place within its global supply chains.

Since 2016, ASW has been a member of The Mekong Club ("TMC"), an organisation that helps its member companies to prevent modern slavery within business operations. ASW was the first company to sign up to TMC's Business Pledge against Modern Slavery and with TMC's help, ASW developed and rolled out a toolkit for all supply chain teams to understand the risks and how to identify flags for potential modern slavery. Key departments involved in supplier contract negotiations and quality assurance auditing have been trained with TMC online toolkit. Employee workshops have also been carried out in Mainland China, Hong Kong, Singapore, the UK and France. In the UK, The Perfume Shop, Savers and Superdrug have also published statements on modern slavery and human trafficking as required by the UK Modern Slavery Act.

Hutchison Ports is currently expanding it sustainable procurement guidance across its ports to assist with pre-screening business partners across a wide range of sustainability issues including: business ethics, biodiversity impacts, emissions management, and human rights. Expansive sustainable procurement practices are already implemented at Hutchison Ports UK with contractor evaluations in the areas of labour practices, modern slavery, environment, legal compliance and health and safety. In 2020, to further improve its practices, Hutchison Ports HIT held a knowledge exchange with COSCO-HIT for procurement teams to share experiences on integrating sustainability criteria.

Hutchison Ports believes that all organisations working in cargo movement have a role to play in countering the threat to animal and plant species from illegal trade.

Hutchison Ports is a signatory of the Buckingham Palace Declaration, a commitment to take substantive steps to remove opportunities for wildlife trafficking by focusing on information sharing and secure reporting to law- enforcement authorities.

Hutchison Ports has also developed a partnership with TRAFFIC, the non-governmental organisation working globally on trade in wild animals and plants, and leverages their insights to deepen knowledge and understanding in high how to flag potential incidents of illegal wildlife trade.