Every division has a community engagement and investment programme that is tailored to the needs of their communities.

Globally, the ASW brands contribute in different ways to make their communities better places. ASW has however supported one cornerstone programme, closely linked to its purpose embedded in the act of inspiring smiles by partnering with Operation Smile. Operation Smile is an international medical charity that provides free surgeries for children and young adults in developing countries who are born with a cleft lip, cleft palate or other facial deformities. ASW's goal is to finance 10,000 free surgeries for children with cleft lips and palates by 2030. Since 2018, ASW has sponsored 4,000 surgeries.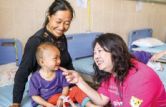 Employee volunteering is also an area ASW is passionate about. Through the Smile for Good 2020 programme, which called upon every business unit to support corporate volunteering, over 10,000 volunteers have contributed 70,000 hours to serve over 240,000 of those in need in the communities in which it operates. In 2020, total donations amounted to HK$71.8 million.

Hutchison Ports' Dock School Programme is one of the Ports division's most long-standing community programmes in which each port globally partners with at least one local school to provide support such as sponsoring scholarships, equipment and other educational initiatives. For example, Hutchison Ports HIT supports the Tsuen Wan Trade Association School and the Hong Kong Institute of Vocational Education Tsing Yi with scholarships for disadvantaged students, and through facilitating school contests and opportunities for local students to learn more about Hong Kong's supply chains and the logistics industry.

Attracting new employees to the ports business and developing a future pipeline of talent is also an aim of the Dock School Programme. In 2020, HIT continued its "Start Your Journey @ Port Programme", a programme that provides a series of learning opportunities for local university students. The programme aims to increase students' knowledge and interest towards careers in the logistics industry through seminars, placements, scholarships and terminal visits.

In 2020, community engagement programmes prioritised supporting local communities through the pandemic, see the section on Covid-19 support for more information.