Acknowledging that global recovery will be long, and will require every actor of society to do its part, every core business is focused on taking all steps possible to protect employees and support communities, among which are the Group's customers, as well as other stakeholders.

Employee Support

Employee health and wellbeing has been, and will continue to be, the Group's top priority. Throughout the pandemic, wherever possible, the Group has distributed masks daily to its employees, ensured workplace sanitising measures, and conducted temperature checks and onsite rapid COVID-19 testing. The Group implemented flexible and hybrid working policies, along with the necessary IT support, to fit the needs of employees. Employee wellness programmes were also rolled out focusing on managing anxiety, staying active and keeping connected during lockdowns.

As part of the division's ongoing response to the impact of COVID-19, Hutchison Ports has introduced stringent safety precautions to ensure that its terminals were, and continue to be, safe places for employees to work.

Every port has developed business continuity plans to ensure that Hutchison Ports can continue to provide the port services that customers need. Response plans include protocols for temperature checking, on-site testing services, amended working practices, restricted travel, workplace access, social distancing and internal track and trace systems.

Localised employee events were organised throughout 2020 to recognise employee and contractor efforts and to alleviate new stresses and pressures created by the pandemic. Hutchison Ports Hutchison Korea Terminals held the "Stay Strong Campaign" promoted by the Korean Ministry of Foreign Affairs and Trade in March aimed at keeping spirits high and encouraging employee recognition. At Hutchison Ports UK, a new Employee Assistance Programme was launched to help employees deal with personal problems that might negatively impact their health and wellbeing as a result of the pandemic. The Programme provides employees and their direct household members with 24/7 confidential access to professional counsellors, nurses, pharmacists, and life management advisors.

To support employees financially, ASW launched an employee support package in the UK to cover employee pay while stores were closed as well as also offer additional company sick leave for those self-isolating. ASW also focused on ensuring employee health and wellbeing by helping its people feel connected and supported.

Supporting employee wellbeing during the pandemic

ASW recognises the pandemic has put exceptional stress on society, including its employees. To support teams, and let them know management is listening and cares for their wellbeing, ASW Benelux launched #StayConnected for office employees and #healthytogether for store employees, to encourage team cohesion, show appreciation for each other, and to ensure employees feel healthy in the workplace.

Highlight initiatives from these programmes, many of which were inspired by employee ideas, included:

The eBarista café: Every Monday the participants of the eBarista café were randomly matched up for a chance to have a virtual coffee with a new or old friend.
eCards: eCards enabled colleagues to share with each other words of appreciation or simply to say to a colleague that they are missed.
Inspiration Thursday: External speakers were arranged with webinars held for employees to learn about a variety of topics, including wellbeing and the psychological effects at play while working from home for long stretches. The team also arranged sessions for internal top management to share advice on how to stay well, alongside sharing links to inspiring podcasts, TED talks and articles.
Support hotline: A hotline was launched to allow employees to seek extra emotional support. The most important message relayed was: "it's OK to not be OK, and that we're here to listen and support our colleagues".
Fitness challenges: To encourage keeping active, the app "Ommetje", or "walk around the block", was introduced to challenge employees to earn the most points by ensuring they take walks every day. To further inject some fun into the working day, the team also got employees involved in the popular Jerusalema Dance Challenge, the viral global dance phenomenon.
Fruit baskets and vitamins were also shared with retail employees to encourage healthy eating and boosting immunity.
At the Infrastructure division, the pandemic has further focused attention on employee wellbeing and ensuring employees both out in the field and or those working from home feel supported.

Communications during the lockdowns were led from the top, with many of the businesses CEOs sending daily or weekly videos and voice memos to employees, as well as additional and consistent communications from the executive teams at each business.

For those working from home, there was rapid deployment of home working systems, revised working patterns and online collaboration. Additional support was provided to managers in helping their team members work remotely, deal with family loss, and transition back into the office smoothly and safely. Events were held online to enhance feelings of team support and recognition. For example, WWU held their people recognition awards "Celebrating Excellence", it's 15th birthday celebration and "It's Virtually Christmas" online. WWU also supplemented their communications with manager's guides, wellbeing newsletters, and wellbeing virtual cafés. As a result of this work they were recognised with the Responsible Business Champion Award from Business in the Community for its focus on employee wellbeing.

SA Power Networks extended their online health hub in 2020 to include the Health Hub@ Home platform which focuses on the health challenges arising from working from home. Features such as mental health, first aid, mindfulness and resilience training courses, and a Traumatic Event Response service for workers exposed to distressing incidents have also been made available to support employees' physical and mental health.

Employee health and wellbeing at Northumbrian Water

To protect both employees and customers during the pandemic, Northumbrian Water issued specific Toolbox Talks to give employees guidance on how to complete their daily tasks in a COVID-secure manner, including appropriate social distancing and use of PPE. Employees were asked to use the COVID 60 Second Check tool to look for health and safety issues at the start of a task. Employees completed over 66,000 COVID checks and Northumbrian Water suspended over 550 assignments by end 2020 after identifying concerns that needed to be addressed before they could be undertaken.

In January, Northumbrian Water became the first water company in England and Wales to launch a COVID-19 rapid testing programme with employees. Working closely with NHS Test and Trace, Defra and Water UK, they piloted a scheme for asymptomatic testing to be carried out on a voluntary basis for around 600 employees. Since then they have carried out more than 6,000 tests.

Northumbrian Water also stepped up its support for employee wellbeing, including through its LivingWell campaign to give employees additional access to a wide-range of resources, and it also launched new support groups such as the Parents' Network to assist colleagues facing childcare challenges.

These initiatives helped Northumbrian Water to be named a Centre of Excellence for Wellbeing by the Great Place to Work Institute, and it was also awarded Ambassador Status for wellbeing as part of the 2020 Better Health at Work Award assessment.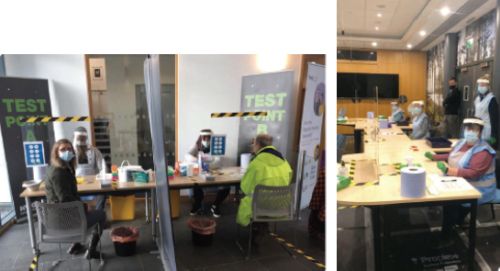 Customer Support

Retail customers have been protected through rigorous social distancing measures such as including floor markings indicating 1.5m distancing, one-way walking routes, coughing screens, cleaning stations, customer information points and expanded online shopping options.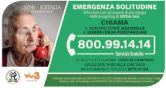 Across the Telecommunications division, customers were offered free data access and calls to healthcare support websites and hotlines. For example, 3 UK zero-rated access to the NHS website, the COVID hotline, victim support and domestic abuse services, and Hospedia, the communication network enabling hospital patients to contact home. WINDTRE also enabled free access to Senior Italia FederAnziani, a popular support hotline for senior customers, and 3 Ireland donated 3Connect services for smoother remote working to Aware, the mental health support service which has seen a sharp increase in the number of callers as a result of the pandemic.

In the early days of the pandemic when customers found themselves stranded abroad in the face of lockdowns, 3 Sweden and 3 Denmark offered all customers free data, calls and texts to their home country to stay connected. 3 Denmark further doubled the amount of data for voice subscriptions from May — November 2020 to assist customers needing to spend more time online from home.

The Hong Kong and Macau business also collaborated with Microsoft to provide corporate customers with free subscriptions of Microsoft Office 365 to assist the local business community with remote working and Hutch Lanka in Sri Lanka offered free daily reloads for its subscribers to help them stay connected.

Each of the Infrastructure businesses also acted quickly to support the financial wellbeing of its customers. Examples include:

The businesses in Australia participated in the Energy Networks Australia's COVID-19 programme, which provided relief to small business and residential customers who were experiencing financial hardship;
Northumbrian Water launched a support programme offering payment breaks for people facing financial difficulty; more than 7,500 customers have benefited from a payment break; and
UKPN also repurposed its Power Partners' £300,000 scheme to help people struggling to pay their energy bills while out of work and at home.

Community Support

The COVID-19 pandemic has fundamentally changed the way society interacts as measures globally have been put in place to reduce physical contact to slow the spread of the virus. The telecommunications industry has therefore needed to play a vital role in keeping people connected as they are confined to work, study and be entertained from home.

In 2020, the division's community support initiatives, in line with the rest of the Group, prioritised supporting healthcare services and the needs of the vulnerable. WINDTRE donated one million euros to local hospitals and 3 UK supported frontline hospital workers by providing them with unlimited calls, texts and data. 3 Indonesia also provided 20,000 SIM cards and free internet access to patients, health workers and volunteers at hospitals around the country to help them stay connected to loved ones at home during the pandemic.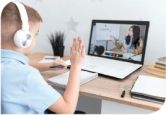 Understanding the difficulties felt by local businesses and school children needing to make the switch to online learning, 3 Austria donated internet packages to small and medium enterprises, and Zoom classroom accounts were donated to local schools in Hong Kong. Similarly, tablets, internet access and school materials were donated by WINDTRE to underprivileged families and hospitalised COVID-19 patients in Italy, and 3 Ireland donated 15,000 SIMs with unlimited data to 160 schools around Ireland. 3 UK further zero- rated the Oak National Academy, a UK Government-based online educational resource that has helped thousands of school children across the UK receive free video lessons and resources. 3 Indonesia donated starter packs with unlimited data to students and teachers of more than 5,000 schools across the country. In addition, they supported the government's digital transformation so that educational activities can run smoothly during the pandemic.

Each of ASW's brands sought to address the individual needs of their communities.

Highlight initiatives in 2020 included:

To respond to the unstable global supply of hygienic face masks, ASW transformed part of its Watson's Water factory in Hong Kong into a safe environment for mask production where staff worked around the clock to help service demand.
ASW donated over 1.8 million masks to elderly, underprivileged people and school students in Hong Kong.
Watsons China donated hygiene necessities to medical institutes and frontline healthcare workers in Hubei, PRC.
Watsons Taiwan collaborated with a supplier to donate 10 mobile isolation cabins to eight hospitals across Taiwan. The cabins provide a protective shield for the medical staff to ensure their safety when they conduct COVID-19 swab tests.
PARKnSHOP donated cash food coupons, vouchers and food items to over 500,000 vulnerable members of the community in Hong Kong via 27 NGO partners.
MoneyBack supported the local economy getting back on its feet by allowing local businesses to promote on the platform which serves nearly half of Hong Kong's population. This included offering in-store exclusive benefits from almost 3,000 outlets, from major food and retail chains to small neighbourhood stores. To encourage shopping safely, ASW also donated over 450,000 pieces of WatsMasks to participating consumers and charities in Hong Kong.
As a part of the 180th anniversary celebration of ASW, the division launched the Global Smile Campaign with the theme Smile Inside-out, to raise awareness of mental wellbeing in partnership with NGOs and suppliers. The Group also appointed 13 millennials in the company to be Chief Smile Officers.
ASW was recognised in the Outstanding Social Capital Partnership Award given by HKSAR Government's Community Inclusion Investment Fund. This award highlighted ASW's partnership with the Hong Kong Young Women's Christian Association to provide support for the elderly who live in remote and rural areas. ASW health experts, including pharmacists, dietitians and traditional Chinese medicine practitioners, offered health support and shared COVID-19 related advice to help them stay safe and healthy during the pandemic.
Superdrug enabled over 100 professional nurses to volunteer their services to NHS hospitals overwhelmed by caseloads as a result of the pandemic.
Superdrug also became one of the high-street retailers to take part in the COVID-19 vaccination programme increasing accessibility to the local community during this global vaccination effort.

During 2020, Hutchison Ports prioritised backing up local healthcare systems including through supporting local hospitals with donations of PPE and supporting the procurement of larger scale equipment. For example, the division facilitated the construction of independent air-conditioning systems for COVID-19 hospital wards in Thailand and donated hospital beds and ventilators for intensive care units in Panama. Volunteer teams globally also worked to deliver food packages and other personal protective necessities to communities in areas that have been hit hardest by the pandemic in Pakistan, the UK, Hong Kong, Spain and Panama.