Product and service safety, transparency and quality at ASW

With customers' best interests central to everything that ASW does, the division has been working with leading experts and researchers globally to deliver the highest levels of product and service safety, transparency and quality through its wide range of Own Brand products. ASW pays meticulous attention to every stage of the production-to-shelf process and proactively seeks customer feedback to ensure ongoing updates to service quality.

Before suppliers are permitted to manufacture ASW Own Brand products, they must first be assessed by external auditing agencies and/or by ASW itself. When developing a new product, there is a rigorous and intensive internal testing process and external assessment. All items, from raw materials to the final product, are assessed by a European toxicologist to ensure it complies with regulatory requirements in each market. ASW conducts regular assessments of Own Brand products led by external independent laboratories and internal ISO17025 accredited laboratories (food and non-food) to ensure the products sold to customers are up to standard.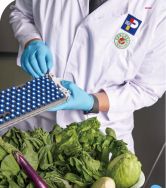 ASW's in-house laboratories conduct around 250 tests per week on new products, product deliveries, products associated with customer complaints and samples from the Mystery Shopper programme. For food retail, an additional 1,400 pesticide residue rapid (ELISA based) tests are conducted every week on incoming vegetables as part of the Farm Check programme where ASW has an established network of Quality Assurance ("QA") approved vegetable farms. ASW also has Farm Check systems in place within supplying farms in Mainland China for chilled pork, chilled chicken, chicken eggs and plans to expand the process to farmed fish will continue once COVID restrictions are lifted. The division's QA agricultural scientists include both arable/horticultural and veterinary specialists.

ASW has well-established and tested systems that enable it to remove any concerned product from sale in all stores within three hours including, where appropriate, a barcode blocking system that prevents any concerned item being scanned and sold.

Further, key members of each business unit's management teams take part in regular crisis management workshops to ensure they are thoroughly prepared for any emergency. Each business unit has a detailed crisis manual detailing action procedures and management responsibilities including internal and external actions and communications.

Chemicals Management

The division has stringent requirements for chemicals used in ASW's Own Brand products, as well as quality and safety guidelines going beyond existing regulations in each market. Since 2009, ASW has also implemented a restricted ingredients list for personal care and cosmetics, to further restrict or ban ingredients considered harmful by independent safety experts. This list is reassessed twice per year and is communicated to Own Brand suppliers for immediate implementation in the new product development phase.

In Europe, ASW also monitors the compliance of ingredients to the Registration, Evaluation, Authorisation and Restriction of Chemicals ("REACH") regulation and since 2008 the division has co-registered 13 substances with support from appointed third- party representative agency, Ecomundo.

Traceability

ASW has invested in traceability software, including Coptis Lab software, to keep records of all ingredients used in ASW Own Brand formulated products, and be able to fast track any ingredient back to products and suppliers.



For wood pulp commodities, ASW is using the amfori BEPI Timber Due Diligence Programme to ensure compliance with the European Union Timber Regulation and maintain an effective due diligence system.

For Own Brand products, ASW is using two online technical file management tools to keep records of all technical files and traceability of products for up to 10 years in the tools, before being archived.