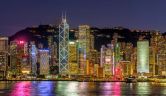 CK Infrastructure Holdings Limited
CK Hutchison holds a 75.67% interest in CK Infrastructure Holdings Limited (CKI) (stock code: 1038). CKI is a global infrastructure company with diversified investments in energy infrastructure, transportation infrastructure, water infrastructure, waste management, energy-from-waste, household infrastructure and infrastructure related businesses. It operates mainly in Hong Kong, Mainland China, the United Kingdom, Continental Europe, Australia, New Zealand, Canada and the United States. CKI is the largest shareholder of Power Assets Holdings Limited (Power Assets) (stock code: 0006), a company listed on the Stock Exchange of Hong Kong. CKI is also pioneering in many clean technology innovations such as the hydrogen transition in gas networks; hydrogen-powered trains; distributed solar-powered systems; remote and renewable energy generation solutions; renewable natural gas; capture, use and storage of carbon; and smart city solutions. Clean technology remains a key focus both now and into the future.

Other Infrastructure Businesses – CKI-led Projects
Besides, CK Hutchison holds direct interests in some CKI-led infrastructure projects:

Australian Gas Networks
Australian Gas Networks is one of Australia's largest distributors of natural gas, serving customers in South Australia, Victoria, Queensland, New South Wales and the Northern Territory.

Dutch Enviro Energy
Dutch Enviro Energy owns AVR, the largest energy-from-waste company in the Netherlands. It operates five waste treatment plants in Rozenburg and Duiven; as well as several transfer stations.

Northumbrian Water
Northumbrian Water is one of the 10 regulated water and sewerage companies in England and Wales. It provides water and wastewater services in the North East of England and supplies drinking water in the South East of England.

Park'N Fly
Park'N Fly is the largest off-airport car park provider in Canada. The company provides parking facilities in Toronto, Vancouver, Montreal, Edmonton, Ottawa, Halifax and Winnipeg.

UK Rails
UK Rails is one of the three major rolling stock leasing companies in the United Kingdom. It leases a diverse range of rolling stock, including regional, commuter and high-speed passenger trains, as well as freight locomotives, on long-term contracts.

Wales & West Gas Networks
Wales & West Gas Networks is a gas distribution network that serves Wales and the South West of England.