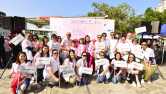 Established in July 1991, the company currently manages three radio channels: Metro Finance (FM 104), Metro Info (FM 99.7), and Metro Plus (AM 1044). These channels offer a wide array of content, covering various topics such as local and global finance, music, lifestyle, entertainment, and cross-cultural exchange.

Since 2019, we have expanded our digital product portfolio by introducing several high-quality content marketing websites: Metro Education+, Metro Health+, and Metro Insurance+. These platforms are carefully designed to cater to the specific needs of discerning and affluent individuals, including parents seeking educational resources, health-conscious individuals, and active investors.

With a strong presence in both traditional radio and digital media, Metro Broadcast Corporation Limited continues to be a prominent player in the industry. We continuously adapt to the evolving media landscape, delivering valuable content to our audience.