Press Releases

For photo, please click here.
Italian Communications Minister makes first videophone call via 3
(Hong Kong, 27 November 2002) The first person-to-person video call via 3 handsets over the UMTS commercial network of 3 was conducted successfully yesterday (Europe time) between Rome and Milan, as well as Rome and London, which marked a major achievement for the Hutchison Group's 3G technology delivery.
This groundbreaking event was the fruit of extensive successful development and testing work by 3 both in Italy and in the UK and was witnessed by an invited audience in Rome. Both companies are in their respective user trial phases, designed to prepare and test 3's suite of products and services ahead of commercial rollout to retail customers in the near future.
The calls were conducted between the Italian Minister of Communications Maurizio Gasparri in Rome, the Editor-in-Chief of the leading Italian business newspaper Il Sole 24 Ore Guido Gentili in Milan, and Hutchison Whampoa Group Deputy Chairman Victor Li in London.
Minister Gasparri commented that this call is a significant leap into the future, given that with 3G capabilities, one could see images and navigate on the Internet while on the go.
"This marks an exciting step forward in our ongoing phased rollout of services", said Hutchison Deputy Chairman Victor Li, who made the video call on 3 in person from London to the Minister in Rome. "The products and services we are building bear out what the Minister witnessed for himself today: these are not simple telephones, they are powerful mobile multimedia devices designed for the eye as well as the ear. Quite simply, there is nothing like 3 in the market."
Besides live person-to-person video calls, 3 will offer communication, information and entertainment in a wide range of content and services on the move. Further details of 3's forthcoming products and services in Italy and in the UK will be revealed in the coming weeks.
- End -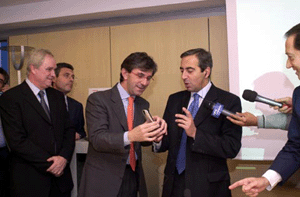 Download (618 KB)
H3G Italy chief executives Bob Fuller and Vincenzo Novari accompanies the Italian Minister of Communications Maurizio Gasparri as he makes the first video call over the 3 handset in the presence of an invited audience.
(Rome, 26 November 2002)

For further enquiries, please contact:
Nora Yong
Tel: (852) 2128 1363
Fax: (852) 2128 1766


Notes for Editors
3 is the global brand name for the Hutchison Whampoa's 3G services. The Group holds 3G licences in Australia, Austria, Denmark, Hong Kong, Ireland, Italy, Israel, Sweden and the United Kingdom.