Press Releases
For photos, please click here.



Mr Li Ka-shing meets HRH The Duke of York
(Hong Kong, 1 April 2006) Chairman of Hutchison Whampoa Limited ("HWL") Mr Li Ka-shing met HRH The Duke of York of the United Kingdom today at Cheung Kong Center and exchanged views with him on the very important Hong Kong-UK business relationship.
Mr Li welcomed the Duke's visit to Hong Kong and updated him of HWL's latest activities in the United Kingdom, which include business operations as well as charity initiatives.
Mr Li also told the Duke that HWL's investments in the UK dated back to 1989 when HWL ventured into UK's telecommunications markets. The Group then moved on to invest in the country's ports business in 1991.
The Group's experience with these investments had been very pleasant, Mr Li said.
HWL is now the largest Asian investor in the UK. The Group has also been supporting the Hutchison Chevening Scholarships since 2002 and the Dorothy Hodgkin Postgraduate Awards scheme since 2003.
Mr Li also hosted a lunch for the Duke and his entourage that included Mr Stephen Bradley, British Consul-General; Mr Bob Rayner, Deputy Consul-General and Director of Trade and Investment; Mr Alastair Watson, Private Secretary to the Duke and Lt Caroline Clark, Equerry to the Duke.
Joining Mr Li for the meeting and lunch were Mr Victor Li, Deputy Chairman of HWL; Mr Canning Fok, Group Managing Director of HWL and Mr John Meredith, Group Managing Director of Hutchison Port Holdings Limited.
During the lunch the Duke expressed his appreciation of the HWL investments in the UK and the confidence in the UK economy which they signify. His Royal Highness made the point that the UK regarded the relationship with Hong Kong as being strong, developing and a cornerstone for UK business relationship in the Far East.
In the morning prior to his meeting with Mr Li, the Duke also visited Hongkong International Terminals, the headquarters of HWL's port division, and got an update of Hong Kong's port and container operations.
###
About Hutchison Whampoa Limited
Hutchison Whampoa Limited (HWL) is a leading international corporation committed to innovation and technology with businesses spanning the globe. Its diverse array of holdings range from some of the world's biggest retailers to property development and infrastructure to the most technologically-advanced and marketing-savvy telecommunications operators. HWL reports turnover of approximately HKD242 billion (USD31 billion) for the year ended 31 December 2005. With operations in 54 countries and over 200,000 employees worldwide, Hutchison has five core businesses - ports and related services; telecommunications; property and hotels; retail; and energy, infrastructure, Finance & Investments and Others .
Its flagship companies include Hutchison Port Holdings, Hutchison Telecom, Hutchison Whampoa Properties, A.S. Watson, and Cheung Kong Infrastructure.
For further information, please contact:
Mr Jeremy Lau
Tel: (852) 6477 9089
Fax: (852) 2128 1766
Email : [email protected]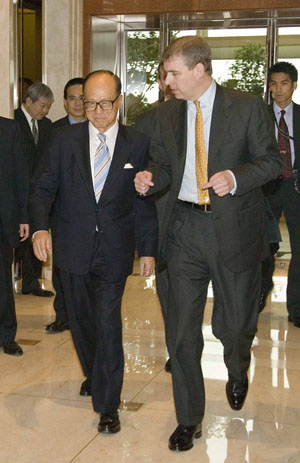 Download (555 KB)
Mr Li Ka-shing, Chairman of HWL, welcomes HRH The Duke of York at Cheung Kong Center, with Mr Victor Li, Deputy Chairman of HWL and Mr Canning Fok, Group Managing Director of HWL.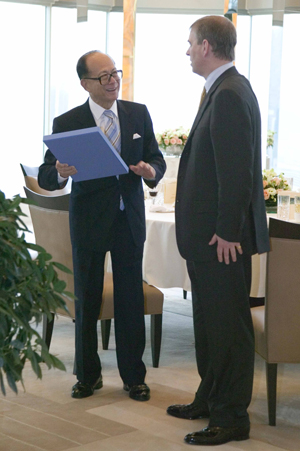 Download (961 KB)
Mr Li Ka-shing shares a relaxing moment with HRH The Duke of York at Cheung Kong Center.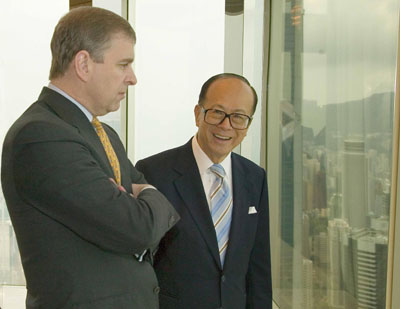 Download (1,127 KB)
Mr Li Ka-shing shows HRH The Duke of York the magnificent skyline of Hong Kong Island at Cheung Kong Center.