Press Releases

Contact Person : Lily Chan/Anthony Tam
Telephone : (+852) 2619 7557
Fax : (+852) 2612 0083
E-mail : [email protected]
Gdynia Container Terminal celebrates official opening
[18th June 2006 - Hong Kong] - On 17th June, Gdynia Container Terminal S.A. (GCT), a subsidiary of Hutchison Port Holdings (HPH), celebrated the official opening of Stage One operations at its facility in the Port of Gdynia, Poland. In commemoration of the special occasion, John Meredith, Group Managing Director of HPH and Wojciech Szczurek, Mayor of Gdynia, unveiled a plaque signifying the commencement of operations at GCT.
Speaking at the ceremony, John Meredith said, "Stage One operations mark the emergence of GCT as a major container facility in the Baltic region. GCT is an important addition to HPH's port network in Europe and will further strengthen our services in northern Continental Europe with our ports in Felixstowe, Harwich, Thamesport and Rotterdam."
Wojciech Szczurek said, "I am pleased that the combined efforts of the City of Gdynia and HPH, the world's largest port investor and operator, have come to fruition. The successful partnership between HPH and the Port of Gdynia has helped transform GCT into a modern container handling facility. It is testament to the success of the "Invest Gdynia" initiative and a showcase to attract more investments to Gdynia."
Jerzy Czartowski, President and Managing Director of GCT said, "This ceremony is a tribute to all those involved in the Stage One development process of our container terminal. GCT will continue to forge ahead with terminal development plans to capture the region's increasing container trade."
During the ceremony, the Polish Customs Service also celebrated the opening of a new Customs Branch Office at GCT. The Customs Office Information Plaque was unveiled by Piotr Olowski, Governor of Pomeranian Region and Tomasz Wegiel, Director of Customs Chamber in Gdynia.
The Port of Gdynia is located on the Southern coast of the Baltic Sea and is home to 90 per cent of all Polish sea-borne containerised cargo.
-Ends-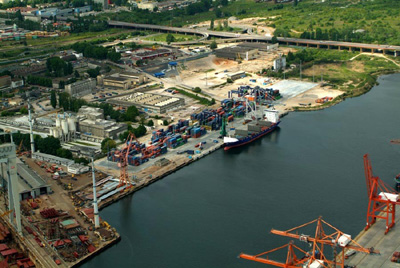 Notes to Editors:
Hutchison Port Holdings (HPH), a subsidiary of the multinational conglomerate Hutchison Whampoa Limited (HWL), is the world's leading port investor, developer and operator with interests in 20 countries throughout Asia, the Middle East, Africa, Europe and the Americas.
Today, HPH operates a total of 247 berths in 42 ports together with a number of transportation related service companies. With industry recognised core competence in the effective and efficient management and operation of ports, the HPH Group handled 51.8 million TEU in 2005.