Press Releases

| | |
| --- | --- |
| Contact Person: | Anthony Tam |
| Telephone No.: | (852) 2619 7557 |
| Fax: | (852) 2612 0083 |
| E-mail: | [email protected] |
HIT picks up top Asia Pacific ICT Award
[8 November 2006 - Hong Kong] Hongkong International Terminals (HIT) has successfully competed against 10 other outstanding teams from leading business sectors and become the grand prize winner at the Asia Pacific Information and Communication Technology Awards (APICTA) 2006 in the Industrial Applications Domain, confirming the industry's recognition of the application excellence of HIT's proprietary operating system - nGen (Next Generation Terminal Management System).
Organised by a network of 16-member economies in the Asia Pacific Region, the APICTA 2006 is an international Award aiming to stimulate Information and Communication Technology (ICT) innovation and creativity, promote economic and trade relations, facilitate technology transfer, and offer business matching opportunities via exposure to venture capitalists and investors.
Edmond Leung, General Manager, Operations Development and Technology, HIT said, "This prestigious international award is a vote of confidence to the ground-breaking work of our nGen team. At HIT, we are committed to the ongoing development and implementation of comprehensive ICT solutions which seek to enhance supply chain efficiencies."
The APICTA Award recognises HIT's outstanding contributions within the sphere of process engineering and technological excellence. The award-winning system - nGen - utilises best-in-class technologies, bringing together technology and business to deliver world-class customer services through enhanced container terminal operations. nGen has optimised operational productivity at a number of Hutchison Port Holdings member ports around the world as well as contributed to enhancing the communication systems within and between the global logistics community.
The APICTA 2006 Gala Dinner and Awards Presentation Ceremony was hosted by the Macau Computer Association and the Bureau of Telecommunications Regulation of Macau on 5 November 2006 at the Wynn Macau.
End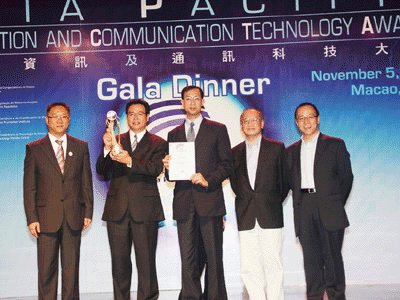 Photo Caption:
Edmond Leung, General Manger, Operations Development and Technology of HIT (second left), Lawrence Li, Production Support Manager of HIT (middle), Y.H. Mak, Business Manager of HIT (second right), Eric Lung, Product Development and Support Manager of HIT (right), represent HIT on stage to receive the grand prize trophy for the APICT Award - Industrial Applications from Lawrence Tou, Director of the Bureau of Telecommunications Regulation of Macau (left).

Notes to Editors:
About APICTA:
The Asia Pacific ICT Awards (APICTA) is an international Awards Program initiated by the Multimedia Development Corporation of Malaysia and to increase ICT awareness in the community and assist in bridging the Digital Divide. The APICTA Awards Program is orgainised annually by a network of 16-member economies namely Australia, Brunei, China, Hong Kong, India, Indonesia, Korea, Macau, Malaysia, Myanmar, Pakistan, Philippines, Singapore, Sri Lanka, Thailand and Vietnam. Please visit www.apicta.com for more information.
About HIT:
Hongkong International Terminals (HIT) is the largest container terminal in Hong Kong. With a strong emphasis on productivity and efficiency, HIT is committed to the creation and implementation of forward-looking, service-enhancing technology.
HIT is a member of the Hutchison Port Holdings (HPH) Group, a subsidiary of the multinational conglomerate Hutchison Whampoa Limited (HWL). HPH is the world's leading port investor, developer and operator with interests in 21 countries throughout Asia, the Middle East, Africa, Europe and the Americas. Today, HPH operates in a total of 43 ports together with a number of transportation-related service companies.