Press Releases
For photos, please click here.

The Power of Partnership
Li Ka Shing Foundation gift and Alberta Government funding help establish virology institute at U of A
April 23, 2010
Edmonton - The University of Alberta (U of A) will take a big step forward in its efforts to treat and cure virus-based diseases thanks to a C$28-million (HK$214 million) gift from the Li Ka Shing (Canada) Foundation and C$52.5 million (HK$403.1 million) in new related funding from the Government of Alberta.
The donation - the largest cash gift in the university's history - will help establish the Li Ka Shing Institute of Virology and add the U of A to an elite global health science research network facilitated by the Li Ka Shing Foundation (LKSF).
"This generous gift, along with the funding from the Government of Alberta, represents a truly transformative moment in the U of A's history," said Indira Samarasekera, president and vice-chancellor of the university. "Our researchers have been at the forefront of virology research for decades, including Dr. Lorne Tyrrell and his work developing a treatment for hepatitis B. The Li Ka Shing Institute of Virology will provide a state-of-the-art home to some of the world's very best researchers in virus-based diseases and will help place the university in its rightful place among top centres of such work."
Along with developing new drugs and vaccines, the institute will seek to attract significant private sector collaboration with multinational pharmaceutical and life sciences companies.
"Our government put innovation and technology commercialization at the forefront of our agenda, and as a result this incredible institute will bring benefits to Albertans for generations to come," said Premier Ed Stelmach. "Our investment today will draw more of the world's best researchers to Alberta and add to the incredible pool of talent already here."
Referring to the donation, LKSF Chairman Li Ka-shing said, "I have always believed in the power of partnership and that the progressive alignment of public and private resources can facilitate the way for honourable men and women to resolve problems and fight despair, particularly when those men and women are capable, willing and united in their quest and passion for knowledge. Their aspiration and determination can and will better society.
"I'm honoured to have the opportunity to work with the Government of Alberta and the university to support this meaningful endeavor," said Li. "Globalization brings the world into a community, connected in many dimensions. The work to combat the 'viralness' of infectious diseases belongs to all of us, and in this effort U of A is an established leader in researching virus-based diseases. Without a doubt U of A will foster continued excellence on this new platform.
"I can still remember my first visit to Alberta back in the early '80s," said Li. "For 30 years we have anchored a solid partnership and have grown together. We are as committed now as we were then. Alberta is a great province, Canada is a great country. And we are privileged to be part of this wonderful community."
In recognition of the foundation's historic gift, one of the newest buildings in the university's growing health precinct will be named the Li Ka Shing Centre for Health Research Innovation. The building, home to the Alberta Diabetes Institute, at the corner of 87 Avenue and 112 Street, is designed as a flexible space that supports current and future research and teaching needs.
Speaking at the gift announcement event Li Ka Shing (Canada) Foundation President Frank Sixt said LKSF was again quickly addressing a new medical frontier with this donation to the U of A to fund research on virus-based diseases.
"This contribution comes at a time when medical researchers around the world are battling against time to develop the best ways to prevent and cure these diseases," said Sixt. "This donation has again demonstrated Mr. Li's foresight as he also moved in quickly to fund a research collaboration between Institut Pasteur of France and Shantou University to study avian influenza in early 2005."
Shantou University (STU), located in southeast China, is a comprehensive university founded by Mr. Li in 1981 as a platform to introduce systematic and pedagogic reforms in China's education system. STU is the only privately funded public university in China and LKSF's contribution to date amounts to HK$5.3 billion (C$680 million). STU has 7,500 undergraduates, 1,500 graduate students, and nine colleges, including a strong medical school with five affiliated hospitals. STU medical school is now a leading research centre in influenza and its researchers, together with other global partners, have published many papers in top peer-reviewed journals, including Nature.
There are two components to the foundation gift announced today: C$25 million establishes the virology institute and C$3 million funds the Sino-Canadian Exchange Program that will, pending all necessary institutional and provincial approvals, establish a joint PhD program with U of A's Faculty of Medicine & Dentistry and STU Medical College. The virology institute will be located inside the Katz Group Centre for Pharmacy and Health Research on the corner of 87 Avenue and 114 Street.
With the establishment of the Li Ka Shing Institute of Virology, the U of A joins the East-West Alliance, a global network of medical education and research funded by LKSF. The network also includes Stanford University and University of California at Berkeley in the United States, Oxford and Cambridge universities in the United Kingdom, St. Michael's Hospital and the University of Manitoba in Canada, Institut Pasteur in France, STU in China, the University of Hong Kong and the Chinese University of Hong Kong.
There are more than two dozen researchers at the U of A whose teams explore various aspects of virology, from zoonotic diseases - those transferring between animals and humans - and host/virus interactions to poxviruses, RNA interference, viral diseases in post-transplant patients, viral replication and hepatitis.
The U of A's academic and research involvement in China is broad and deep dating back many years. Among the many partnerships, research collaborations and academic programs are a number of initiatives underway with STU Medical College and U of A's Faculty of Medicine & Dentistry that first began in 2006, so the joint PhD program is a natural progression in growing ties between the two institutions.
###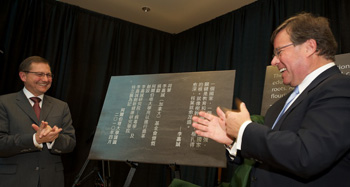 Download (127 KB)
1. Alberta Premier Ed Stelmach (left) and Li Ka Shing (Canada) Foundation President Frank Sixt unveil the plaque of the Li Ka Shing Institute of Virology, which will enable the University of Alberta to take a big step forward in treating and curing virus-based diseases.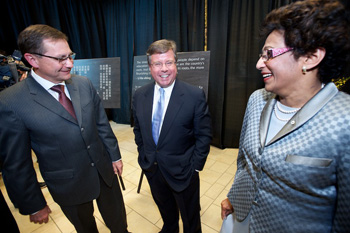 Download (130 KB)
2. Ed Stelmach, Frank Sixt and U of A president and vice-chancellor Indira Samarasekera share a relaxing moment at the gift announcement ceremony.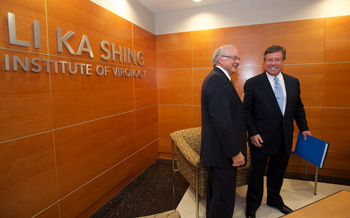 Download (152 KB)
3. Dr. Lorne Tyrrell of the Department of Medical Microbiology & Immunology (left) and Frank Sixt at the gift announcement ceremony.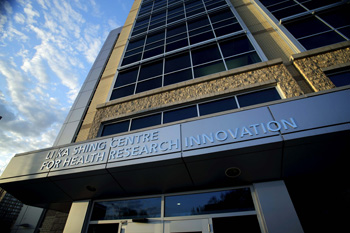 Download (726 KB)
4. The University of Alberta names one of its newest buildings as the Li Ka Shing Centre for Health Research Innovation in recognition of Mr Li Ka-shing's historic gift of C$28 million to the university.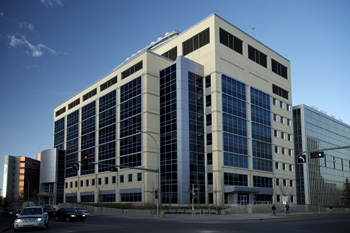 Download (833 KB)
5. The Li Ka Shing Centre for Health Research Innovation, with a total floor area of 28,800 square metres and standing at the corner of 87 Avenue and 112 Street, is designed as a flexible space that supports current and future research and teaching needs.

About the Li Ka Shing Foundation
Recognizing the limited social impact of traditional charitable giving in Chinese society, Mr. Li Ka-shing established the Li Ka Shing Foundation (LKSF) in 1980 to enhance the impact of philanthropy through three strategic objectives: 1) nurture a culture of giving; 2) support education reform initiatives that encourage long-term thinking, empowerment, creativity, open-mindedness and constructive engagement with a focus on positive and sustainable change; and 3) help advance medical research and services.
Mr. Li believes that anyone can serve society, but only someone with a giving heart can propel social progress. This is key to creating a positive virtuous cycle in society.
Mr. Li considers the Foundation to be his "third son" and has pledged one-third of his assets to it. The LKSF has developed a rigorous process to ensure that its investments serve the objective of driving positive and sustainable change. To date, the Foundation has granted over HK$11.3 billion (US$1.45 billion) to these investments, 80% of which has been dedicated to projects in Greater China.
Li Ka Shing (Canada) Foundation was incorporated in Canada in 2004 in recognition of the warm welcome the country has extended to Li Ka-Shing and to his group of companies over the years. Over the past few years the Li Ka Shing (Canada) Foundation has, among other projects, supported St. Michael's Hospital, Toronto, and the University of Calgary.
For further information, please visit: www.lksf.org
About University of Alberta and Alberta Innovates
Alberta Innovates is Alberta's research and innovation system. Through Alberta Innovates, the Alberta government is making it easier for researchers, innovators and investors to work together to create new opportunities, new solutions and new sectors that will drive the province's next generation economy. Research. Innovation. It happens here.* For more information on Alberta Innovates visit www.albertainnovates.ca.
The University of Alberta in Edmonton is one of the top 100 public teaching and research universities in the world serving some 37,000 students with more than 14,000 faculty and staff. Founded more than a century ago upon the promise that knowledge shall be for "the uplifting of the whole people," the university offers close to 400 undergraduate and graduate programs in 18 faculties and professional schools and attracts nearly $500-million in external research funding annually.
Note to editors: Background information on this project and those involved is attached. See http://www.ualberta.ca/SIGNATURE/LiKaShingCentre.html for additional information about this initiative.
For media inquiries, please contact:
Jeremy Lau
Steven Heipel
Li Ka Shing Foundation
University of Alberta
Tel: (852) 2128 1207
Tel: (1) 780-492-0442
(852) 6477 9089
(1) 780-919-8539
Email :

[email protected]

Email :

[email protected]