Press Releases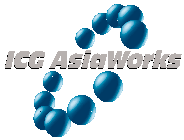 For more information, please contact:
Press Relations

Press and investor relations
Rowena Chu
Chief Financial Officer
ICG AsiaWorks
852.2186.3000
ICG Asiaworks announces initial acquisitions
for B2B e-commerce in Asia
New chief financial officer joins pan-Asian team to drive
rapid company development
Hong Kong - August 9, 2000 - ICG AsiaWorks Limited ("ICG AsiaWorks" or the "Company", HKSE:715), a leading builder of Asia-based B2B e-commerce companies, announced today that it has entered into preliminary agreements in principle to form a pan-Asia joint venture with Breakaway Solutions, Inc. ("Breakaway", NASDAQ: BWAY) and to acquire a significant stake in Singapore-based AceFusion.com Pte. Ltd. ("AceFusion"). With its investment in MegaVillage.com Holdings Limited ("MegaVillage"), acquired in July 2000, ICG AsiaWorks is rapidly building its network of partner companies providing infrastructure and market making expertise for B2B e-commerce in Asia.
ICG AsiaWorks also announced the appointment of Rowena Chu as Chief Financial Officer. Ms Chu joins ICG AsiaWorks from Merrill Lynch Hong Kong where she was Managing Director and Head of Technology Equity Capital Markets for Asia.
Victor Hwang, ICG AsiaWorks' Deputy Chairman and CEO said: "These new partners are part of the platform we are putting together to capitalize on the enormous opportunities presented by B2B e-commerce in Asia. Our aim is to build great companies able to play a major part in an exciting new era. B2B in Asia is in its early stages of growth. There is no better time for us to be building for the future than now."
Mr. Hwang explained the importance of the new partners to ICG AsiaWorks: "All three new partners offer a strong strategic fit with our focus on core horizontal B2B enablers and service providers. With these planned acquisitions, we are demonstrating our ability to bring America's best B2B companies to Asia and to cooperate with key Asian companies to provide software and market making solutions for B2B e-commerce. As the Preferred Partner for Hutchison Whampoa's B2B e-commerce activities, we are in an excellent position to capture a substantial share of Asia's B2B market, which is expected to reach US$700 million in 2004."
Breakaway Solutions Asia Pacific, a joint venture to be formed by Nasdaq-listed Breakaway Solutions and ICG AsiaWorks, is to be a leading full-service provider of e-business solutions for growing enterprises. It offers integrated strategic consulting, systems integration services and application hosting services. Through this joint venture, the partners plan to bring Breakaway's cutting-edge technologies and know-how to the rapidly growing Asian markets.
Mr. Hwang said: "In the U.S. market, Breakaway Solutions focuses on growing enterprises well-suited for the Asian market where there are many small and medium enterprises. It already has experience of working with 125 B2B clients, including publicly listed companies such as Dell, VerticalNet and Onvia. Breakaway Solutions has set up more than 50 digital exchanges, six solution centres and 11 hosting centres across the world and it is still growing."
Gordon Brooks, President and Chief Executive Officer of Breakaway Solutions Inc., said: "As one of ICG's core partners in the U.S., we are very excited to work with ICG AsiaWorks as it expands its network of B2B solution providers in Asia. We believe that ICG AsiaWorks' unique team and strong business model provides us a decisive early mover advantage in tapping this enormous market."
AceFusion is a leading multi-modal logistics solutions provider in the Asia Pacific region. It combines state of the art technology with an in-depth understanding of the logistics and freight forwarding industry to help businesses meet the challenges of distribution and e-fulfillment. Its suite of internet-enabled logistics systems, and FusionHub (www.fusionhub.com), its flagship e-logistics portal in Asia, offer an industrial strength supply chain management solution which integrates warehousing, air and sea freight and land transport to provide businesses worldwide with a seamless and complete logistics solution.
AceFusion is a strategic partner with Fuji Xerox, MHE-Dematic (S) Pte. Ltd., IBM/Lotus, iLog, Oracle and Sun Microsystems. It is a member of the Singapore Logistics Association, the Chartered Institute of Transport, Singapore, and the Singapore IT Federation.
Mr. Hwang said: "AceFusion is a first mover when it comes to providing management solutions for integrated localized logistics. It has an exceptionally strong management team and is working in an area - the supply chain management industry - with sales of more than US$8 billion."
Lim Chee Kean, Chief Executive Officer of AceFusion, said: "With ICG's world-class expertise in building leading B2B companies worldwide, we expect our partnership will undoubtedly accelerate the growth of our business throughout Asia Pacific and beyond, and allow us to consolidate our position as the preferred solutions provider for logistics applications and services."
MegaVillage operates multiple B2B marketplaces which address various categories of light consumer goods, including watches, handbags, women's shoes and eyewear. The MegaVillage digital marketplaces introduce substantial efficiency improvements in the supply chain for these product categories. These marketplaces will also connect low cost, high volume manufacturing capacity in South China with global demand for these products.
Mr. Hwang said: "MegaVillage is the leading Asia-based operator of vertical marketplaces addressing the light consumer products sector. We believe the opportunity is huge as this industry is one of the key drivers of Asia's economic growth."
Lewis Chan, Chief Executive Officer of MegaVillage, said: "With ICG AsiaWorks' global reach and leading technologies, MegaVillage is well positioned to generate traction quickly and capture a dominant share of export sales to international buyers in this immense market."
ICG AsiaWorks serves as Internet Capital Group's (Nasdaq:ICGE) exclusive platform to build Asian-based infrastructure and market maker companies, combining the knowledge base, technology and best practices of ICG and its global network of more than 70 partner companies with local experience and expertise.
It emulates ICG's approach in the US by identifying leading B2B e-commerce companies and providing strategic and operational support to speed up their execution and long-term growth.
Rowena Chu joins a strong, pan-Asian management team drawn from leading international companies in the last few months. Prior to Merrill Lynch, Ms Chu, who has over 15 years of financial experience, was a senior officer with JP Morgan for over 11 years, serving as the company's Head of Investment Banking for Greater China. She will be responsible for capital raising, managing relations between investors and shareholders and the financing of multiple strategic projects within the Asia Pacific region.
About ICG AsiaWorks
ICG AsiaWorks is a leading builder of Asia-focused B2B e-commerce companies. As the exclusive platform in Asia Pacific for ICG, ICG AsiaWorks combines the knowledgebase, technology and best practices of ICG and its global network of more than 70 partner companies with local experience and expertise. ICG AsiaWorks aims to build leading Asian-based B2B infrastructure and market maker companies, including system integration firms, software companies, outsourced service providers and digital exchange companies. In addition, ICG AsiaWorks is a platform for bringing leading US B2B e-commerce companies to Asia Pacific. ICG AsiaWorks is majority controlled by ICG and is also Hutchison Whampoa's Preferred Partner in its B2B e-commerce initiatives.
About Internet Capital Group
Internet Capital Group (http://www.internetcapital.com) is an Internet company actively engaged in business-to-business e-commerce through a network of partner companies. It provides operational assistance, capital support, industry expertise, and a strategic network of business relationships intended to maximize the long-term market potential of more than 70 business-to-business e-commerce companies. Headquartered in Wayne, PA, Internet Capital Group and its affiliates have offices in San Francisco, Boston, Seattle, London, Hong Kong and Tokyo.
Safe Harbor Statement under Private Securities Litigation Reform Act of 1995


The statements contained in this press release that are not historical facts are forward-looking statements that involve certain risks and uncertainties including but not limited to risks associated with the uncertainty of future performance of ICG AsiaWorks' partner companies, acquisitions of interests in additional partner companies, additional financing requirements, the effect of economic conditions in the B2B e-commerce market and other factors.