Press Releases

| | |
| --- | --- |
| Contact Person: | Anthony Tam |
| Telephone No.: | (852) 2619 7557 |
| Fax: | (852) 2612 0083 |
| E-mail: | [email protected] |
HIT wins HKAEE Transport and Logistics Gold Award
[12 May 2010 - Hong Kong] Hongkong International Terminals (HIT) received today a Transport and Logistics Gold Award under the Sectoral Awards of the Hong Kong Awards for Environmental Excellence (HKAEE) programme organised by the Environmental Campaign Committee.
The HKAEE programme aims to encourage businesses and organisations to adopt green management practices and to present them with an opportunity to benchmark their commitment towards environmental excellence. The award indicates HIT's outstanding performance in the areas of "Green Leadership", "Programme and Performance", and "Partner Synergy", the three assessment criteria of the HKAEE programme.
Eric Ip, Managing Director of HIT, accepted the award on behalf of the company at a ceremony officiated by Donald Tsang, Chief Executive of the Hong Kong Special Administrative Region, and Edward Yau, Secretary for the Environment.
Upon accepting the award, Mr. Ip said, "Since we received the Silver Award last year, which highlighted our development of electric rubber tyred gantry cranes (eRTGCs), we have invested greatly in the development of the hybrid RTGCs, which combine battery power with ultra-low-sulphur diesel engines. We are pleased that our efforts to reduce our impact on the environment and conserve resources are once again being recognised."
He further added, "We have gone beyond statutory requirements with several of our green initiatives and we are constantly looking for ways to enhance our operations to reduce our environmental footprint."
HIT is the first container terminal in Hong Kong to develop eRTGCs and hybrid RTGCs. At the moment, 35 eRTGCs and 24 hybrid RTGCs are in operation. Twelve more eRTGCs will be added this year. HIT aims to have around 80 eRTGCs and over 50 hybrid RTGC by the end of 2011.
eRTGCs reduce carbon dioxide emissions at the port substantially by drawing power from the electrical grid. Meanwhile, hybrid RTGCs feature smaller engines supplemented by battery power to reduce diesel fuel consumption per crane by over 50 percent and lower carbon dioxide emissions by an equal amount. Additionally, hybrid RTGCs recycle energy when the main hoist is being lowered.
-End-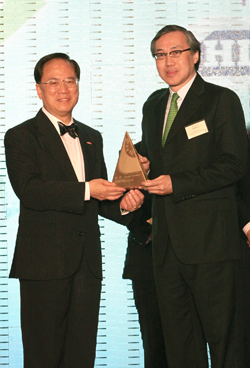 Donald Tsang (left), Chief Executive of HKSAR, presents the award to HIT Managing Director Eric Ip

Notes to Editors:
About HIT:
Hongkong International Terminals (HIT) is the largest container terminal in Hong Kong. With a strong emphasis on productivity and efficiency, HIT is committed to the creation and implementation of forward-looking, service-enhancing technology.
HIT is a member of the Hutchison Port Holdings (HPH) Group. HPH, a subsidiary of the multinational conglomerate Hutchison Whampoa Limited (HWL), is the world's leading port investor, developer and operator with interests in a total of 50 ports, spanning 25 countries throughout Asia, the Middle East, Africa, Europe, the Americas and Australasia. HPH also owns a number of transportation-related service companies.
HIT is a member of Hong Kong's Business Environmental Council and a signatory of the 2006 Clean Air Charter and the 2008 Carbon Reduction Charter, demonstrating the company's desire to work with other members of Hong Kong's government and business community to identify solutions to protect the environment.
About HKAEE Programme:
The HKAEE programme encourages Hong Kong businesses and other organisations to put green management schemes in place and benchmark their environmental standards. The HKAEE comprises the "Environmental Labels", "Carbon"Less" Certificates" and "Sectoral Awards". The Sectoral Awards scheme grants awards to organizations from designated sectors with an overall outstanding environmental performance.
The nine Sectoral Award categories include:
Construction Industry
Financial, Insurance and Accounting Institutions
Hotels and Restaurants
Manufacturing
Property Management
Public Organisations and Utilities
Retailers
Schools (Primary / Secondary)
Transport and Logistics