Press Releases
For photos, please click here.


13 May 2010
Sir Ka-shing Li donates £5 million to Oxford University
to consolidate partnerships for global health programmes
Sir Ka-shing Li, Chairman of Hong Kong's Cheung Kong (Holdings) Limited and Hutchison Whampoa Limited, is to donate £5 million to the University of Oxford to extend and strengthen the University's global health research networks with Asia, and, in particular, China.
The donation from the Li Ka Shing Foundation (LKSF) will fund a series of partnerships, teaching and research projects that will see Shantou University (STU) in Guangdong, China become a full partner in Oxford University's Asia Research Network along with centres in Vietnam and Thailand.
Infectious diseases, such as influenza, dengue, malaria, tuberculosis and HIV, remain a very real threat across much of the developing world and account for almost half of all deaths. The emergence of new diseases and the rise of drug resistance are increasing problems, and Asia is a hotspot for both. The Li Ka Shing - University of Oxford Global Health Programme will help in developing the best responses to these global health challenges.
A training programme in infectious disease research at STU will be funded, and a number of medical students from STU will be able to travel to Oxford for further medical training. There will also be opportunities for clinical scientists to undertake graduate degrees with the University of Oxford.
This work builds on the success of the Li Ka Shing - University of Oxford Global Health Programme, which was set up following a £2 million donation in 2007 from LKSF. The programme has resulted in new collaborations between researchers in Asia and Oxford, scholarships for Asian students to study for an MSc in Global Health Sciences, and teaching programmes in infectious disease at STU.
Work supported by this programme has helped identify the emergence in Cambodia of malaria resistant to our most effective antimalarial drug artemisinin (originally developed from Chinese traditional medicine by Chinese scientists), a drug which is crucial in combating malaria worldwide. Efforts are now being made to respond to this threat. Work in China, Vietnam and Thailand funded by LKSF has been important in responding to the swine flu pandemic.
The programmes are administered by a board of senior Oxford University health scientists led by Professor Jeremy Farrar, an expert on infectious diseases.
Welcoming Sir Ka-shing Li's donation, Professor Farrar said, "The University of Oxford has been delighted to work closely with the Li Ka Shing Foundation to develop our joint programme in global health. But there is plenty more that needs to be done, and this new and very generous donation will allow the creation of a true network of excellence in education and research that links research groups from China and across Asia to Oxford and the UK. We anticipate that this will make a significant impact on health issues important throughout the region."
Professor Andrew Hamilton, Vice-Chancellor of the University of Oxford, said, "We welcome Sir Ka-shing Li's very generous donation to Oxford's global health programmes. Sir Ka-shing Li has demonstrated a huge commitment to improving health worldwide, and we hope this new funding for research and teaching will lead to improvements in combating many infectious diseases, from emerging infectious diseases, influenza, malaria and dengue to tuberculosis and HIV."
Speaking on his latest donation, Sir Ka-shing Li said, "It is encouraging to see that the global health programme has facilitated so many partnerships between Oxford and Asia, and has achieved significant developments over the past few years. New diseases emerge and evolve all the time and only by global collaboration can we respond promptly to these health threats. It is on such partnerships that our future depends.
"The extension of this programme will pool together a group of leading medical health professionals from world-class institutes to work closely on new research in the fields of prevention and cure, and to nurture talented people studying health sciences. My hope is that all these efforts will help to lead to a better future for human beings."
###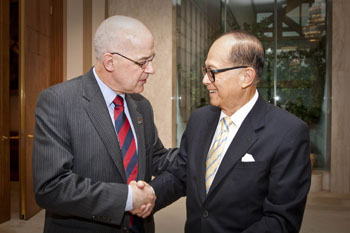 Download (289 KB)
1. Vice-Chancellor of the University of Oxford Professor Andrew Hamilton expresses thanks to Sir Ka-shing Li for his generous donation of £5 million to support the University's Global Health Programme.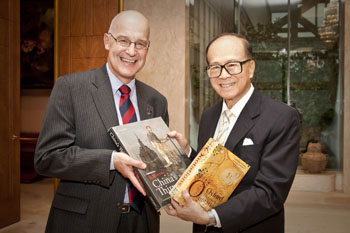 Download (381 KB)
2. Vice-Chancellor of the University of Oxford Professor Andrew Hamilton presents Sir Ka-shing Li with two recent publications from Oxford University Press - Oxford Dictionary of Quotations and China's Thirty Years - recognising the extraordinary achievements of China over the past years as well as demonstrating the University's commitment to increased partnership with the country.


For more information contact:
Notes to Editors:
About the Li Ka Shing Foundation
For the past three decades, the Li Ka Shing Foundation has sought to enhance the impact of its philanthropy through two strategic objectives: to nurture a culture of giving and to foster creativity, constructive engagement, and sustainability through supporting capacity empowerment focused projects. The Li Ka Shing Foundation has supported grants, sponsorships, and commitments of over HKD11.3 billion.
About Oxford University's Medical Sciences Division
Oxford University's Medical Sciences Division is one of the largest biomedical research centres in Europe. It represents almost one-third of Oxford University's income and expenditure, and two-thirds of its external research income. Oxford's world-renowned global health programme is a leader in the fight against infectious diseases (such as malaria, HIV/AIDS, tuberculosis and avian flu) and other prevalent diseases (such as cancer, stroke, heart disease and diabetes). Key to its success is a long-standing network of dedicated Wellcome Trust-funded research units in Asia (Thailand, Laos and Vietnam) and Kenya, and work at the MRC Unit in The Gambia. Long-term studies of patients around the world are supported by basic science at Oxford and have led to many exciting developments, including potential vaccines for tuberculosis, malaria and HIV, which are in clinical trials.
About Oxford Thinking
Oxford Thinking, the Campaign for the University of Oxford, is the largest fundraising campaign in European university history and one of the largest in the world. It has a minimum goal of £1.25bn and has three key aims: supporting students, supporting academic posts and programmes, and supporting buildings and infrastructure. It includes all the colleges, departments, and museums of Oxford University, and the total raised to date is over £800 million. The Campaign began its 'quiet phase' in summer 2004 and £575 million had been raised by its official launch on 28 May 2008. www.campaign.ox.ac.uk