Press Releases

Love HK Your Way
A total of HK$28M in grants for 177 "Love Ideas, Love HK" projects
(Hong Kong, 24 November 2010) "Love Ideas, Love HK" programme, the first initiative of the Li Ka Shing Foundation's "Love HK Your Way!" philanthropic campaign, will be awarding grants for 177 projects. During a three-week voting session, more than 74,000 registered voters casted a total of 211,000 votes to support the projects they feel meaningful to our community.
Voters elected 169 projects, which ranked among the top 25 percentile of the five grant categories. Voted-in applicants will be emailed details of grant formalities and following verification, grants will be awarded in mid-December. A full list of the elected projects is listed at www.loveideas.hk.
In addition to the above, Mr Li Ka-shing, himself a voter, will allocate an additional HK$2.15 million for 12 ideas which he found innovative and moving. "Many projects demonstrated their deep love and commitment to their communities, I am very moved by their innovation and dedication and am most honoured to be a part of their initiatives," said Mr Li. He wishes to encourage others to take the time to browse through the projects listed again and also give extra support if they can.
Amongst his list of 12 projects, four were also voted in and hence will be receiving twice the amount they applied for.
Since its launch on 15 September, "Love Ideas, Love HK" programme received a total of 1,029 project applications, amongst which 674 eligible projects were uploaded for voting session starting 1 November to 21 November. The applications reflected a diversity of needs and showcased the creativity and the caring attitude of the citizens of Hong Kong. In view of overwhelming response, LKSF has decided to launch the second round of the "Love Ideas, Love HK" programme, of which details will be announced soon in December.
"Love Ideas, Love HK" is the first initiative of LKSF's HK$300-million public philanthropic campaign "Love HK Your Way!", an effort to engage Hong Kong citizens to improve our community in issues they deeply care about. Combining the powers of technology, charity and community awareness, the programme encourages Hong Kong residents to vote for projects they believe are beneficial to their community and should receive LKSF grants.
###

About the Li Ka Shing Foundation
The Li Ka Shing Foundation was established in 1980 by global entrepreneur and philanthropist Li Ka-shing. Mr Li considers the Foundation to be his "third son" and has pledged one-third of his assets to it. To date, the Foundation has granted over HK$12.1 billion (US$1.55 billion) in charitable donations, over 80 per cent of which has gone to the Greater China region.
The Foundation supports projects that propel social progress and create a cycle of charity in the world through expanding access to quality education and healthcare, encouraging cultural diversity and exploration, and stimulating community involvement and sustainable development. For more information, please visit www.lksf.org.
For media enquiries, please contact:
Li Ka Shing Foundation
Jeremy Lau
Tel: (852) 2128 1207
Fax: (852) 2128 1766
Email: [email protected]

Appendix I
A total of 169 projects totaling HK$25,858,979 in grants is elected by the public.

Appendix II
Mr Li Ka-shing is moved by the innovative and touching projects and has allocated an additional HK$2,155,401 to the following 12 ideas.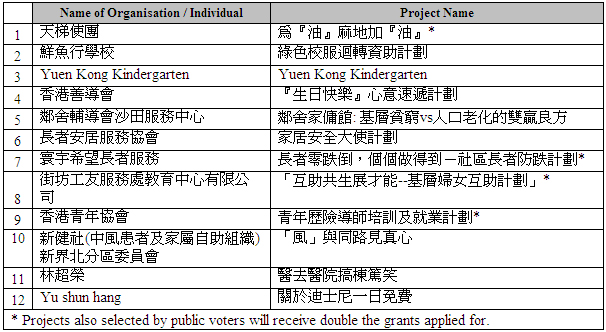 Summary