Press Releases
For photos, please click here.

Loving Hong Kong in 177 Ways
(Hong Kong, 18 December 2010) More than 400 awardees representing the 177 projects voted in by the public and selected by Mr Li Ka-shing gathered today to share their work and aspirations with each other and representatives from The Hong Kong Council of Social Service and St James' Settlement.
Mr Li Ka-shing, Chairman of the Li Ka Shing Foundation, also made an ad hoc appearance to express his heartfelt appreciation towards the philanthropic effort of the awardees. Mr Li said that the overwhelming response from the community in support of the "Love Ideas, Love HK" programme not only showcased the creativity of the Hong Kong citizens but more importantly, how much they care about their community. Mr Li quoted former United States President Theodore Roosevelt's speech, In the Arena, delivered at the Paris Sorbonne University in 1910 that "The credit... belongs to the man who does actually strive to do the deeds." Mr Li said the credit belongs to the men and women who served to make a positive impact to make a difference.
Mr Li also thanked the social services and welfare organisations that offered valuable support and advice to the programme.
Chief Executive of The Hong Kong Council of Social Service, Ms Christine Fang, said HKCSS was delighted that the programme connected and mobilised the compassion of the public to be more thoughtful to those in need.
Ms Fang said, "The support of the enthusiastic voters together with the successful implementation of the projects will surely have a positive impact to those in need. We want to congratulate all elected applicants and we do hope that their projects could all be rolled out smoothly and their collective effort powering improvements to our community."
Chief Executive Officer of St James' Settlement, Mr Michael Lai, JP, said the "Love Ideas, Love HK" programme advocated care for the community and encouraged creativity, which dovetailed nicely with SJS' objectives.
"One of SJS' objectives is to be aware of new challenges in the community and to devise and carry into effect new approaches to meet these challenges. We are pleased to see that this LKSF programme has attracted a lot of creative ideas, especially those from individual applicants. Such an enthusiastic response reflected the tremendous success of the programme from inception to execution," Mr Lai said.
Launched on 15 September, "Love Ideas, Love HK" programme received a total of 1,029 project applications, amongst which 674 eligible projects were uploaded for voting between 1 November and 21 November. The number of elected projects totals 177, including 169 projects elected by public and 12 projects chosen by Mr Li.
In view of the overwhelming response, LKSF has decided to launch the second round of "Love Ideas, Love HK" in April next year. Details will be announced later.
"Love Ideas, Love HK" is the first initiative of LKSF's HK$300-million public philanthropic campaign "Love HK Your Way!", an effort to engage Hong Kong citizens to improve our community on issues they deeply care about. Combining the powers of technology, charity and community awareness, "Love Ideas, Love HK" encourages Hong Kong residents to vote for projects they believe are beneficial to their community and should receive LKSF grants.
###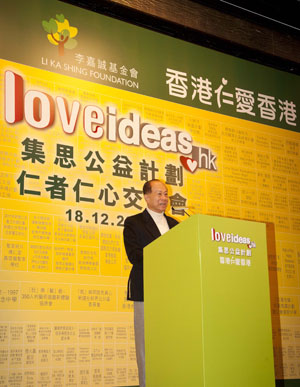 Download (1,544 KB)
Mr Li delivers a speech at the sharing session, saying that the credit belongs to all those who have taken part in the programme, and he is sure that their enthusiastic action will bring constructive improvements to Hong Kong.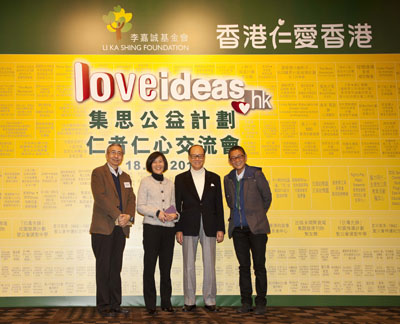 Download (1,678 KB)
Mr Li presents souvenirs to Ms Christine Fang, Chief Executive of Hong Kong Council of Social Service, Mr Michael Lai, Chief Executive Officer of St James' Settlement, and Yu Tsang of SkyHigh Creative Partners to thank the three organisations for their assistance and advice during the course of the programme.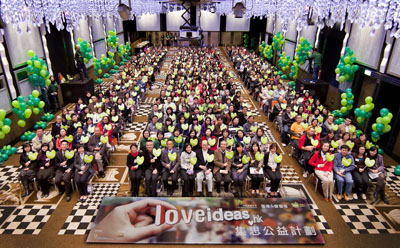 Download (1,985 KB)
Mr Li Ka-shing, Ms Christine Fang, Mr Michael Lai and Yu Tsang pose for a picture with all elected applicants of the "Love Ideas, Love HK" programme.

About the Li Ka Shing Foundation
The Li Ka Shing Foundation was established in 1980 by global entrepreneur and philanthropist Li Ka-shing. Mr Li considers the Foundation to be his "third son" and has pledged one-third of his assets to it. To date, the Foundation has granted over HK$12.1 billion (US$1.55 billion) in charitable donations, over 80 per cent of which has gone to the Greater China region.
The Foundation supports projects that propel social progress and create a cycle of charity in the world through expanding access to quality education and healthcare, encouraging cultural diversity and exploration, and stimulating community involvement and sustainable development. For more information, please visit www.lksf.org.
For media enquiries, please contact:
Li Ka Shing Foundation
Jeremy Lau
Tel: (852) 2128 1207 / (852) 6477 9089
Fax: (852) 2128 1766
Email: [email protected]