Press Releases
Press Release
| | |
| --- | --- |
| Contact Person: | Henry Wah, General Manager |
| Telephone: | (86 21) 5644 1988 |
| Fax: | (86 21) 5644 1928 |
| Date: | 21 August 2000 |
Shanghai Container Terminal launches customer enquiry homepage and interactive telephone hotline service
The Customer Enquiry Homepage and Interactive Telephone Hotline Service of Shanghai Container Terminal (SCT), a Shanghai and Hong Kong joint venture, was officially launched on 11 August 2000. Mr. Lu Hai Hu, Director of Shanghai Port Authority, officiated at the inauguration ceremony.
Shanghai is now one of the ten largest container terminal ports in the world and SCT has been a major contributor to this outstanding achievement. Since its operation, the company focuses on the construction and operation of modern container terminals and keeps optimizing its computerized management system. The launch of SCT homepage will facilitate the shipping companies and cargo owners to access the vessel and container information conveniently. They may also track the movement of the containers and vessels in SCT through the local interactive telephone system at 56444333.
Mr. Chen Xu Yuan, Chairman of SCT, said at the ceremony, "Through the international standard terminal operation system we designed and developed, SCT has implemented a fully automated management system. It is now equipped with the production scope of an international network port and the container handling capacity is increasing by 19% annually."
Mr. Henry Wah, General Manager of SCT, pointed out that, "The development of container transportation industry requires continuous self perfection. The launch of SCT customer service homepage and interactive telephone hotline service proves that SCT keeps on strengthening the terminal service."
On the other hand, the SCT Bao Shan Terminal Renovation Project initiated to cope with the dredging of Yangtze River outfall waterway is expected to complete by end of this year. The advanced facilities will the terminal to handle the loading and unloading of mega container vessels, thus further enhance the container handling capacity of Shanghai port.

Notes to Editor:
Shanghai Container Terminals (SCT) is jointly invested and managed by Hutchison Port Holdings (HPH) and Shanghai Port Authority. The company operates three container terminals : Bao Shan Terminal, Zhang Hua Bang Terminal and Jun Gong Lu Terminal. In 1999, SCT handled about 2.6 million TEU.
HPH is an independent port investor, developer and operator with operations in 18 ports in Asia, Europe and the Americas.
- End -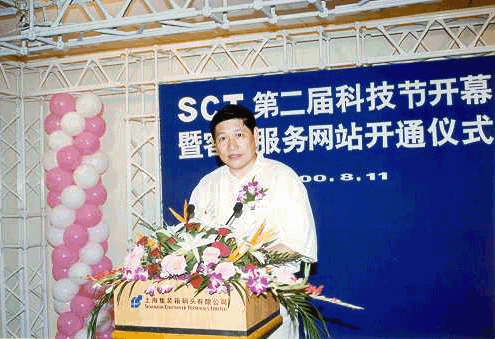 Photo Caption:
Mr. Lu Hai Hu, Director of Shanghai Port Authority, officiated at SCT Customer Enquiry Homepage and Interactive Telephone Hotline Service inauguration ceremony.