Press Releases
Ms. Frances Ng (Tel: 2128 6739)
April 12, 2001
Orange teams up with i-CABLE to
offer exclusive sports news to Orangeworld users
Real-time information and hottest news now available on the move
Orange has teamed up with i-CABLE to provide an exclusive Real-time Sports and News Express Service for free, allowing users to stay in touch anytime, anywhere. With i-CABLE supplying its popular, high-quality content, Orangeworld users can now keep abreast of the ever-changing world with the most up-to-date and accurate information covering sports, finance and news - from Hong Kong, Mailand China, Taiwan and elsewhere - all while on the move.
Get the Hottest Soccer and Sports News in Town
Orangeworld users can use their WAP handsets to get the hottest soccer news from i-CABLE's sports portal, isports.i-cable.com. Covering top international soccer leagues, including the Italian Soccer League and the English Premiere League, Orangeworld users now have exclusive access to the latest soccer results. Sports fans can check out Soccer News Express, a specialist column covering all the changes at important big-league clubs and providing updates on players, and they can follow Scoreboard, a chart that keeps track of the top goal scorers throughout the season. Besides, isports.i-cable.com even brings Orangeworld users worldwide news on sports apart from soccer.
Stay Right Up to Date with Local and International News
Orangeworld users can access the latest local and international news supplied by i-CABLE's news portal, inews.i-cable.com. This means coverage from Hong Kong, Mainland China, Taiwan and around the world. And a dedicated Finance channel brings financial reports to help Orangeworld users keep a close eye on the ever-changing markets and successfully monitor their investments.
Enjoy All This for Free
The i-CABLE Real-time News Express Service is free-of-charge. All existing subscriber to Orangeworld can experience even more fun and convenience from the popular Orangeworld wirefree internet service.
i-CABLE Real-time News Express Service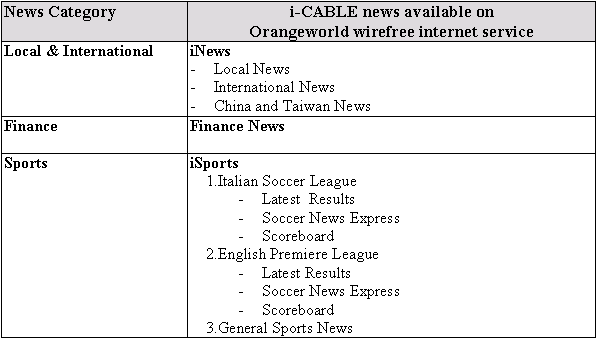 Orangeworld wirefree internet service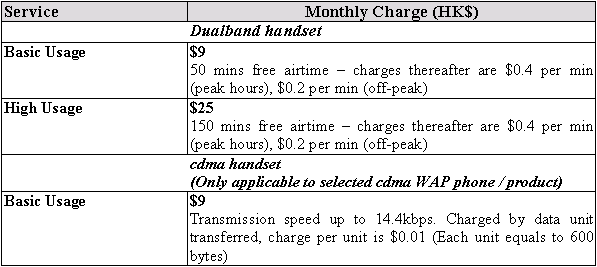 ~ End ~