Press Releases

July 15, 2001
Hutchison Global Crossing names Sumitomo Electric Asia
as optical fibre submarine cable supplier
expect to complete in the first quarter of 2002
Hutchison Global Crossing (HGC) and Sumitomo Electric Asia Ltd. (Sumitomo) today announced the signing of a contract for appointing the latter to supply and roll a optical fibre submarine cable between Tuen Mun and Chek Lap Kok. The project, upon completion in early 2002, will complement the ring system of HGC's local fibre optic network, and optimize the data, voice transmission and multimedia services in Hong Kong.
Under the agreement, HGC will conduct a preliminary marine and landfall survey on the proposed routing of the optical fibre submarine cable, while Sumitomo will be responsible for the supply, rolling and testing of the cable. The construction costs for the whole project amounts to HK$100 million. The optical fibre cable, which is double steel-wire armored and measures approximately 8km in length, will be laid at a depth of 5m below seabed.
The project will commence at the end of 2001 and is expected to be completed in the first quarter of 2002. With landing points at Butterfly Beach in Tuen Mun and Hong Kong International Airport at Chek Lap Kok, the submarine fibre optic cable will form a self-healing ring network with the existing network which serves the northwest of the New Territories, Lantau Island and Shenzhen. In future, in case of service upgrade or maintenance, the ring network can in no time switch the data transmission to the routing which runs from Chek Lap Kok and Tuen Mun to other parts of Hong Kong and Shenzhen. It offers an alternative routing to the existing one which goes through Tong Fuk international gateway and Tsing Ma Bridge to the rest of the territory and Shenzhen.
Mr. Peter Yip, Chief Operating Officer of HGC said, "the rolling of this optical fibre submarine cable will strengthen HGC's service provision to the large-scale infra-structure development in the northwest of the New Territories and Lantau Island, such as Disney Theme Park, and meet the increasing demands of broadband and multimedia services at Discovery Bay and Ma Wan. The project will also enhance the communication between Hong Kong and Shenzhen, and effectively expedite the growth of our business in residential and business broadband internet access services, International Private Leased Circuit (IPLC) and international calling."
Mr. R. Koyanagi, President of Sumitomo Electric Asia Ltd., remarked, "backed by the 300 years of experience in electric wires and cables of the Sumitomo family, our mother company, we are confident in meeting HGC's requirement. Submarine fibre optic cables this time will be produced Japan and then shipped to Hong Kong for rolling. High quality is always ensured."
With a view to keeping up with the development of the telecommunications industry, HGC continues to upgrade its fibre optic network. 2000km of fibre optic cables have been rolled so far, linking up Hong Kong Island, Kowloon and the New Territories. The network now covers 1500 commercial and residential buildings, and is expected to increase to cover 2000 buildings by the end of 2001. The network coverage far exceeds the commitment that has been pledged with OFTA under the Fixed Telecommunication Network Services Licnece (FTNS). HGC aims to cover 30% of Hong Kong's total population with its network in 2003. Currently, HGC has some 130,000 local private and public housing and business telephone lines which are equally shared among residential and business customers.
- end -
Media inquiries
Hutchison Global Crossing
Sally Tsang
Tel: 2128 6708
Fax: 2187 2055
E-mail: [email protected]
Notes to Editors:
1. Hutchison Global Crossing (HGC), established in January 2000, is a 50/50 joint venture between Hutchison Whampoa and Asia Global Crossing.
Combining the strengths of Hutchison Whampoa's fibre-optic network, which is the largest in Hong Kong, and Asia Global Crossing's international fibre optic broadband capacity and global connectivity, HGC offers an array of excellent telecommunication and multimedia services, including ultra-high speed data / voice transmission and integrated business solutions, with an objective to create reliable and effective business environment and enjoyable lifestyle for customers. With its unique Ethernet-based two-way broadband Internet access, HGC provides its business and individual customers with brand new experience in high-speed communication. HGC also dedicates to the development of its network infrastructure and wholesale service so as to provide its customers with a quality local and global communication network, as well as other complementary facilities.
2. Sumitomo Electric Asia Ltd. is the regional headquarters of Sumitomo Electric (Japan) established in Hong Kong in 1977.
Sumitomo Electric was born of the Sumitomo family's 300 years of experience in the field of copper production. In turn, Sumitomo Electric has built on its technological expertise in electric wires to branch out into an array of exciting markets. By persistently pursuing a consistent diversification strategy, Sumitomo is confident of its ability to break new ground in such fields as optoelectronics, new materials, systems electronics and energy.
There are numerous examples of diversifications to date, such as the manufacture of special steel wires and sintered alloy products, which stemmed from its wire drawing technologies. Sumitomo's technological expertise in powder metallurgy led the company to develop brake products. Similarly, Sumitomo has applied electric wire and cable insulation technologies to the production of inflatable rubber dams and other synthetic rubber and plastic products. At the same time, Sumitomo has drawn upon conductor technologies to manufacture compound semiconductors and other electronic components and materials. In addition, the company's systems electronics businesses spring from telecommunications technologies.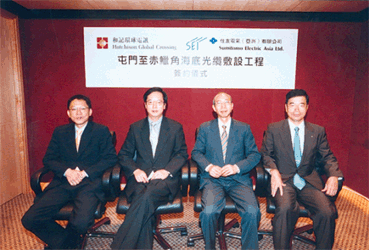 Hutchison Global Crossing names Sumitomo Electric Asia Ltd.
as supplier of submarine fibre optic cable
between Tuen Mun & Chek Lap Kok
(From left) Mr. Frankie Kan - CFO, Hutchison Global Crossing
Mr. Peter Yip - COO, Hutchison Global Crossing
Mr. R. Koyanagi - Chairman, Sumitomo Electric Asia Ltd.
Mr. K. Suzuki - Corporate Strategic Advisor,
General Manager, Sumitomo Electric Asia Ltd.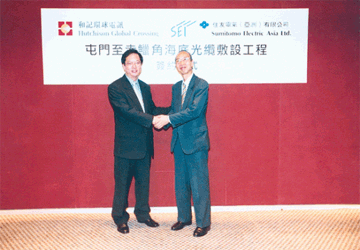 Mr. Peter Yip, COO of Hutchison Global Crossing and
Mr. R. Koyanagi, Chairman of Sumitomo Electric Asia Ltd.
has signed the contract for appointing Sumitomo
to supply and roll a optical fibre submarine cable system
between Tuen Mun & Chek Lap Kok