Press Releases
Contact Person:
Tel:
E-mail:
Date:
Alfred Leung, General Manager - Hutchison Delta Ports
(852) 2619 6548 Fax: (852) 2419 0111


[email protected]


3 Sept 2001
Two millionth container handled at ZICT(J)
[3 September 2001 - Hong Kong] Zhuhai International Container Terminals (Jiuzhou) (ZICT(J)) marked a significant historical milestone by handling its two millionth container on 25th August.
Mr. Kwok-Keung Ho, General Manager of ZICT(J), was pleased with the achievement. "This is one of our most significant milestones since commencing operations in 1993. This achievement is a result of the teamwork, service and dedication of our staff and constant support from our customers."
General Manager of Hutchison Delta Ports (HDP) Mr. Alfred Leung said, "Zhuhai Special Economic Zone is one of China's major manufacturing hubs for export goods. Situated next to Macau and Hong Kong, Zhuhai is also one of the Pearl River Delta's major ports. In recent years Zhuhai's container shipping industry has grown tremendously, fuelled by the economic and trade boom in the region. We are confident that the future development of ZICT(J) and the economic growth of Zhuhai S.E.Z. will continue long after China's entry to the WTO."
ZICT(J) has a total berth length of 700 metres and 7 warehouses with a total area of 15,000 square metres. It has an annual design capacity of 350,000 TEU and 1 million tons general cargo. The Terminal is also equipped with advanced container and general cargo handling facilities, including warehousing and related services.
ZICT(J) is one of the six river and coastal ports in South China under HDP, which also includes the terminal operation at Gaolan, Zhuhai S.E.Z.
Notes to Editors:
Zhuhai International Container Terminals (Jiuzhou) (ZICT(J)) river port is a joint venture between Hutchison Delta Ports (HDP) and Zhuhai S.E.Z. Fuhua Group Company Limited. Located in the Zhuhai Special Economic Zone, it has been in operation since 1993 and is part of the HDP network, currently comprising three coastal and three river ports in South China.
ZICT(J) is a member of Hutchison Port Holdings (HPH), the world's leading port investor, developer and operator with interests in 15 countries throughout Asia, Africa, Europe and the Americas. Today, HPH operates a total of 29 ports together with a number of transportation related service companies.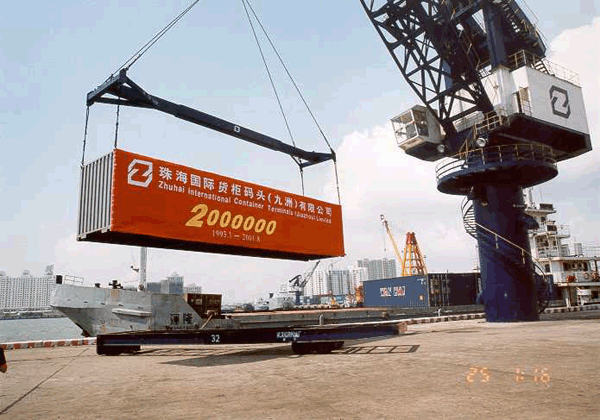 On 25th August, ZICT(J) handled its two millionth container since its operation in 1993.