Press Releases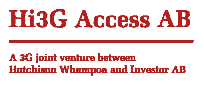 Press Release - Stockholm 2002-02-14
Christian Jørgensen appointed General Manager of Hi3G Denmark, will bring a pure 3G service offering to the Danes
The newly appointed General Manager of Hi3G Denmark, Christian Jørgensen, will be heading the creation of Hi3G's multi media offering on the Danish market. Through its international network as well as partnerships, Hi3G is developing innovative and attractive 3G services. Thereby, Hi3G is a driving force in the development of mobile broadband services in Denmark and Sweden.
Christian has extensive experience from the media industry. His most recent position was as Executive Vice President with Egmont, an international media and entertainment company. During his nine years at Egmont, Christian held several executive positions covering many areas of the media industry such as cinemas, international publishing, distribution, etcetera. Christian holds an MBA from INSEAD, France and a M.Sc. in Economics from University of Copenhagen.
"It pleases me greatly that Christian joined Hi3G. His extensive experience within different media will be a great asset when establishing and developing Hi3G Denmark. Christian will be a valuable team member in the management for Hi3G in Scandinavia." says Chris Bannister CEO Hi3G.
"I look forward to bringing the collective experience of Hi3G, Investor and Hutchison to Denmark when building and managing a pure Danish 3G operator", says Christian Jørgensen. "As a new player on the Danish market, we will make sure that our customers get full advantage of the opportunities 3G will bring," he concludes.
Christian took up his position on January 31.

For more information please contact:
Niclas Lilja, Director Corporate Communications, Hi3G
Telephone: +46 733 55 70 90, e-mail: [email protected]
Christian Jørgensen, General Manager, Hi3G Denmark
Telephone: +45 20 20 37 34, e-mail: [email protected]

Hi3G has a Swedish and a Danish UMTS licence and is aiming to become a leading mobile multimedia operator with attractive and innovative services. The company's strength lies in the fact that it is a pure 3G company, with no baggage from old technologies such as GSM. Hi3G is expanding rapidly with the support of its owners, Hutchison Whampoa Ltd. (60%) and Investor AB (40%), who have solid network and industry track records worldwide. Hi3G is cooperating with other Hutchison Whampoa companies that hold 3G licences in Australia, Austria, Hong Kong, Israel, Italy, and the United Kingdom. Please stay in touch and visit www.hi3gaccess.se.