Press Releases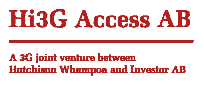 Press Release - Stockholm 2002-03-06
Hi3G and Birka Energi sign agreement on co-location of masts for 3G-equipment
Hi3G has entered into agreement with Birka Energi on inplacement of Hi3G's antennas and other equipment i Birka Energi's power poles and transformer stations.
The parties have agreed not to disclose the order values
- It is with great joy we present yet another agreement concerning mast sharing for Hi3Gs 3G base stations. All in line with our mission to give Sweden access to this new infrastructure in a cost effective way, and with as little environmental impact as possible, says Jörgen Askeroth, CTO Hi3G. We aim to sign additional agreements with more mast owners, Jörgen concludes.
- Through utilizing our current infrastructure in terms of masts, industrial facilities and stations, we are able to offer very good placements of the 3G stations, says Bengt Almgren, responsible for Birka Energi's communications area. This brings greater capital gains for us, lower costs for the tele operators, and substantially less environmental impact compared to new localisation of masts.

For more information please contact:
Niclas Lilja, Director Communications, Hi3G
Telephone: +46 (0) 7 33 55 70 90, e-mail: [email protected]
Jörgen Askeroth, CTO, Hi3G
Telephone: +46 (0) 7 33 55 70 30, e-mail: [email protected]
Merril Boman, Informationsdirektör, Birka Energi AB
Telephone: +46 (0) 70 590 79 75, e-mail: [email protected]

Hi3G has a Swedish and a Danish UMTS licence and is aiming to become a leading mobile multimedia operator with attractive and innovative services. The company's strength lies in the fact that it is a pure 3G company, with no baggage from old technologies such as GSM. Hi3G is expanding rapidly with the support of its owners, Hutchison Whampoa Ltd. (60%) and Investor AB (40%), who have solid network and industry track records worldwide. Hi3G is cooperating with other Hutchison Whampoa companies that hold 3G licences in Australia, Austria, Hong Kong, Israel, Italy, and the United Kingdom. Please stay in touch and visit www.hi3gaccess.se
www.birkaenergi.se