Press Releases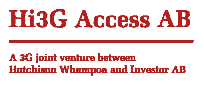 Press Release - Copenhagen, April 24 2002
Hi3G recruits new employees to executive positions
Hi3G Denmark, which is one of the companies that has been awarded a 3G licence in Denmark, has begun a major recruiting programme. In the coming year the company will continue to recruit a large number of employees to Hi3G among other within marketing, sales and content service.
"We have very high ambitions for the development of Hi3G in Denmark. Therefore we hope to be able to attract people with similarly high ambitions. Our initial recruitments show that we are well on the way," says Hi3G Danmark General Manager Christian Jørgensen.
Christian Jørgensen took up his post as General Manager in February this year. His task will be to build the company and its organisation. Initial recruitments are:
Torben Landry Bjerre, Regional Manager. Responsible for the roll-out of the Hi3G net in Denmark. Formerly part of the Orange roll-out in Denmark.
Johnny Schaadt, HR Director. Previously a management consultant in the Cosmos Group and a Head of Departmental at Nokia A/S. Most recently a senior manager at Ernst & Young.
Ann-Louise Hansen, General Counsel. Most recently in a similar position at Orange. Has broad international experience - among other things as counsel in Paris for 12 years.
"Hi3G Danmark will be a highly professional and challenging place to work. It requires creativity and enterprise to build up the new mobile multimedia operator that we will become," Christian Jørgensen says.

For further information contact:
Christian Jørgensen, General Manager, Hi3G Danmark
Tel: +45 3338 2065 e-mail: [email protected]

Hi3G's ambition is to become the leader in the Scandinavian 3G market. The company has Swedish and Danish 3G licences and will offer attractive and innovative mobile multimedia services. Being a pure 3G company with global reach makes Hi3G focused and strong. The company is owned by Hutchison Whampoa (60%) and Investor AB (40%), who both have solid networks and industry track records worldwide. Hi3G is building its customer offering together with other Hutchison Whampoa companies that hold 3G licences in Australia, Austria, Hong Kong, Israel, Italy, and the United Kingdom. Please stay in touch and visit www.hi3gaccess.se