Press Releases
Contact Person
:
Michelle Lu
General Manager - Group Corporate Affairs, HPH
Telephone
:
(852) 2619 7557 Fax: (852) 2612 0083
E-mail
:

[email protected]

Date
:
17 May 2002
ZICT(G) becomes PIL's port of call
[17 May 2002 - Hong Kong] -- Zhuhai International Container Terminals (Gaolan) (ZICT(G)) has become a port of call in the Taiwan & Northern Japan service of Pacific International Lines (Pte) Ltd. (PIL).
The service deploys 4 container vessels calling twice at ZICT(G) every month. The port routing of the service is Singapore, Kuantan, Gaolan, Hong Kong, Kaohsiung, Keelung, Toyama, Kawasaki, Tomokomai, Hachinohe, Sendai and Hitachi.
Mr. Wilson Poon, General Manager of ZICT(G) commented, "ZICT(G) is a major deepwater port and the shipping gateway in the southwestern part of Guangdong Province, serving nearby cities such as Zhaoqing, Greater Jiangmen, Zhuhai and Zhongshan area. It provides the shortest sea routing to Southeast Asia. With the fast growing economy in the southwest Pearl River Delta, ZICT(G) has great potential to be an important shipping centre for the region."

Notes to Editors:
Zhuhai International Container Terminals (Gaolan) (ZICT(G) ) coastal port is a joint venture between Hutchison Delta Ports (HDP) and Zhuhai Port Enterprises Group Company. Situated on the Nanshui River, southwest of Zhuhai City, it has been in operation since 1994 and is part of the HDP network, currently comprising three coastal and three river ports in South China.
ZICT(G) is a member of the Hutchison Port Holdings (HPH) Group, the world's leading port investor, developer and operator with interests in 15 countries throughout Asia, Middle East, Africa, Europe and the Americas. Today, HPH operates a total of 30 ports together with a number of transportation related service companies.
- END -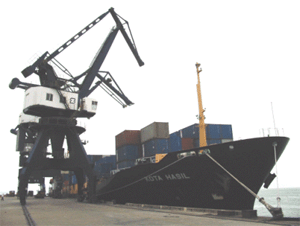 A PIL's vessel M.V. "Kota Hasil" calls at ZICT(G).