Press Releases
Contact Person
:
Michelle Lu
General Manager - Group Corporate Affairs, HPH
Telephone
:
(852) 2619 7557 Fax: (852) 2612 0083
E-mail
:

[email protected]

Date
:
24 May 2002
YICT handles its ten millionth container
[Hong Kong] On 24 May 2002, Yantian International Container Terminals (YICT) handled the 10 millionth container since the commencement of the terminal. The record was achieved at 14:38 when operating the container vessel "COSCO Qingdao".
To commemorate this historic moment, YICT held a brief ceremony at the quayside. Mr. Kenneth Tse, the General Manager of YICT remarked, "We are pleased to witness this very important moment in YICT history. Our staff have just handled the 10 millionth container. This begins another important stage of YICT's development, and we are dedicated to providing highly efficient services to our clients."
"In the next few years, we will invest more in equipment and facility improvement, and computer technology upgrades. We will also emphasise process improvement and staff training to ensure operation efficiency. Meanwhile, we will cooperate with Dapeng Customs to facilitate Electronic Customs Clearance."
Mr Tse offered his appreciation for the support from the government at different levels, Customs, Joint Inspection Authorities, shipping lines and shippers.
At present, there are 35 international shipping lines including Maersk Sealand, APL, Evergreen, Hyundai, OOCL, K-Line, P&O Nedlloyd, Yang Ming, COSCO and China Shipping cooperating with YICT to open up 46 weekly services. 28 of these are US services, 10 European services, six Asian services, one Australian service and one shuttle service between Yantian and Hong Kong. The shipping routes give more choices of shipment.
-End-

Notes to Editor:
Yantian International Container Terminals (YICT) is a natural deepwater port in South China with five 50,000-tonne container vessel berths. The terminal's total area of 118 hectares of land, provides six container berths with an annual handling capacity of 3 million TEU. In 2001, YICT handled over 2.7 million TEU, up 28 per cent over 2000.
YICT is a member of the Hutchison Port Holdings (HPH) Group, the world's leading port investor, developer and operator with interests in 15 countries throughout Asia, Middle East, Africa, Europe and the Americas. Today, HPH operates a total of 30 ports together with a number of transportation related service companies.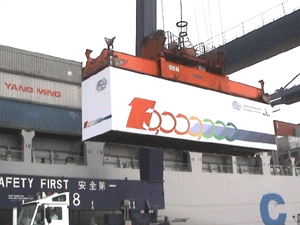 YICT handles the 10 millionth container at 14:38, 24 May 2002.
The picture shows the container vessel "COSCO Qingdao".